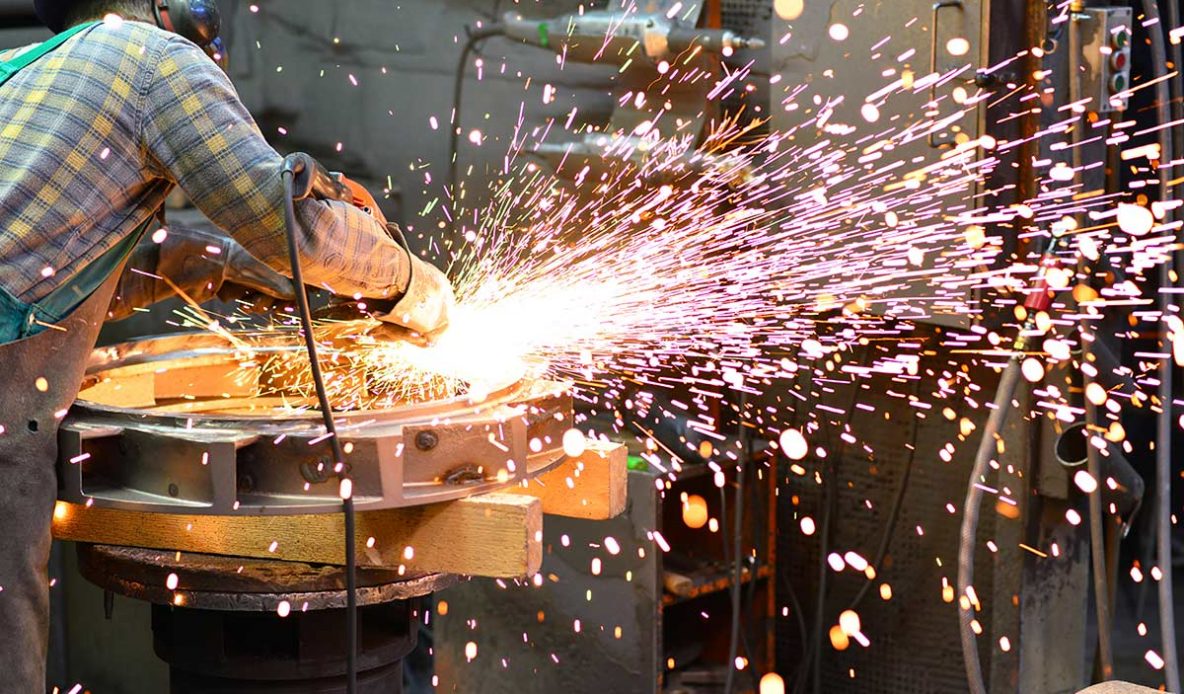 Manufacturer Website Design: The Art of Making for Makers
Web design for business-to-business (B2B) companies can be an extraordinarily complicated task. When compared with business-to-customer (B2C) websites, B2B best practices are more difficult to identify and understand.
And when it comes to B2B website design for manufacturing companies, this can be an even tougher challenge because these firms have such specific needs. Unlike companies in areas such as distribution, consulting, or software provision, manufacturers are typically the initial source of goods that will eventually be brought to market.
To complicate things even further, a manufacturing company is likely to make up just one part of a larger supply chain that could include many other companies and stakeholders before the finished product reaches the end consumer. This means the manufacturer must communicate clearly and with a high level of technical detail to an audience of experienced and highly educated users.
As one of the best manufacturing and web design companies around, our team at Lform has worked on websites for more than our fair share of manufacturing companies. In today's post, we'll take a close look at what we've learned and discuss some of the finer points that must be considered when creating manufacturing websites.
Start With a Solid Foundation of Research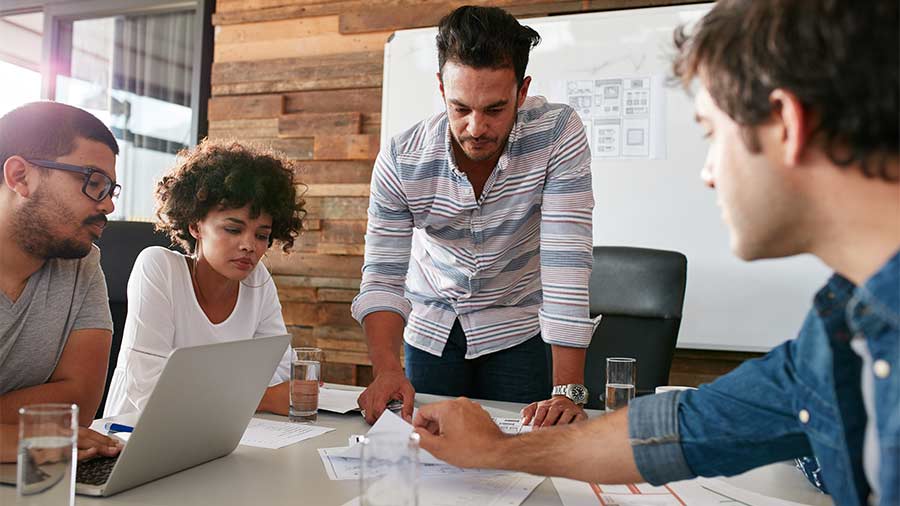 Any robust website design project starts with answering a few vital questions: who, what, where, and why? This discovery phase is particularly vital when it comes to manufacturing website design, and the answers to these questions will underpin our work throughout the entire project.
Our research phase can encompass many different methods and strategies, but two stand out when we are working with a manufacturing client: detailed audience research and internal stakeholder interviews.
User Research
User research is a key ingredient for success in any type of B2B web design. After all, how can you meet your audience's needs without understanding what those needs are? We have found that manufacturers are often among the clients most likely to skip this step. However, it is perhaps even more critical in this instance.
For a more general audience, basic product information (such as dimensions, weight, and color) will likely suffice. However, a user looking to source a part or product from a manufacturer may have extremely specific needs and a high level of technical understanding. These users may need to know details such as what source materials were used to create a part, safety information, or product tolerances.
Manufacturing companies' customers may also need to have products customized to their exact specifications, or require other types of services such as white labeling (having products rebranded with their own information) or just-in-time (JIT) shipping (where stock is ordered as needed, as opposed to in bulk). These users are also highly educated, even in the most junior positions. For example, an entry-level engineer—who may be tasked with undertaking initial project research—likely has a much more specialized skill set than a typical office worker.
By understanding exactly what these users expect, we can build a website for our manufacturing client that will impart the right information in the right place and with the appropriate level of detail. User research helps us to answer all these questions before we go any further with the project.
Internal Stakeholder Interviews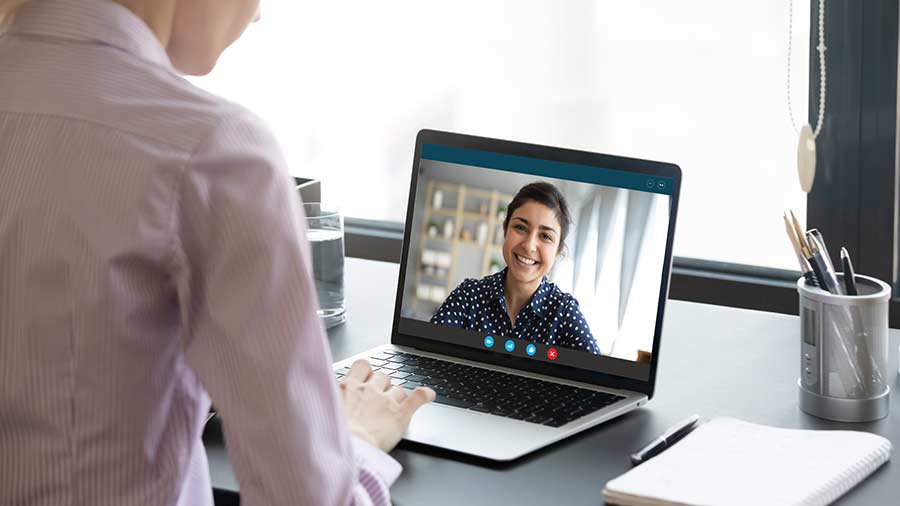 Manufacturing companies are often made up of many different departments, each of which may have its own expectations about what the website needs to do.
For example, a research and development department may need to update product specifications quickly and efficiently to adapt to changing market conditions. A marketer may want to ensure that the site captures qualified leads who can be brought into the right sales funnel. And the CEO may take a big-picture view, knowing that if customers don't quickly find what they need, they will likely go elsewhere. For this reason, we often include internal stakeholder interviews as part of our research process.
Stakeholder interviews allow us to find out about these needs before we begin the main design process. We have found that including this step tends to make the overall project run much more smoothly and, ultimately, results in happier clients.
By interviewing key members of the manufacturing company's team, we glean a huge amount of valuable information about how the company works and what needs to be accounted for. For example, imagine a service that the rest of the company takes for granted but that actually generates 50% of the business's overall profits. If this were glossed over during a project kickoff because we failed to speak to all stakeholders, it could be a disaster!
We often learn things during our internal stakeholder interviews that end up having a major impact on the direction of the website's content, design, and development. The process also helps to build trust between the web design team and the client. This trust is what leads to the years-long client relationships we are so proud of here at Lform.
Information-Dense Design Considerations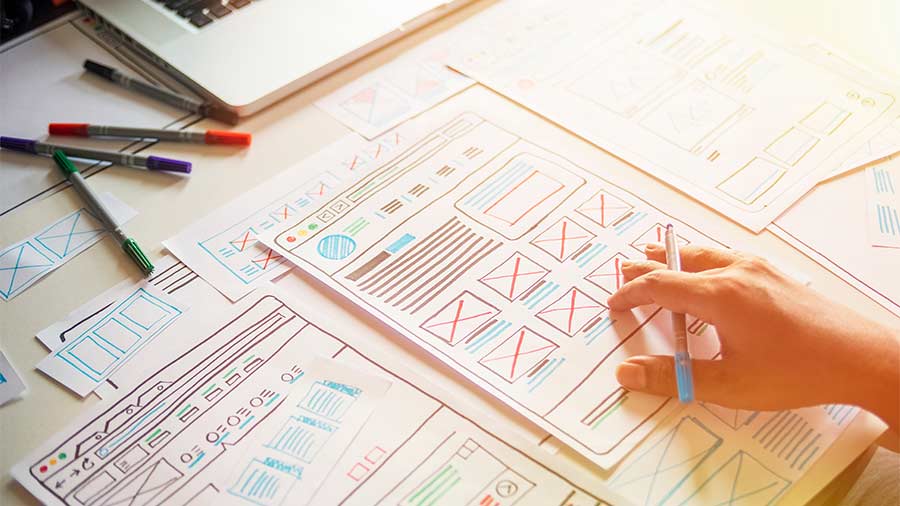 Many web designers make the mistake of thinking that designing and planning a B2B website for a manufacturing company will be easier than creating a customer-focused site. I can tell you from personal experience that this is absolutely not the case!
Because manufacturing companies' websites are so information-heavy, designers will face a number of challenges that B2C website designers are unlikely to encounter.
Manufacturers often need to provide dense, highly technical product information to their clients. Ascertaining the best way to display 20 or more data points for a single product can be quite the undertaking. This issue compounds when different products in the client's catalog have entirely different types of technical information. And since these companies often have very large product catalogs, you can understand how this quickly becomes an enormous task.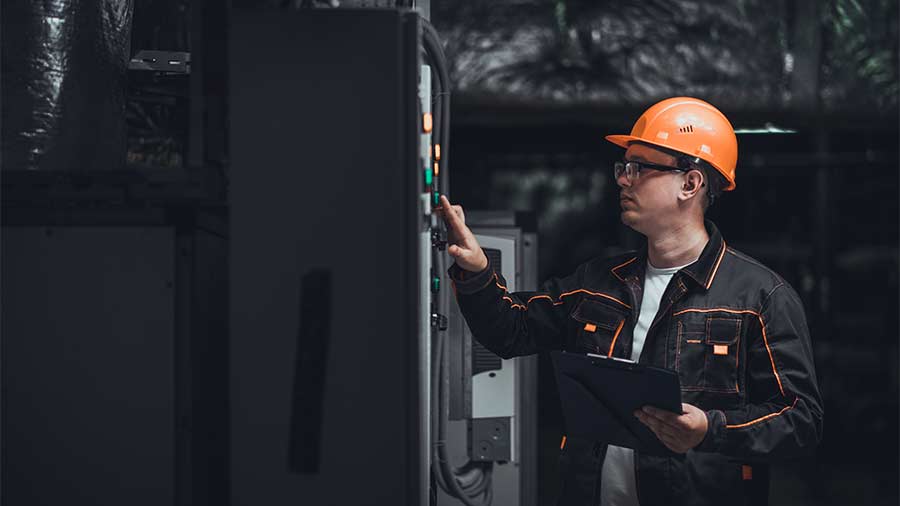 Similarly, the resources that manufacturers need to provide to their customers are often extensive and wide-ranging. This may include product brochures, safety data sheets, documents relating to environmental concerns and sustainability, material source sheets, and multiple certifications. Any of these documents—which can number in the hundreds—must be accessible by any user at any time.
Now consider that different audiences may have very different needs from the same website. For example, an engineer might need access to a lot of technical product specifications, while a contractor or installer may need manuals or instructional videos they can access quickly from a job site. Accommodating both of these needs can make or break the website's usefulness. Now you begin to understand how complicated the user experience portion of this project becomes.
Much of this work will be handled during the wireframing and sitemapping phases. However, the website's aesthetics—its look and feel—cannot be neglected either.
A manufacturing client is unlikely to be the only company in its field. Industries commonly have their own norms and a specific type of look that websites within it tend to follow. Website design then becomes a tightrope walk: The company wants to stand out from its competitors, but it is vital not to leave users confused about what the company does.
Considering the user flow, or how they will move through the website, is also critical at this stage. Each section of the site needs to clearly tell users what their next actions should be. Do they need to add specific products into a quoting system to be connected to the sales department? Should they be pushed toward a live chat system, an email contact form, or even a telephone call? We have noticed that manufacturing websites often get so mired in the technical product details that they forget this crucial step.
The Importance of Good B2B Content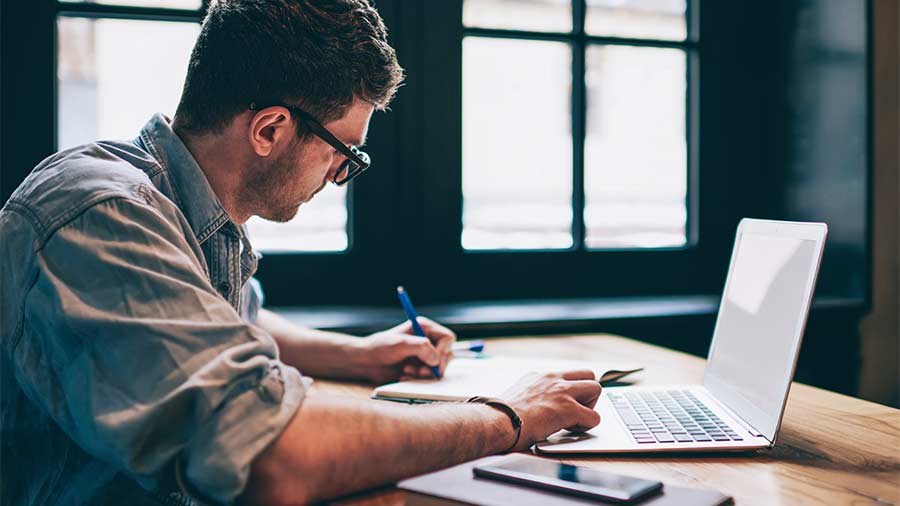 While a website's design visually communicates the right message to users and guides them to each step, its content is what allows them to locate the information they need.
We have noticed that B2B websites tend to leave content, copy, and calls-to-action as an afterthought. This is because manufacturers often have smaller marketing departments (if they have one at all) and more modest marketing budgets than many other companies.
However, even with this in mind, B2B manufacturers have one huge advantage over other types of businesses: Their products and services often do not change much, if at all, over the years. This means that, as long as the company uses writers who understand the manufacturing market, content can have a much longer life span than it might in other industries. Dedicating the time and budget to creating great content during the website design process means that it will not need to be updated regularly, and can make the cost of copywriting a one-time investment in many cases.
When it comes to great content, every word should focus on meeting an audience's needs. A user comes to a B2B website to find a specific product or address a specific concern. All copy must relate back to the reason they are on the site in the first place. Thanks to the audience research that we discussed earlier, it is also possible to customize content to target different types of audience personas, making it more relevant and more approachable.
It's also worth mentioning the golden rule of writing: Show, don't tell. It's meaningless to simply tell website visitors that a company offers "best-in-industry products" or "first-class customer service" if these claims are not backed up by the products and actions themselves.
An important note on accessibility: Manufacturers often rely on industry jargon and dense, technical language. This is a difficult balance to strike, because a high level of technical detail can lend manufacturers credibility and demonstrate their expertise, but it can also confuse and alienate anyone who isn't "in the know" about specific terms. A talented copywriter can strike the right balance here.
Integrating Systems Through Custom Development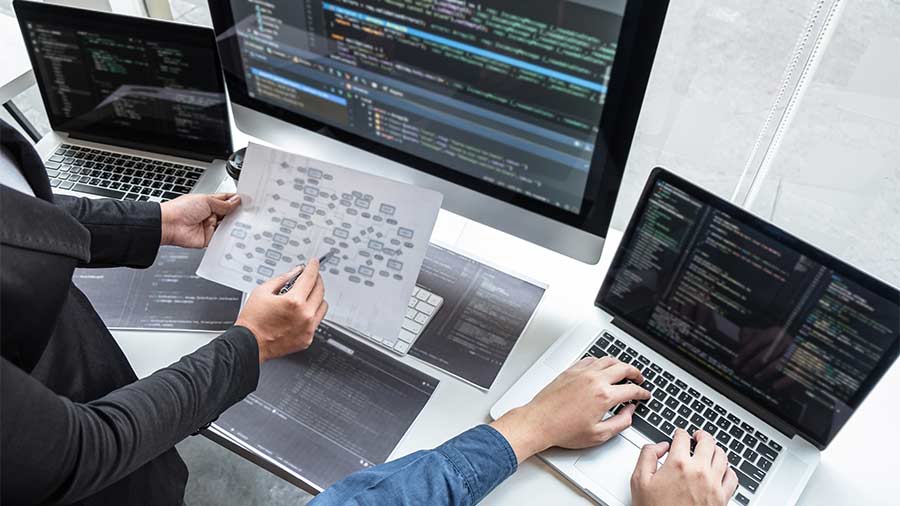 Considering all the unique considerations we've discussed so far, it will come as no surprise that manufacturers also face various challenges in the development stage of a B2B website design project.
The most common issue we encounter is the need to integrate many different types of systems into a single website, while ensuring that site remains functional. Getting two different systems to work in tandem is difficult enough for a web developer. In the case of a manufacturing website, there may be three, four, or even more systems that need to talk to one another.
These integrations allow the manufacturing company to seamlessly update its content as necessary. Instead of needing to log into the website via a content management system, the company can instead use an enterprise resource planning (ERP) tool to update the website and other systems all at once.
The integrations also allow the company to push relevant information out to different departments automatically. For example, the shipping department can receive updates on stock that needs to be pulled when a customer places an order, and the sales team can access all the information needed to provide a requested quote. Allowing the website to handle the needs of multiple departments can make the entire business run more efficiently.
Quoting systems are a specific and unique challenge for manufacturing companies. There is often an unusually long lead time for projects when compared with other business types, and sales funnels can be measured in months if not years. In many instances, the first step is for the client to request a quote. While this may be as simple as filling out a request form, the sales team needs to know exactly what type of products the clients need and in which quantities. This is where a "request a quote" system comes into its own.
A quoting system resembles a standard e-commerce checkout system, in that it allows users to add specific products to a virtual "cart." However, unlike a traditional e-commerce interaction, money does not change hands at this stage. This is because numerous calculations need to be made, especially when shipping is involved. In some cases, there is also a legal obligation since manufacturers may be selling goods that are tightly regulated. Instead of checking out and completing the purchase, the client requests a quote for the items. This goes to a sales team member, who puts together the quote and then arranges the transaction with the client, should the client choose to proceed.
Manufacturing companies need to choose their B2B web development company with extreme care. Without highly skilled developers, the heavy integrations these websites require will not be achieved, or—worse—they may break at a critical moment.
Companies often come to us having previously chosen cheap development teams with little experience. Inevitably, they end up losing more money in time and capital than if they had hired an expert firm like Lform from the beginning.
Maintaining a Website for the Long Term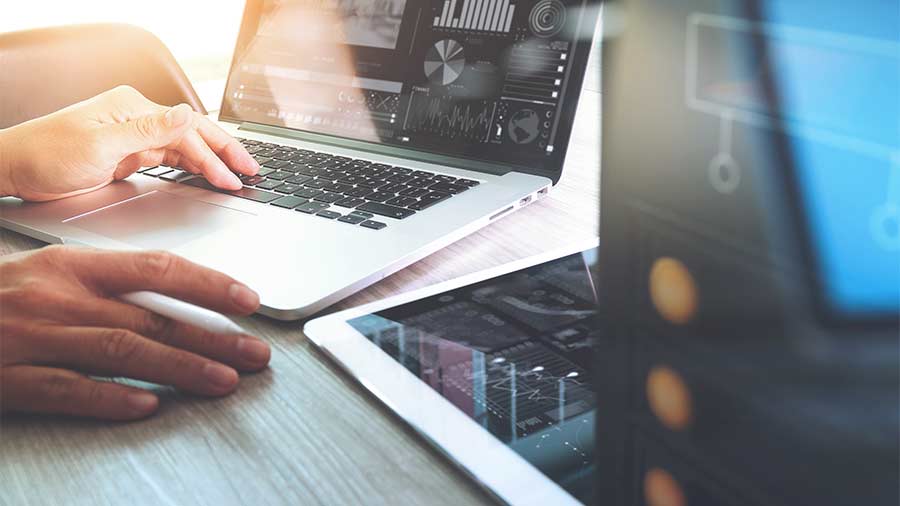 Once a manufacturing company's website is completed and launched, the work is not over. It is vital to keep monitoring and optimizing the website to ensure that it is achieving its intended purpose. Website maintenance and long-term search engine optimization (SEO) are two ways that we achieve this for our clients.
Website Maintenance
Even the most well-built and robust websites can run into occasional hiccups. As we've discussed above, many of these websites are built with many integrated systems. This means that any change to one of those systems may introduce unexpected issues.
Integrations are often built through the use of application programming interfaces, or APIs. Occasionally, APIs are updated by the companies that own them. This is beyond our control and the client's control, and it can cause problems when it does happen. Similarly, when a web browser is updated or a new version is released, this may cause user interface issues that need to be fixed.
We maintain a relationship with our clients long after the website is launched and keep on top of these systems on a month-to-month basis. This means that issues can be tackled by the development team quickly, reducing downtime and potential financial losses.
Another critical aspect of website maintenance is taking advantage of new technologies. The tech space is constantly evolving, and an experienced design and development team can look closely at problem areas and implement innovative solutions to fine-tune the user experience in a new way. When a new tool comes to market, we might implement this into the website if it is appropriate for the client. One recent example of this involved integrating the scheduling service Calendly, which changed the way the client could interact with customers.
SEO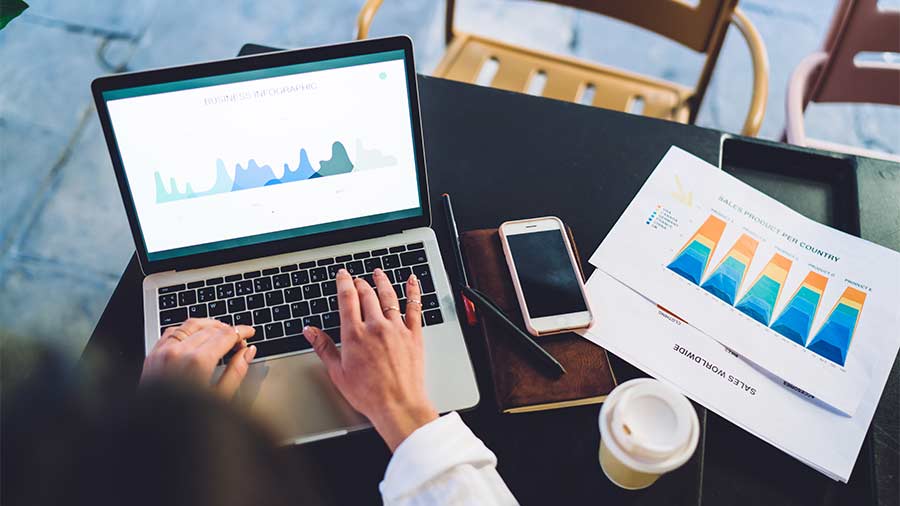 Google and other search engines are constantly updating their algorithms to offer a more sophisticated and user-focused search experience. This means that performing keyword research, optimizing a website, and tracking its performance become long-term tasks. This process includes actively curating backlinks from authoritative websites, optimizing code and images, producing regular content on a blog, and (perhaps most importantly) tracking the results to ensure long-term success.
Many business owners are frustrated to hear that even a concerted and ongoing SEO campaign can take 18–24 months to see real results. This is partly because Google is slow to raise a website's domain authority (a rating from 1 to 100 indicating how much Google trusts the website), and partially due to the types of search terms that audiences are using.
Interestingly, we have noticed that it is more difficult to rank highly in search results for technical content. In addition, the search volumes for this kind of content tend to be on the low side when compared with more generic search terms.
One of the best ways for a manufacturing company to raise its SEO profile is to build a relationship with a long-term partner who can bring their expertise to the table. When our clients stick with us, they tend to see that our SEO efforts continue to pay dividends years down the line, giving them an edge over their customers in the search landscape.
Ready to Get Started?
Designing, developing, building, and maintaining a successful website for a manufacturing company is far from an easy task. There are numerous factors to consider, some of which are unique to this type of business. From conducting robust user research and stakeholder interviews, through to creating content that hits the mark and optimizing a website for search, there are plenty of points at which something can go wrong.
We are proud to have supported manufacturing firms and other B2B companies with their website needs for over 15 years. All members of our team of Montclair, NJ web designers are experienced and professional and have a proven track record of creating results for our clients. We see ourselves not just as a vendor but as a partner, working closely with clients for many years to maintain their websites, optimize their performance, and achieve their goals.
If you'd like to learn more about getting started with your manufacturing web design project, get in touch with our team and we'll be pleased to discuss your needs further.