NJ web design and development company original

We are proud to be a top New Jersey web design company, serving our local community and supporting NJ businesses—as well as those in the surrounding tri-state area of New York and Connecticut—for over 15 years. We believe that the best traits of our home state are also embodied in our philosophy and practices at Lform Design.
People from NJ are known for their honesty. When we talk, it's because we have something to say, not just to be heard. We promise to always be honest and upfront with you, our client, to ensure that your project succeeds. That's because we have no interest in simply closing a quick sale and moving on. Our team of NJ web design experts are partners in your success and we will do everything within our power to help you create a beautiful website that is aligned with your goals.
NJ enjoys a unique geographical position between two major East Coast cities: New York City and Philadelphia. This means that our work ethic has to be top-notch to allow us to stand out from our larger and flashier competitors. Because we're competing with our neighbors in the Big Apple, we work twice as hard. When you work with Lform Design, one of the premier web design companies in New Jersey, you'll enjoy NY-quality web design and development right here on your doorstep.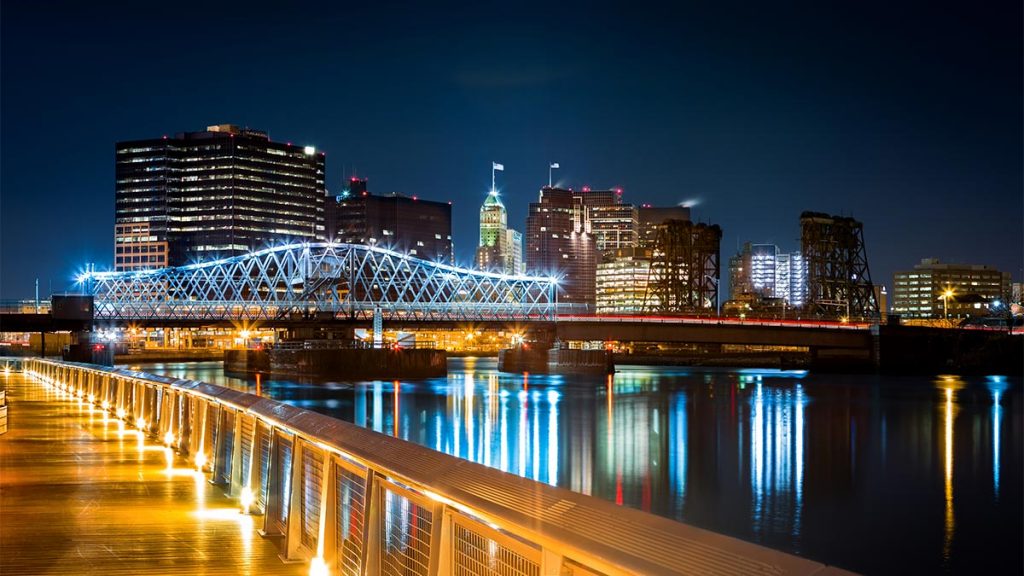 Why choose a NJ web design company?

New Jersey has historically been a hot spot for manufacturing, technology, and invention, and remains so to this day. A major player in the industrial revolution, NJ's history as a center for innovation can be traced back to 1791, when Alexander Hamilton and the Society for the Establishment of Useful Manufactures founded the nation's first planned industrial city (now Paterson, NJ.)
Major innovators including Bell Labs have their headquarters in NJ, and inventions from bubble wrap to air conditioning have their origins in the Garden State. NJ is particularly known as a hub for business-to-business (B2B) companies in industries from manufacturing to pharma, among many others.
As a website design firm with a focus on serving the B2B market, NJ is the perfect place for a company like ours to make its home. Concentrating our efforts in the B2B space allows us to gain a deep understanding of our clients, how they operate, and what their unique challenges are.
As an NJ web development company, we have a long history of helping other NJ businesses to succeed. Whether we are building a website for a brand new company just starting out, or helping a long-established business in its next phase of growth, we pride ourselves on being the premier B2B web design and development partner, not just in our home state but across the US.
Wherever possible, we like to meet our prospective clients in person and have a no-obligation conversation. This allows us to understand your needs and gives you the opportunity to ensure we are a good fit for you.
Don't just take our word for it. Instead, we'll let our happy clients do the talking for us. Some of our satisfied NJ web design and development clients include:

L&R Manufacturing
L&R is a leading company in the ultrasonic cleaning industry, with headquarters in Kearney, NJ. With shifting market trends and greater competition than ever, L&R needed an up-to-date custom website that was search-optimized and user-friendly.

Hockmeyer Equipment Corporation
This world-renowned provider of grinding, milling, and dispersion solutions, based in Harrison, NJ, required a sleek and modern website that reflected the company as the industry leader that it is. We worked with Hockmeyer to improve their user experience and optimize the site towards one goal: encouraging visitors to get in contact for a quote.

Dauphin
Dauphin has been a provider of seating solutions for the corporate, education, hospitality, and healthcare sectors for more than 50 years. This company, based in Boonton, NJ, needed a modern and fully responsive website that could display its extensive product catalogue and scale seamlessly along with the business.
Local Community
Our founder Ian grew up in Glen Ridge, just outside of Montclair. Lform Design started life in 2005 in the Madison Building on Bloomfield Avenue and then moved to Park Street (two buildings down from our current location) which was our home until 2007. Our third move took us to Walnut Street.
In 2011, we moved out of Montclair, relocating to nearby Verona, NJ. From 2011 to 2018, we were housed in a building that was once a munitions factory during World War 2. In 2018, we bought our current location back in Montclair. We are not just a New Jersey website design firm, but Montclair natives through and through.
Why do we love this area so much? Montclair is perfectly positioned in central NJ, offering easy access to major nearby cities including Newark, Jersey City, New York City, White Plains, Philadelphia, and Stamford. We are also conveniently located close to the cross-country I-80 and the north-south I-95.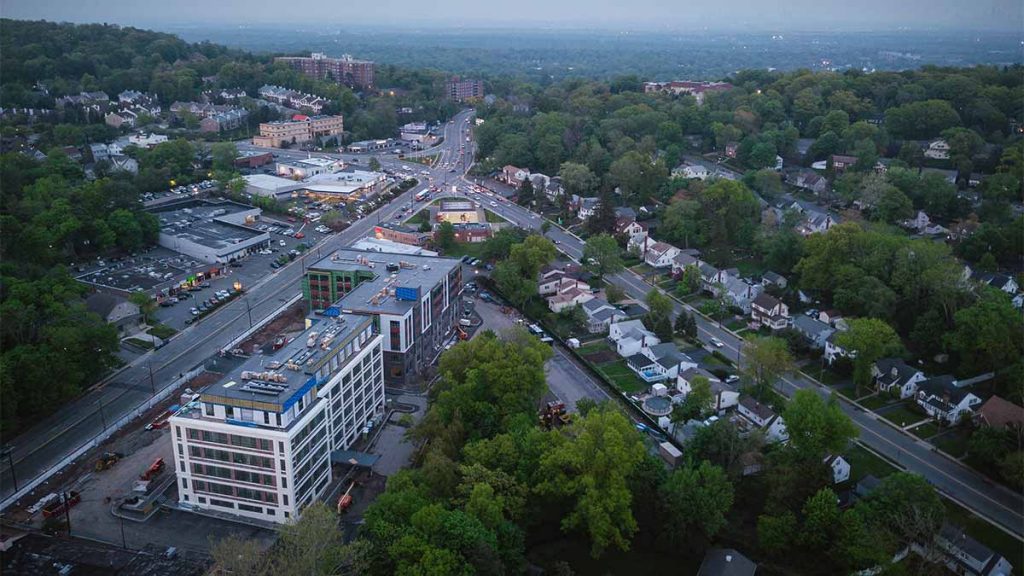 Montclair is also a beautiful city with a vibrant culture, friendly atmosphere, and diverse community. You'll find amazing places to eat, such as Raymond's, a Montclair institution loved by locals and visitors alike. Montclair Bread Co., one of our past website design clients, is one of the best bread companies in the state and located just half a mile from our offices. The Lform Design team can't get enough of their incredible donuts!
Montclair is also home to the wonderful Montclair Art Museum and Wellmont Theater, as well as cultural events such as the annual Montclair Design Week (which we are proud to participate in each year) and the Montclair Film Festival. A small township with a big heart, Montclair is proof that you don't need to go to NYC to enjoy the best the East Coast has to offer.
Directions
Lform Design Main Office
42 Park Street, Montclair, NJ 07042, USA
From NYC (driving)
Get on I-78 W/Holland Tunnel from Downtown Manhattan

Continue on I-78 W. Drive from NJ-139 W to Jersey City

Take the exit towards US-1-9 Truck/I-280/Newark from NJ-139 W

Get on I-280 W in Kearny from Newark-Jersey City Turnpike

Follow I-280 W to Prospect Ave in West Orange. Take exit 8B from I-280 W

Continue on Prospect Ave. Take Bloomfield Ave to Park St in Montclair
From NYC (by train)
Take the Montclair-Boonton line from Pennsylvania Station

Alight at Bay Street (2 stops)

Take the 28 bus run by NJ Transit Bus and alight at Park St at Bloomfield Ave (5 stops)

Walk 400ft on Park St. Lform Design will be on your left

You can also walk from Bay Street to Lform Design (1 mile/20 minutes)
From Long Island
Take I-495 W to E 37th St in Manhattan

Take the exit for 37 St from I-495 W

Get on NY-495 W

Drive from NJ-495 W and NJ-3 W to Clifton. Take the exit for Bloomfield Ave from NJ-3 W

Take W Passaic Ave and Watchung Ave to Park St in Montclair
From Philadelphia
Get on I-676/US-30 E from S Penn Square and N Broad St

Take I-95 N and Garden State Pkwy to Hoover Ave in Bloomfield

Take exit 150 from Garden State Pkwy

Follow Hoover Ave, Bay Ave and Claremont Ave to Park St in Montclair
From Upstate NY
Follow I-87 S to Watchung Ave in Bloomfield

Take exit 151 from Garden State Pkwy

Continue on Watchung Ave then turn left onto Park St in Montclair
From West NJ
Drive from NJ-3 W to Clifton

Take the exit for Bloomfield Ave from NJ-3 W

Take W Passaic Ave and Watchung Ave to Park St in Montclair