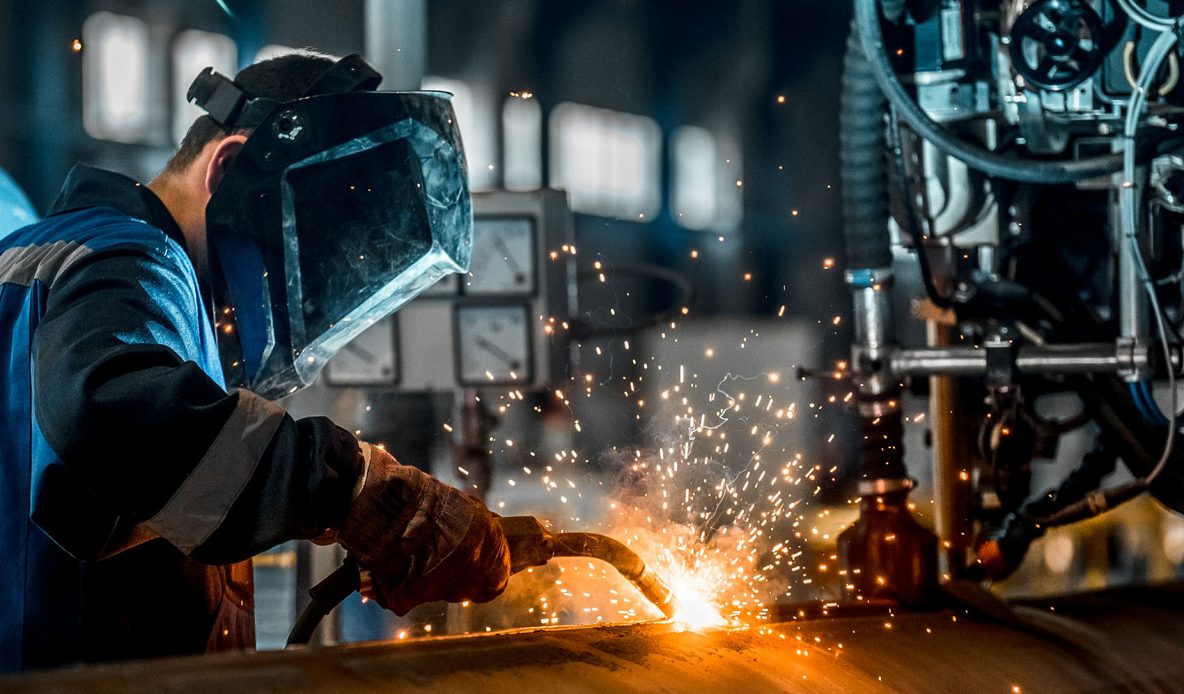 The Best 5 B2B Manufacturing & Industrial Web Design Companies of 2021
What makes a great manufacturing web design company?
When you're looking for the right web design company for your project, how do you know who to choose? Numerous elements go into making a great web design company, but the three primary characteristics you should pay attention to are specialization, experience, and execution.
Experience is tantamount—in compiling this list, we considered the number of clients in the manufacturing space that the company has worked with, and checked out reviews to get a sense of their customer satisfaction. Style is somewhat subjective, but composition combined with messaging can be graded. Transparency matters, too—we took note of how each company describes their projects, challenges, pitfalls, and solutions. Last but not least, their history and number of years in business were taken into account.
Why should you care?
Web design and development isn't easy. To design a successful website, you need experience in branding, graphic design, user experience (UX), search engine optimization (SEO), copywriting, frontend coding, backend coding, database design, testing, debugging, and deployment.
Today's business decision-makers—your prospective customers—have high expectations. Your site needs to be user-friendly, aesthetically pleasing, informative, and factual. Furthermore, it needs to work across multiple platforms, from a 27" iMac to a Samsung Galaxy smartphone and beyond.
A great website begins with a positive first impression. Back in 2011, Google coined the phrase, "Zero Moment of Truth (ZMOT)." Before a consumer engages with a company, they spend a considerable amount of time researching on the web. In today's world, regardless of industry, a business can't survive without a strong website.
Based on our criteria, you will find below a list of the top 5 web design companies in the US that specialize in helping B2B manufacturers create custom websites. Unlike other ranking websites like Clutch.co and The Manifest, these companies did not pay us to appear on this list. We welcome constructive criticism, so please don't hesitate to contact us with any feedback.
1. Lform Design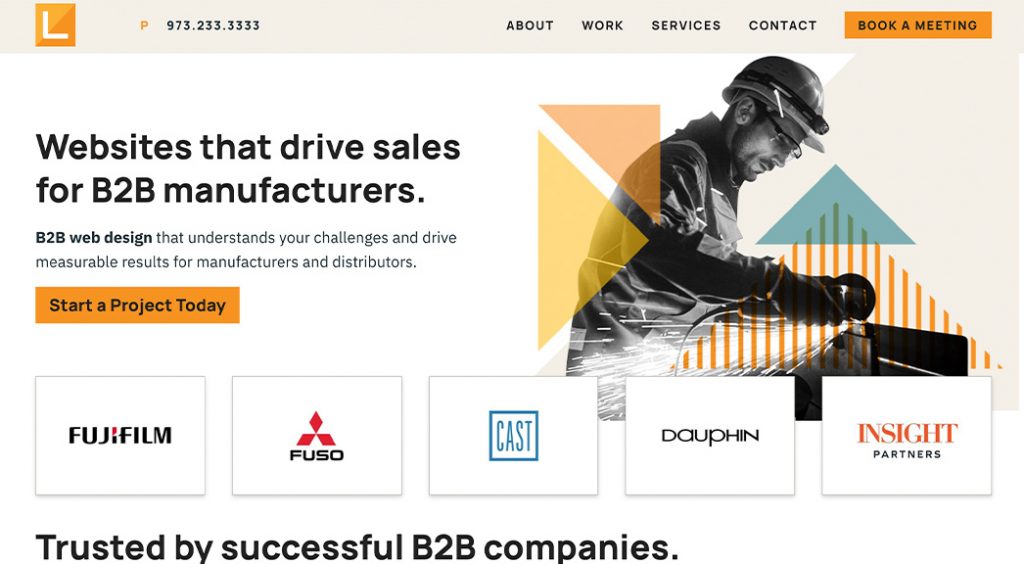 Website: lform.com
Location: 42 Park Street, Montclair, NJ 07042
Phone: (973) 233-3333
We are tooting our own horn here, but we are highly experienced and incredibly passionate about helping B2B manufacturers with websites that do their businesses justice. Founded by Ian Loew in 2005, we have grown steadily throughout the last 16 years and become a trusted partner for hundreds of B2B manufacturing companies.
We see ourselves not just as providers, but as partners in your business success. Every business is unique and there is no one-size-fits-all approach. That's why our vision is to understand our clients to the fullest. We make it easy for your customers and prospects to learn about what you do, and for you to sell your products and services.
This industry knowledge, coupled with our collaborative approach, ensures that our mission to deliver exceptional, measurable results is achieved through thoughtful web design and stellar inbound marketing services.
2. Windmill Strategy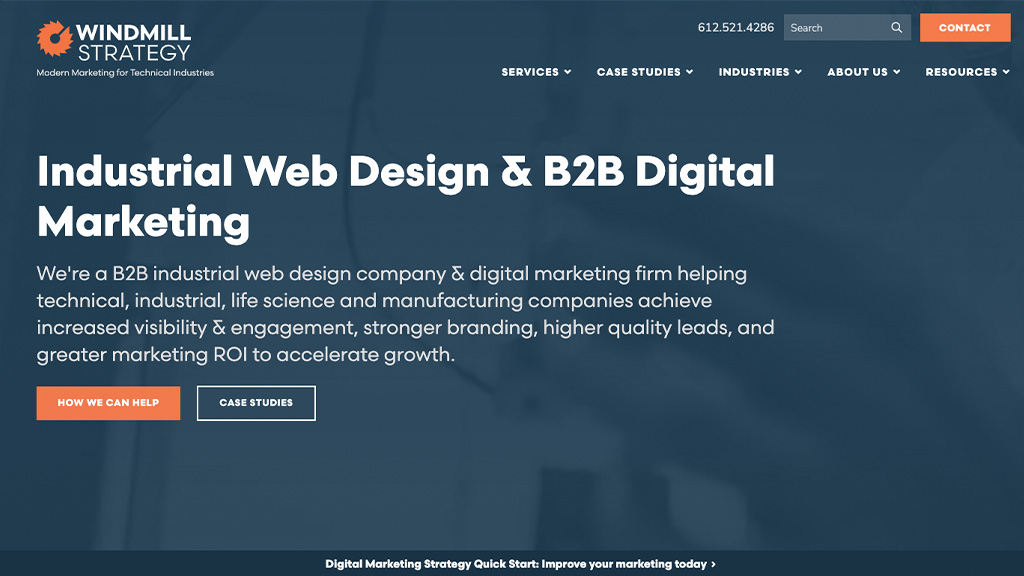 Website: windmillstrategy.com
Location: 1227 Tyler St NE, Suite 180, Minneapolis, Minnesota 55413
Phone: (612) 521-4286
Windmill Strategy is a B2B industrial web design company and digital marketing firm helping technical, industrial, life science, and manufacturing companies achieve increased visibility and engagement, stronger branding, higher quality leads, and greater marketing ROI to accelerate growth.
Founded in 2006, Windmill Strategy follows an ethos of continuous improvement, striving to do better for their clients every day. Their experienced and knowledgeable team will help you transform your digital marketing with smart solutions and a collaborative approach, creating the leads and sales you need to succeed.
3. Top Spot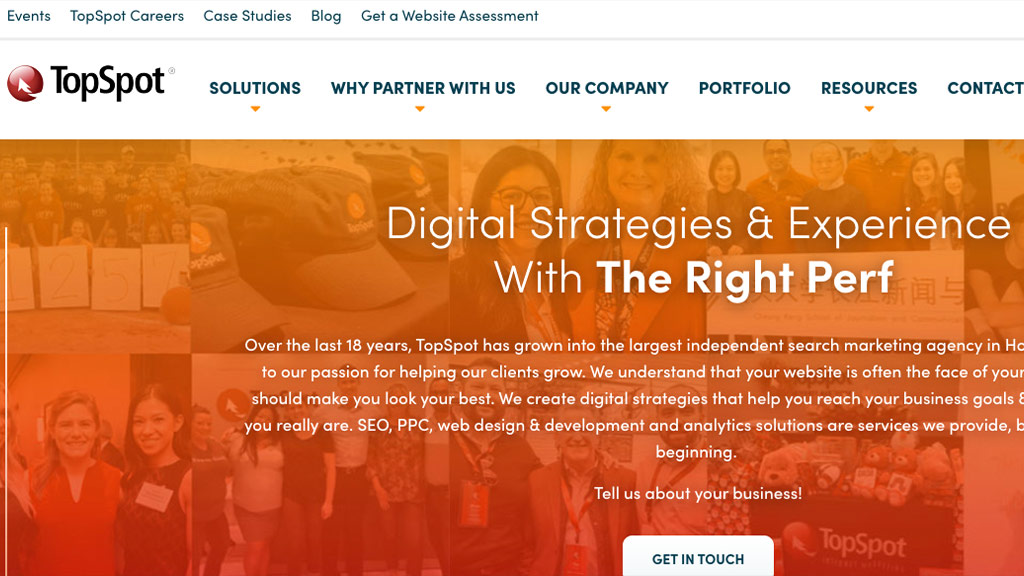 Website: topspot.com
Location: 515 Post Oak Blvd, Ste 300, Houston, TX 77027
Phone: (866) 952-7200
Since 2003, Top Spot has specialized in online marketing for industrial manufacturers, fabricators, CNC shops, OEMs, and more. All five of its founding team members still work for the company, which operates out of Houston, TX and now employs around 120 people.
This digital marketing agency was built to help industrial manufacturers of all sizes grow through online lead generation. They believe in looking beyond the metrics to deliver quality leads over quantity. Whether you are just getting started with online marketing or looking for a new vendor to take your business to the next level, their team will work with you to create tailored online marketing strategies focused on performance and results.
4. Costello Creative Group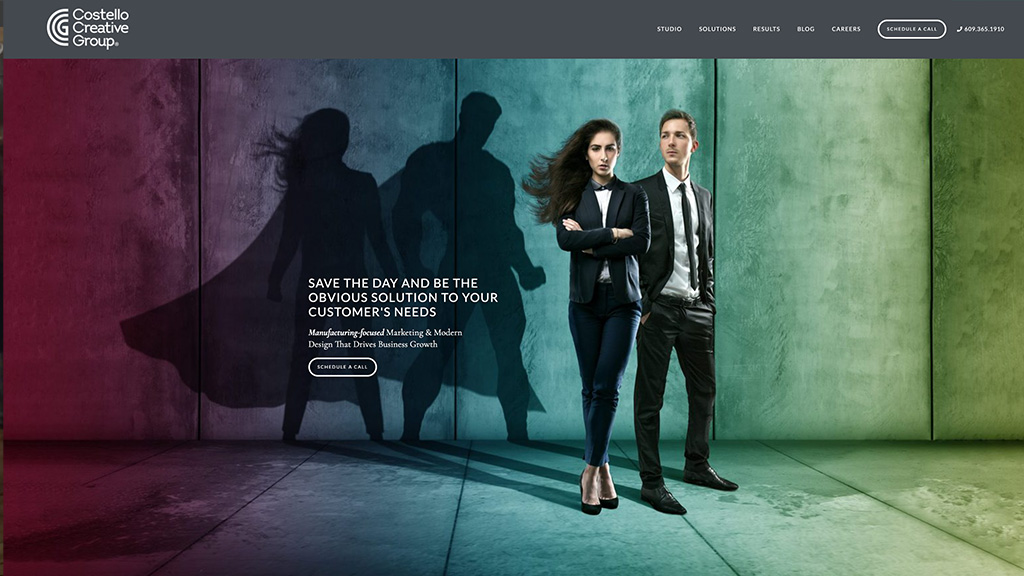 Website: costellocreativegroup.com
Location: 485C US Highway 1 South, Suite 100-MB42, Iselin, NJ 08830
Phone: (609) 365-1910
Costello Creative Group (CCG) is a multi-disciplinary boutique creative marketing and design studio that delivers strategy, execution, and visual communications for growth-seeking manufacturers. They provide branding, website, design, and digital marketing solutions that help B2B businesses crystalize their message, modernize their identity, and present a consistent brand experience.
Their Founder and CEO, George Costello, was named one of NJ's best marketing and communications professionals under 40, and has over 17 years experience. With an innovative 4-step creative process, they will ensure you stop missing opportunities and start generating the leads and sales you deserve.
5. Foremost Media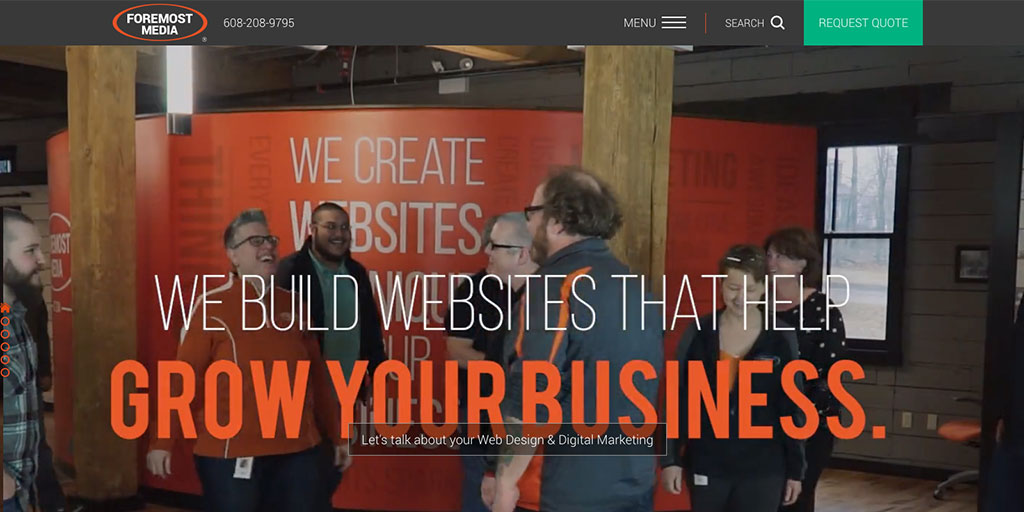 Website: foremostmedia.com
Location: 207 N Academy St., Suite #200, Janesville, WI 53548
Phone: (608) 208-9795
Foremost Media's mission is simple: to build websites that help you grow your business. The team has decades of combined experience in maximizing online marketing for businesses in the manufacturing space.
They have a hands-on, holistic approach to creating visibility for a company's brand and website. Whether you need a brand new or revamped website, greater visibility to beat your competitors, an app or marketing solution, or a way to turn marketing leads into customers, their team has all the expertise you need to boost your online presence.