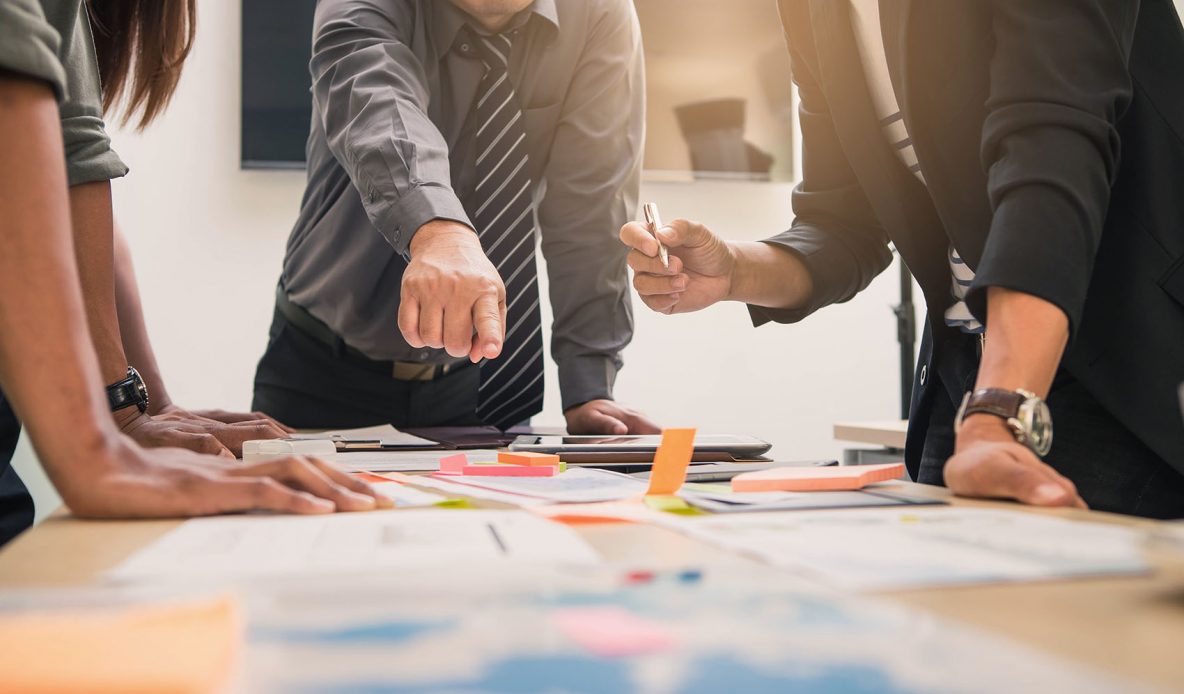 Best Practices in Website Design for B2B
A web design project is a complex process with many different steps and phases. There are many points along the way where something can go wrong. This means that it is essential for web designers and design teams to follow a series of best practices to maximize the chance of a project's success.
As a B2B web design company with decades of combined experience, we have identified a few important areas of best practice when it comes to website design for B2B companies. In today's post, we will discuss three of them: audience research, creating a detailed needs outline, and the design phase.
While it may seem strange to talk about web design best practices by talking about two areas that are not traditionally linked to the field—audience research and requirements outlining—successful web design projects start from the ground up. One of the most common mistakes designers make is skipping over these steps to go straight to the design and build phases.
Here are a few things we've learned about these vital steps in the B2B website design process.
Without a strong understanding of your unique audience and their needs, any further work on your website becomes unfocused, diminishing its success.
All of us are consumers and have a general understanding of how research and shopping tend to work in the realm of personal goods and services. However, B2B markets differ significantly from B2C markets, and trying to use the same strategies is a big mistake.
Here are a few patterns we have identified in our work as B2B website designers:
B2B users tend to be active during normal business hours

: Monday—Friday, 9:00 am—5:00 pm. If you check your site traffic, you will likely notice spikes during these times. This is because B2B users tend to research products and services in the course of their jobs.

B2B users, unlike B2C consumers, do not impulse-buy

. Instead, they are likely to research and evaluate many options before choosing a company to partner with. These users are likely to be comparing costs, benefits, features, and even the responsiveness of customer service teams across candidate companies.

Those doing the initial research are often not the final decision-makers

. Many companies, for example, will task interns or junior employees with conducting research and putting together a series of options for comparison. Senior executives will then make the final purchasing decision. Because of this, those doing the research are often relying on Google and might also be working on other tasks at the same time. This means that these users are highly motivated to get the specific information they need, as quickly as possible.
Outside of these general patterns, there will be other variables you need to consider depending upon what type of companies you are targeting as prospective clients. If you are marketing consultancy services to financial or technology companies, for example, informative and authoritative content that demonstrates your expertise will serve you well. If you are targeting manufacturing clients, on the other hand, your certifications, range of services, and geographical location are likely to be important factors.
User research is time-consuming and resource-intensive. However, there are a few ways you can start gaining insight into your customers straight away:
Talk to your sales team

: These customer-facing representatives are well-placed to understand the common pain points your prospective clients have. Understanding what questions clients are asking during the sales process gives you a valuable window into the type of information your website should be putting front and center.

Ask for feedback:

If you are currently using email marketing, ask those on your mailing list for a few minutes of their time to fill out a survey focusing on what they think of your website, what they would like to see from you in the future, or what their biggest challenges are.

Talk to your customers

: Reach out to your existing clients and ask to schedule a short call or meeting to take a "temperature check" with them. This can be an open-ended conversation, or you can structure it with a few key questions. Humans are social creatures, and you might be surprised how much valuable information you can glean simply by asking the question and showing up ready to listen. If you find it difficult to schedule these meetings, you can sweeten the deal by offering a small incentive (gift cards to their preferred coffee shop or to retailers like Amazon tend to go down well) in exchange for their time. This small expense can buy you incredibly valuable insights.
While we are discussing audience research in the context of web design best practices, this information can also inform all the other aspects of your business. Robust audience data can lead to better marketing messages, more insightful questions from your representatives during the sales process, and even innovative ideas for new products or services.
Creating a Detailed Outline of Your Needs
Once you have a strong understanding of your audience's needs, you can start considering the most important elements that will make up your website. There are a few key areas you need to be aware of at this stage.
First, outline the most essential tech functions that your website will need. For example, do you have an existing enterprise resource planning (ERP) or customer relationship management (CRM) system that the website will need to link into? Do you need a solid search system so users can find what they need amidst a vast product catalog? Will there be landing pages linked to particular marketing campaigns, helping you to track the performance of your advertising efforts?
Next, outline the key insights gleaned from your user research efforts. Outline which business industries you target, what types of users tend to interact with your sales and marketing teams, what questions these individuals have, and what needs you need to meet for them.
Finally, specify the goals you hope to achieve with your new website. If you are looking to attract new users and inform them about your offering, you may want your website to offer useful, free resources such as downloadable reference documents and blog articles. If your goal is to generate solid leads, you will need to ensure you have lead capture pages for users to connect with you. And so on.
After you have outlined your needs for your new website, go one step further and rank those needs in order of priority. This will allow you flexibility and help you to identify which items are the most important (the must-haves) and which can be tackled at a later date if necessary (the nice-to-haves).
The Design Phase
Now that you understand your audience and your web design project requirements, the design phase—also known as the fun part of the process!—can begin. While every company and project is different, there are some common design best practices we've identified.
Avoid the Use of Slideshows and Hidden Content
One very common user experience mistake companies make is adding slideshows to their websites, particularly on the homepage. While these can have their uses in a minority of cases, in general slideshows and other types of UI patterns annoy users. This is because slideshows effectively hide important information from users, forcing them to put forth additional effort to find it on their own and slowing down the user journey. It also unnecessarily decreases your website's speed, which negatively impacts your SEO.
Many of our B2B clients will ask for slideshows as a way to showcase various different stakeholding departments in their company. While we can understand this as a valid internal concern, in web design it is vital to put users' needs first.
If you think you need a slideshow on your website, consider why. More often than not, we find that there are much better ways to achieve those goals without impacting your site speed or the user experience.
Segment Your Audience
Segmentation, in a nutshell, refers to dividing your audience into groups so that you can deliver the most relevant content, resources, and calls to action for every group. When your site visitors get the impression that you understand their unique needs and pain points, they are far more likely to make contact and move through your sales pipeline. Segmentation also helps you to organize content in the most effective way within your products and services as well as on other channels, such as blogging and social media.
There are a number of ways to segment your audience, and the method you choose will depend on your business and target audience. Most often, companies segment prospective clients either by industry or by persona.
Industry segmentation focuses on broader markets. If your products and services are not focused on just one type of B2B client, this method can work well. For example, how you would pitch a product to a finance company will differ from how you would pitch it to a marketing agency.
The downside is that industry segmentation makes persona segmentation more difficult and time-consuming, as you may need to identify customer personas within each target industry. This can snowball into an unmanageable task if you are not careful.
If you target just one or two industries, persona segmentation is the way to go. This allows you to identify specific customer personas based on factors such as their position in their company (e.g. a purchasing agent or sales representative).
The downside of persona segmentation is that, if you eventually want to branch out into different industries, that becomes more challenging as you will need to conduct research, identify personas, and craft content for those new industries. If you are using persona segmentation, it is vital to do your research thoroughly, otherwise, you risk coming across as uninformed or lacking in the necessary expertise.
Cross-Link Pages to Relevant Content
We know that B2B users tend to be crunched for time and have many other responsibilities and demands on their time. This means it is vital to ensure that their user journey through your website is easy and seamless. One great way to do this is to provide alternate types of content and calls to action on key website pages.
For example, let's say a user navigates to a particular product page. They will see a description of the product, the benefits of using it, and specifications to help them identify whether it meets their needs. By providing additional resources such as case studies, detailed technical document downloads, and links to similar products, you are easing the cognitive load required to make a decision.
Clear and straightforward calls to action on these pages will also show the user exactly what they need to do next to reach out to your company for more information or a personalized quote.
Talk About the Customer, Not Yourself
Have you ever been to a party and gotten stuck in a conversation with someone who only talks about themselves? I would bet money that it wasn't a very engaging experience! But this is exactly what your website is doing if the messaging is focused purely on your company, your expertise, or how great your products are.
Instead, focus on messaging that centers the customer. This means showing that you recognize your audience's problems and then positioning your products or services as the solution. Writing with users' needs at the forefront of your mind is a tried and tested technique that many B2B businesses forget.
As an example, consider Slack, a B2B company that sells a team communication tool to businesses of all sizes. On Slack's homepage, all of its marketing messaging focuses on the customer's needs: improving communication, efficiency, and productivity. This shows users that Slack understands their specific problems and needs, making them far more likely to give its services a chance.
Focus on Quantity and Quality of Content
When I undertake a content audit for a client, I often find two areas that are in dire need of improvement: content quantity and content quality.
Simply not having enough content on a site can be a big problem. Product descriptions that have only a few words, resources that are months or years out of date, blogs that are seldom or never updated, and few or no downloadable resources are common culprits in this area. Having sufficient content on your site allows you to showcase your expertise and to better meet your prospective clients' needs. It also gives your SEO a big boost.
I also often find that the content that does exist is of poor quality. The most common issues that we find include poor grammar and spelling, and the overuse of jargon, acronyms, or other verbiage that only people with a high level of existing knowledge would understand.
These problems are understandable. B2B companies are often so focused on operations and sales that the content they are putting out becomes an afterthought. It is added as needed, and often written by people who do not fully understand the complex topics concerned.
However, a low quantity or poor quality of the content (or both) can seriously hold your business back. If all your content is out of date, customers may assume that your business practices will be similarly dated… or even that you are no longer trading at all! And poor quality content undermines trust and calls your expertise and ability to meet client needs into question.
When you update your website, hire a copywriter (or a web design company that offers copywriting services within their packages). This will take a lot of the burden off your shoulders and will ensure that you receive sufficient content of a high enough quality to play well with your audience and be seen as valuable by Google. It's a win-win.
Skipping professional copywriting is a false economy that will harm your website unless you have an excellent writer on staff who can do it for you. If copywriting services really cannot be accommodated in the project budget, there are online writing services such as Grammarly. These tools help to pick up on common spelling and punctuation errors, poor word choices, and hard-to-read sentence structures. While not as foolproof as hiring a skilled copywriter, this can at least mitigate some of the most glaring mistakes and errors.
In Closing
As you can see, there are many important phases to a B2B website design and build project. There are numerous points at which things can go wrong, and many different factors to consider as you make decisions about your project.
Many of the worst ways that web design projects fail can be avoided with little know-how and some careful planning. By undertaking meticulous audience research, creating a detailed outline of your needs, and carefully avoiding a few common mistakes in the design phase, you can help ensure that your new B2B website is a success that drives your business forward and gets results.
Are you ready to dive into your website redesign with an experienced and professional team of New Jersey web designers beside you? Drop us a line to get started.