5 Crucial Types of Blog Posts That Every Blog Needs
In today's era where anyone can sign up for cheap hosting and start a blog, it's no longer enough to simply post "good" content online. You have to do more than the average blogger does in order to stand out, attract, engage, and convert your audience.
The good news is that there are certain types of blog posts that are proven to free your creativity, allowing you to deliver value-packed, high-ranking content that audiences and search engines love.
Read on to discover how to draw an ever-growing stream of visitors to your blog with the 5 crucial post types that every blog needs.
1. List Post
Also known as a listicle, a list post is one where the headline has a numbered collection of points. This very post you're reading is an example of a list post.
Publishing list posts is extremely beneficial in that they tend to attract a lot of audience attention and backlinks. They also help to showcase your expertise (to Google and your prospects) and are informative, as well as immensely actionable, for your readers.
The most successful list posts are those that make it easy for readers to scan for the big takeaways.
When you can streamline information into a numbered list, it makes it quick and convenient for your blog visitors to find what they need. They can easily read, share, and put the information into action. And that's why list posts are essential for your blog.
Examples of List Posts
Top 5 Most Dangerous Drugs in the World
5 Holiday Destinations You Have to Visit in Your Lifetime
How to Create a List Post
Find your big idea or main topic
Jot down as many points as possible
Refine the list down to the most important points
Consider grouping your points together under proper subheads
Craft an emotional headline and include the number of points
Include lots of images and Click-to-Tweet snippets to entice social shares
Add a bonus, such as a content upgrade to build your email list
Pro Tip: When creating your list post, do your best to make your list longer than the other posts on Google's first page of that particular search query.
It has been shown that longer content tends to rank higher and get more shares.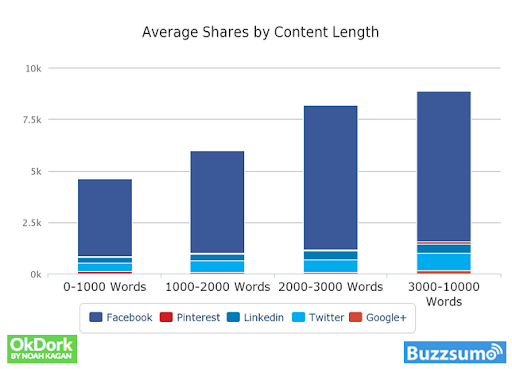 Source: Business2Community.com
Doing this will give you an edge over your competitors, but make sure you don't dilute the quality of your list. Choose quality over quantity – even if it means your list ends up having fewer points.
2. Ultimate Guide
An ultimate guide, as the name implies, should aim to be the absolute best post on your chosen topic.
This means capitalizing on what your competitors have done right, avoiding what they didn't do well, and putting all this together to create content that is better than anything else that's out there.
If you're already an expert on something, an ultimate guide will be an easy way for you to create a popular post that will drive tons of search traffic to your blog. You will also start generating backlinks when other websites use your guide as a source of information.
A great example of this concept in action is this Ultimate mannequin buyer's guide.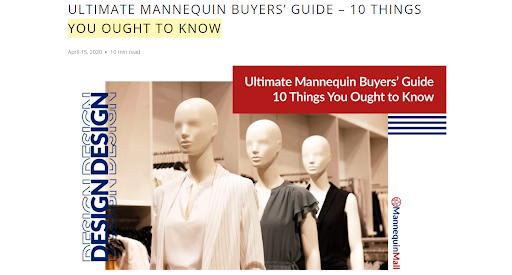 Source: MannequinMall.com
Some bloggers feel that the term "ultimate guide" is a bit overused. You can use alternate terms, such as:
Complete Guide
Essential Guide
Uncensored Guide
Definitive Guide
Last Guide to__You Will Ever Need
Subject matter experts are always looking for credible ultimate guides in their areas of expertise. For your guide to be credible, it must be a data-driven and research-backed post.
Make your guide as informative as possible by backing it up with statistics, as in this example of a data-driven post on digital marketing channels. This shows your readers that your guide is legitimate and properly researched.
Remember, only use data from authority sources, and credit them for the information.
Examples of Ultimate Guides
The Ultimate Guide to TikTok Marketing
The Definitive Guide to Night Photography
The Last Guide to Intermittent Fasting You'll Ever Need
How to Create an Ultimate Guide
Find a helpful idea that your audience will find extremely valuable
Break the topic down into multiple sections
Further break down each of those points into subsections
Make each point super actionable
Do your research and gather all the data you need for your post
Craft a killer intro explaining why this post is important to your audience
Write the post following your outline
Include lots of images, charts, and graphs to help prove or explain your points
Finish off with a strong call to action
3. How-to Post
When people need to figure out how to do something, they simply Google it. How-to posts and tutorials solve specific problems that readers are experiencing at that moment. They also help to establish your expertise and credibility, as shown by this example from a company that uses this type of content to position itself as a leader in providing software for predictive dialing.
If you can provide your audience with tutorials and guides to help them solve their problems, you will be able to get more shares and create a steady stream of traffic to your blog.
This post on how to make money online is a particularly great example of a well-crafted "how-to" article: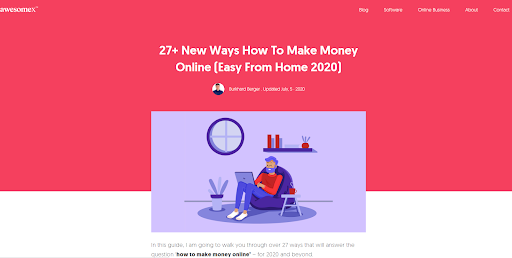 Source: AwesomeX.com
It's easy to scan, consume and digest. After all, no one wants to read an instruction manual. They want quick answers that are easy to implement.
Examples of How-to Posts
How to Create a How-to Post
Choose your tutorial topic from the biggest problems facing your audience
Write down the step-by-step process for solving that problem
Break down each of the steps to make it easily actionable
Include videos, images, screenshots, infographics, etc. to help you explain your points
If necessary, link to additional resources (on your blog or elsewhere) that'll provide your readers with more information
The easier your tutorial is for your audience to follow, the better. And whether you're writing for your prospects or actual customers, the process is the same.
If they have a problem, you can help them solve it with a simple step-by-step post where you walk them through the solution they need. Be sure to use design resources to help you get your how-to post done faster and more effectively.
4. Link Roundup Post
A link roundup post is quite similar to a list post, except that you are curating other people's content. It's basically a resource that features links to other blogs in your niche.
This type of post is perfect for helping you build relationships with other bloggers and to boost your own link-building efforts.
This list of Meal Planners & Services from UltimateMealPlans.com is a very good example of a link roundup post that makes it easy and convenient for readers to access a wide range of information on a particular topic.
Every industry and niche has its experts and influencers, and oftentimes, when you share tips from them, they will promote the post to their massive audiences, who, in turn, share your post with their networks.
Seeing as links are among the most important SEO ranking factors, this is among the most important types of blog posts to have on your blog.
And remember to make your link roundup posts longer and more in-depth as studies show that longer articles garner more backlinks.
Source: MonitorBacklinks.com
Examples of Link Roundup Posts
7 Professional Speakers Talk About the Stupid Things You Should Never Do Onstage
21 Branding Experts Share Their Best Tips on Infographic Marketing
40 Relationship Specialists Teach You How To Handle a Family Crisis
How to Create a Link Roundup Post
Pick a topic that your audience and experts in your niche will find interesting
Decide on a keyword around which to publish your resource post
Make a list of experts to feature in your post
Reach out to each of them and ask to interview them for your post
Once you have enough responses, write your blog post
Publish your post and share it with your own social media network
Ask each of the experts mentioned to share it with their audience
Pro Tip: If you want to feature 10 experts, make a list of 20 experts and approach them from least popular to most popular. Once you have one or two big names committed, do a bit of name dropping to entice the others to join in.
5. Case Studies
The final entry on our list of 5 crucial types of blog posts that every blog needs is the case study. You can write case studies of success stories in your niche. These are great for building your credibility and for lead conversion.
The reason case studies are so effective is that they show your audience real-life examples of things that are important to them. Readers are more likely to believe that you are an expert authority on your topic when they see real examples. This, in turn, makes it more likely that they will turn into customers.
This blog, which focuses on optimizing sleep health, does a great job of using case and sleep studies that their readers can relate to.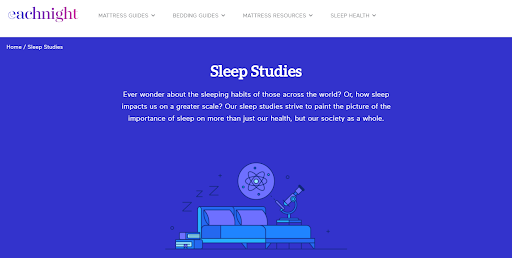 Source: EachNight.com
Another superb example of a blog that knows how to leverage case studies is Influencer Marketing Factory. They use case studies of customer successes to showcase their skills in social media marketing.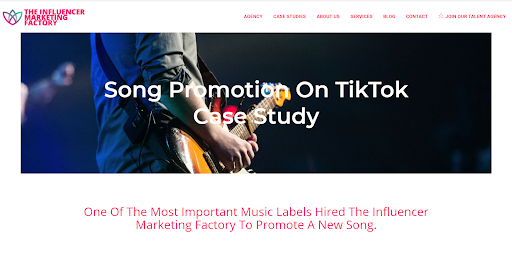 Source: TheInfluencerMarketingFactory.com
Examples of Case Studies
"Shopify Uses HubSpot CRM to Transform High Volume Sales Organization," Case Study by HubSpot
"Designing the Future of Urban Farming," Case Study by IDEO
"Secure Wi-Fi Wins Big for Tournament," Case Study by WatchGuard
How to Create a Case Study
Research some of the most popular case studies in your niche
Make a list of the questions your potential customers are asking
Craft an introduction outlining your audience's main problem or common pain point
Tell the story of how a customer overcame a problem using your product or service
Have a clear, step-by-step progression from problem to solution and outcome
Use real people and examples
Include as much information, images, and proof as you can throughout the post
Pro Tip: Use image editors, infographic creators, and video editing apps to help you create original, eye-catching visuals that will lend more legitimacy to your case studies.
Also, don't be afraid to dive deep into the details of your case studies. The longer your article, the higher the chances of outranking your competitors, as evidenced by the graph below.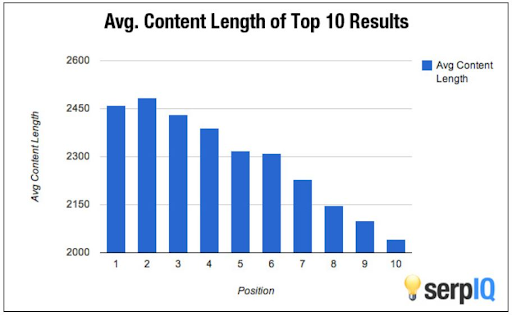 Source: Sweor.com
Bonus Post Type: Review Posts
Review posts are also great for your blog – but only if you choose the right products. In fact, if you can find products that are related to your niche and create high-quality reviews for your audience, you can fully monetize a blog with just those types of posts.
All you have to do is sprinkle affiliate links throughout your reviews, as in this example of a review post for websites where photographers can sell photos online. When your readers click through and make a purchase, you get paid a commission for each sale generated from your recommendation.
But, first, you have to build your credibility and expertise so that your readers trust your recommendations.
There are two types of review posts, straight product reviews, and comparison reviews where you contrast two or more related products.
This Wix vs. Shopify post is an example of a comparison review post that looks at two products. A great example of a review post that compares multiple products is 7 best cheap WordPress hosting providers.
These types of posts are perfect for the bottom of the funnel, and regardless of which one you choose, you have to be fully honest in your review. Make sure your audience knows what's good and not so good about the product so they can make an informed choice.
Examples of Review Posts
Elementor vs Visual Composer Website Builder Comparison
Fat Loss Factor Review: Does This Diet Program Work?
FTMO Review and Pricing – Read Before You Buy
How to Create a Review Post
If possible, get your hands on the actual product
Join an affiliate network and get an affiliate link for the product
Learn as much as you can about the product you're reviewing
Write an honest, transparent review, don't hype it
Make sure to include both the pros and cons of the product
Give your final recommendation or use a rating system
Provide alternatives to that product (also with affiliate links)
Pro Tip: Always use a plagiarism checker like Copyleaks to check that your content is 100% original before hitting "Publish" to avoid getting penalized by the search engines.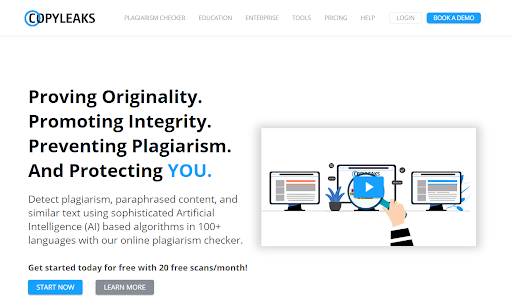 Source: CopyLeaks.com
Conclusion
You can have the best web hosting in the world, but if you don't know how to share information in an effective way, you'll find it hard to maintain traffic to your blog.
These are just 5 crucial types of blog posts that every blog needs. Of course, there are a lot more to choose from, including reports, news stories, FAQ posts, and more.
However, with the five post types listed here, you'll have in your blogging arsenal everything you need to create the best posts to attract, engage, and delight your audience so you can boost your conversions and grow your revenue.
Now let's hear from you. Which types of blog posts are most popular with your audience? Share your thoughts in the comments below.