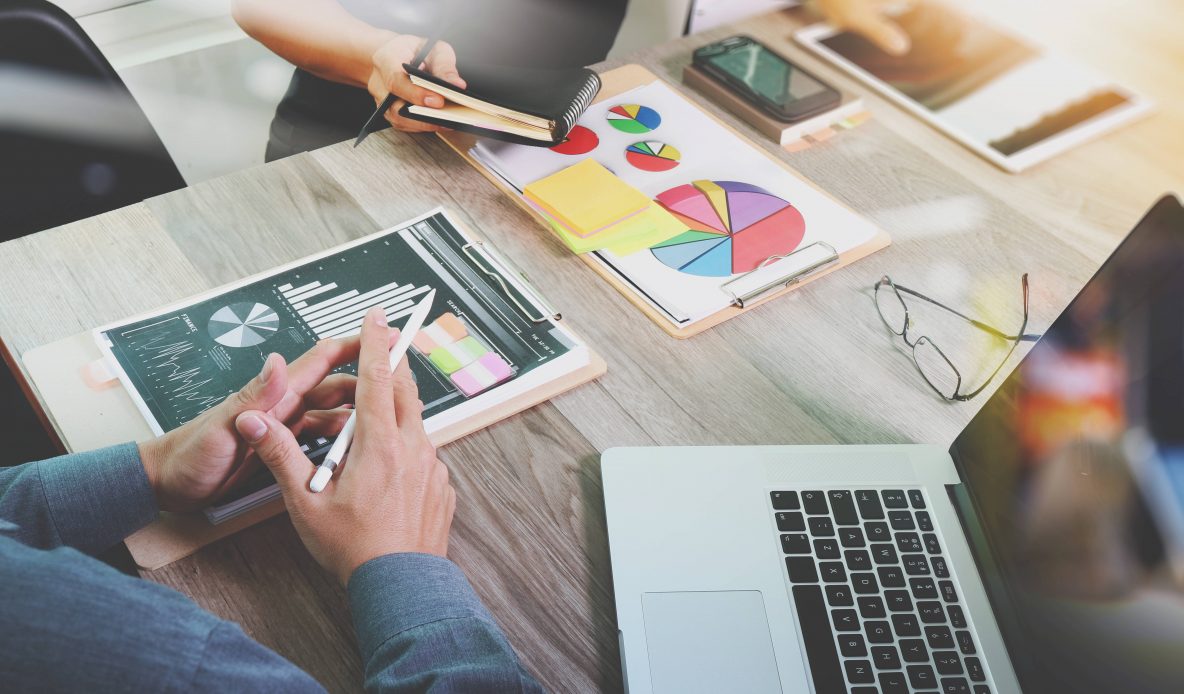 23 Things to Consider When Hiring a Web Design Company
[UPDATED ON March 15, 2021: We did some improved formatting to make sure that one of our audience's favorite blog posts was more readable and enjoyable.]
Searching for a web design company that fits the needs of your business can be overwhelming. On the surface, they may all look the same and provide the same services, but as you begin to dive deeper, it's only then you are able to understand the true value of a good web design company's expertise.
But First, What Challenges Are We Seeing In the B2B Market?
The internet impacts how we make purchasing decisions, but technology impacts where and when we make those purchasing decisions. As a result this has transformed the buyer's journey; 67 percent of it is now being done digitally.
So why should this matter?
In today's information age, a company's website is the key to its entire business.
Businesses are challenged more than ever to get the right piece of content in front of the right audience at the right time. Google has coined this as the "zero moment of truth." This is a huge undertaking, with which most businesses struggle. Understandably, this is no small feat, but being present in the moments your prospective clients need you most will help you achieve more success. I encourage you to ask your company these questions:
Do you know how many users are searching for your company?
What about your business category?
How many of those times does your company show up on the first two pages of the search results?
How many times do your prospective clients choose you?
Why do they choose you?
Most importantly, how many times do your competitors show up on the first two pages of the search results, but you don't?
A strategic web design company will be able to increase your business's online visibility, generate more engagement with your brand online, and capitalize on this "Zero Moment of Truth." So choose wisely.
What Important Things Should My Business Consider When Hiring a Web Design Company?
Marcus Sheridan said it best: "In today's information age, a company's website is the key to their entire business." Since a company's website is so critical to the success of its business, we have taken Ian's original list as a jumping off point and and compiled a new one: 23 things to consider before partnering with a web design company.
1. Is all work done in-house or does the web design company outsource?
Do not hesitate to ask whether or not the web design company performs all of its services in-house. This includes design (e.g., Photoshop work), coding (e.g., html, database creation, php), writing, content creation, and marketing. A team well versed in all arenas is apt to merge its talents to create a successful site. When all the work is performed in-house, the synergy results in greater communication, collaboration and an overall better quality product. The last thing you need to encounter is a deficiency during the web design or development phase that requires help from another company, along with additional costs beyond your initial budget and increased timelines.
2. Is its web design and development solutions customized to your specific needs?
Your company is unique and your website should be, too, to reinforce a strong, favorable first impression and a quality user experience. Custom solutions provide greater branding, flexibility, and scalability for your website as your company grows.
3. What is its web design and development process?
It's important to know how a digital company approaches web design and development because this provides direct insight into its experience and strategy. It also allows you to manage your expectations as it relates to the key milestones, number of revisions allotted to each phase, implications, timelines, etc.
4. What is its marketing experience?
Your website is the face of your company and, if designed and developed properly, can become one of your best salesreps as it generates new leads and builds your sales pipeline. Moreover, a website shouldn't be looked at in a silo. It should be considered within the mix of content marketing, digital marketing, SEO, social media, blogging, lead generation and inbound marketing tactics. By partnering with a web design company that illustrates this marketing prowess, you can elevate your website to a marketing platform powerhouse.
5. How does it approach search engine optimization (SEO)?
Just as important as having a beautifully designed and functioning site is the ability for that site to be visible during relevant keyword searches. After all, what good is a website if your prospects can't find it during their searches? In addition to the marketing tactics listed above, your website's coding, title tags, meta descriptions and alt tags impact your SEO. Luckily, there are a lot of great paid and unpaid tools (like Google Analytics, Google Trends, SerpChecker, WebMeUp, Backlink Checker, and Spyfu) that web design companies can leverage to further improve your site's SEO, so it's important that you understand what resources are in its arsenal.
6. Can they share 3-5 relevant references?
What better way to learn about a web design company then through its past or present clients? By speaking with a few references, you can gain insights from their experience to better guage the web design company's strengths, weaknesses, quality, work ethic, integrity, and dependability.
7. Do they provide a warranty on their work?
It is very crucial to know whether there is a guarantee that the website will function exactly as it was intended to based on the proposal. Moreso, knowing that you will not be charged for any code issues post-launch for a specified period of time illustrates a great deal of integrity on the web design company. Otherwise, you may expect to pay for every "fix" and those costs can quickly add up.
8. Do they have case studies or proven metrics and results from previous projects?
Reviewing the web design company's work will give you an understanding on whether it has a proven track record for designing and developing high-performing websites. Are they able to solve business challenges through design and custom functionality/coding? Do their websites achieve results for their clients?
9. Are you philosophically aligned?
The gravity of entering into a working relationship with another company cannot be underestimated. It is essential to find a fit between your philosophy and theirs. Often, such compatibility can be determined through careful analysis of the manifesto or statement of purpose that a web design company might include on their site. This can also be further gleaned through conversations with the web design company.
10. How large is the company?
How many employees does the web design company have? What are their areas of expertise? Can they handle the scope of work? Will you be provided with a single point of contact who will take personal ownership of the web project? Too large a company may leave you feeling like you're getting lost in the shuffle. Too small and they might not have the resources necessary to elevate your web presence to the next level. Ideally, a web design company is nimble enough to handle all of your needs quickly and efficiently while having the tools at their disposal to ensure all requests are properly seen to. Even more important than the quantity of employees is the quality.
11. Do they understand the buyer's journey?
By 2020, it is predicted that more than 80 percent of the buying process will happen without any human interaction even taking place. Therefore, it is important to publish content on your website that targets each phase of the buyer's journey: awareness, consideration, and decision. In our experience, many companies focus their content on the bottom of the sales funnel with the decision phase. However, the majority of your site's visitors aren't ready to buy when they first come to your website so companies are missing a huge opportunity to meet the buyers during their first 80 percent of their journey. By partnering with a web design company who understands this, its team can advise on what type of content to publish as well as how the website should be organized to appeal to each phase of the buyer's journey.
12. Does the web design company encourage face-to-face meetings?
With today's technology, we can do business anywhere thanks to video conferences and screen sharing services. It's all about speed and convenience. How quickly can we get a meeting on the calendar with the key decision makers? However, this prioritization of speed over face time underestimates the power of human interaction. Face-to-face communications "are still the most effective way to capture the attention of participants, engage them in the conversation, and drive productive collaboration" as reiterated in this Forbes' interview with Caesars Entertainment's Senior Vice President of National Meetings and Events, Michael Massari. Having face-to-face interactions with your web design company nurtures the relationship, builds trust and fosters greater synergies. If having frequent face-to-face meetings isn't realistic due to geography I encourage you to, at minimum, visit the web design company when you are reviewing the proposal so that you can see the space in which they work and meet the team that will be responsible for bringing your site to life.
13. Do they practice what they preach?
In your quest to partner with a web design company, it's important that you scrutinize its website, content, social media profiles, and overall digital presence. Is the team following the latest design practices? Is their website fully functional or are there broken links? Are they publishing new and quality content on a consistent basis? Are they engaging with their followers and visitors? If they aren't following best practices as it relates to web design, development, and digital marketing, then how can you be sure that they will for your business?
14. How do they handle website hosting?
It's important to know whether the web design company plans to host your site on a dedicated server inhouse or on a virtual hosting platform. Virtualization is hosting perfected and allows large increases in site traffic to be easily handled. Unlike dedicated hosting, there's no hardware to purchase, rent, or maintain. And unlike shared hosting, the resources for the virtual server are guaranteed. It's also important to know how often the site will be backed up and how long those backups are retained. How fast is the hosting platform's processing power? What is the guaranteeed uptime?
15. How much experience do they have in content management systems?
A content management system allows your business to manage your website's content without the need for coding. This is important because you are given the flexibility and control to continue to evolve and grow your site post launch. Ask the web design company what content management systems they use and whether training is provided.
16. Do they provide aftercare or support post launch and to what extent?
The nature of the web is ever-evolving, both in terms of advances in technology and the need for a constant flow of new content. It's rare that once you launch your website, you won't want to make updates. Maybe your company has added products or services; perhaps a new web technology would enhance your customer's online experience. Whether you've found typos in the content, accidentally deleted a module from the content management system and find yourself in need of a backup restoration, or wish to add more functionality to the site, you'll want a clear plan in place. Some developers offer aftercare options in the form of monthly retainers, others provide a la carte pricing for their existing clients. No matter what the method, it's important to know your options. Make sure you have a thorough discussion regarding policies and pricing for your post-project needs.
17. What is their experience with third-party integrations?
Always ask yourself, is your web design company fluent in the use of digital marketing and transforming a website into a powerful sales tool? Good indicators of its level of prowess include the handling of e-newsletter signups and marketing through Constant Contact, MailChimp or Campaign Monitor. Can they integrate CRMs or sales platforms like Salesforce, HubSpot or SharpSpring? How do they integrate social media like Facebook, Twitter, YouTube and LinkedIn?
18. How accessible is the web design company?
How are service issues handled, including errors and bugs? Do you have to submit a ticket through email or online HelpDesk, or can you reach someone directly by phone. The value of reaching an individual over the phone is priceless, especially during a crisis (e.g., website breach or downtime).
19. How are their time management skills?
Based on the scope of work and assuming all content is provided on schedule, can a web design company give you an accurate time frame to completion? How do they manage their time? Are they flexible enough to handle your evolving needs during the project? What processes do they have in place to ensure that all milestones are met, and how will they communicate with you to prevent the dreaded "scope creep?" Can you access their scheduling to see when items are due or vice-versa utilizing online software like Wrike? Will you recieve notifications when the allotted time has reached 50 percent, 75 percent or 100 percent of the budgeted hours utilizing online software like Toggl?
20. How long has the web design company been in business and what are their long-term goals?
It's easy to say you're a web designer and start a business. It's harder to put together the skills and business acumen required to sustain a company through tough economic times. Ask the owner what his or her long term goals for the web design company are.
21. Who owns the website when it is completed?
Some web design companies retain the copyright to their work. Ask who has 100 percent ownership over the site once it is completed. This includes the graphics, content, and code. Also ask whether you will be provided with the original design files.
22. Is the web design company respected in the industry?

Does the web design company have reviews on Clutch or Skilled, a reputable site to research leading development, design and marketing firms? Has the web design agency been recognized by its peers through accolades and awards? Are the leaders at the webdesign company invited to speak at events, conferences or workshops? Do your homework and learn how the web design company ranks among others in the industry to validate its quality of service, work and craftsmanship.
23. How do they continue to hone their craft and stay up to date with the latest trends?
Does the web design company invest in its employees and continued education? Do they attend seminars, workshops, classes? Do they read industry-related books and blogs on a regular basis? Do they listen to industry-related podcasts? Web design, development and digital marketing change at a breakneck pace so it's critical that the web design company stay informed on the latest market research, trends and tactics.
We hope that our guidance and suggestions were helpful, and we wish you the best of luck in your quest for the right web design company!