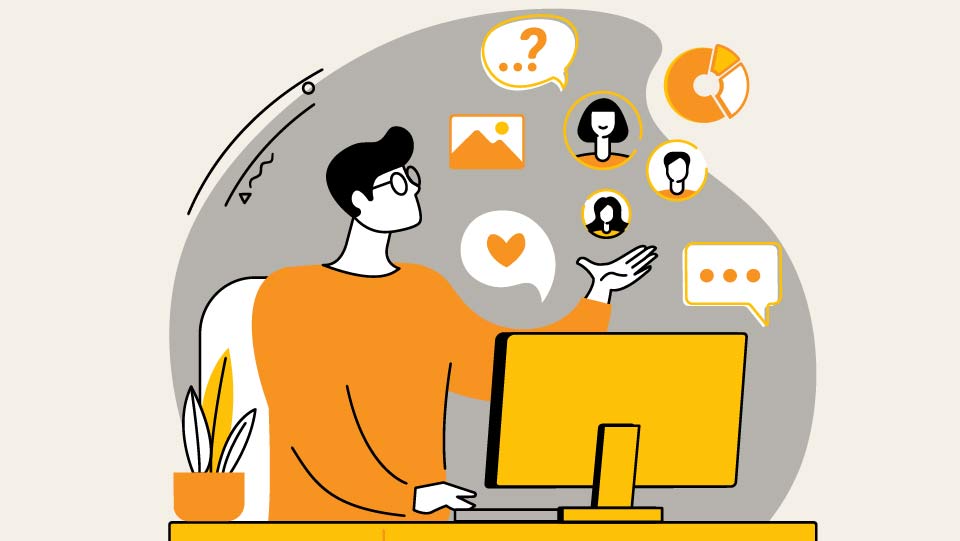 How Social Media and Web Development Work Together
There's no question that the ascendancy of social media has had a profound impact on our lives. Social media has changed the way we connect with the people we love, get our news, and engage with businesses. Now more than ever, consumers are turning to their preferred social media platforms to find the products and services they need or to learn about the companies that have piqued their interest.
But the power of social media extends far beyond its capacity to connect companies and customers. Social media can also strongly influence all aspects of an organization's online presence. When used effectively, social media can shape web development processes in highly effective ways to galvanize business growth and ensure a stellar customer experience.
Even as social media informs web development, so too can web development enhance a company's social media presence. The creation of social-media-friendly webpages, for instance, can be a potent tool for building customer relationships. This article examines the dynamic and interdependent relationship between social media and web development. We also discuss strategies for ensuring your web development and social media work together to support brand identity, customer experience, and growth.
Developing (and Maintaining) Brand Identity
The connection between web development and social media is perhaps nowhere more evident than in creating a cohesive and highly recognizable brand identity. Your company's brand identity is designed to be the truest and best reflection of your business, its mission, and its core values. It should be instantly recognizable to your target audience and, just as important, strongly differentiate your business from its nearest rivals.
Your branding strategies need to be consistent across all media platforms. From social media platforms to business websites to blogs and other online content, both your aesthetic approach and messaging strategies should be consistently keyed to your brand.
For example, you may unleash the power of social media marketing to promote brand awareness and funnel audiences to your business website. From there, customers may not only explore your company's history and mission but also peruse your inventories and make online purchases.
Efforts to transition prospective customers from social media to your online store will work only if what you tacitly or explicitly promise on social media is brought to fruition on your website. This means you will need to leverage the same messaging and design tactics across every social media platform and webpage.
This will increase your target audience's brand awareness and recognition. And, the more familiar the website and social media pages feel to your audience, the more positive their experience will likely be.
This, in turn, will increase the likelihood of conversions because, in general, consumers want to do business with companies with which they have the most positive associations. In addition, when your branding is consistent across all pages and platforms, audiences will have more confidence in the legitimacy of the company and the authenticity of your pages.
Optimizing Customer Experience
Linking social media and web development doesn't just support brand identity and audience awareness. The relationship between social media and web development can also be leveraged to provide an exceptional customer experience.
For example, your company website may give customers and prospects a deep dive into the company's history and core mission. This content can then be amplified and made more interactive on your social media pages, such as through soliciting user-generated content.
For instance, you might build a social media event using Instagram Stories to encourage customers to share their own narratives. This might include asking for customer videos about your company's products or a company-sponsored event. Or the user content you invite may be only tangentially related to a product or service. Such content can nevertheless reflect and affirm the customer-and-community-focused mission described throughout your webpages and social media.
Getting Creative
When seeking to capitalize on the relationship between web development and social media, you don't have to constrain yourself to the more well-established platforms alone. Exciting innovations are emerging all the time, providing unprecedented opportunities for you to provide audiences with a truly remarkable and unforgettable customer experience.
For instance, the rapid evolution of the metaverse promises to offer businesses extraordinary new ways to connect with customers. The metaverse can be leveraged for business marketing purposes. The metaverse can provide truly immersive experiences that allow prospective customers to experience your products and services in ways traditional marketing campaigns simply cannot.
You will also likely be able to construct a digital storefront in the metaverse, translating your business website and social media into the virtual world. This means that your customers aren't just going to experience your web content and social media in 2D through a digital screen. Rather, your customers will experience a level of engagement and interaction with your content that will make your brand irresistible.
Seamless Connections
Building congruity between your web and social media content and capitalizing on the marketing potential that creative use of these media has to offer is essential but not sufficient for growth. After all, the most expertly crafted webpages and the most engaging social media content will never achieve their full potential if viewers can't move seamlessly between them.
This is why web developers and social media content creators must design with other media in mind. For websites, this means ensuring that every webpage features highly visible and reliably functioning links to major social media platforms.
You should also provide direct links to your company's various social media accounts so that website visitors won't have to search for them. In addition, you will want to ensure that all content on your webpages is easily shareable to all the major social media platforms.
The key is to make clicking, linking, and sharing as quick and easy as possible for your viewers. Otherwise, they probably simply won't.
And, what is true for your web development is, of course, also true for your social media. Each account should provide easy access to its related website. You might provide this on your social media information pages as well as in every post. Ideally, your social media posts should also include links to specific blogs, product and service catalogs, and other pages relevant to the content of that posting.
Linking Web Development and Social Media for Social Proof
Social proof may well be the most important brand-building tool you might never have heard of. In essence, social proof refers to a company's ability to inspire trust and loyalty in its target market by cultivating a robust and reliable online presence.
For example, you can use your web development prowess to create web content that is well-crafted, meticulously designed, and executed. The website, in other words, should reflect and underscore your organization's professionalism, competence, and conscientiousness.
This same mission should also be apparent in your social media accounts. Only content that reflects your company's brand, mission, and values should appear on your pages.
Above all, your social media and your websites should be mutually reinforcing when it comes to validating your business and cultivating social proof. For example, blog content can be created that references other pages on your business website as well as your social media accounts. These internal links should also be integrated with external links to reputable sources, including recognized industry experts.
Taken as a whole, these content creation strategies help to establish your brand as an authority in your field. Your internal resources on social media and on your company's website illuminate the scope and comprehensiveness of your industry expertise. Your links to external sources demonstrate your knowledge of the industry and your company's engagement with the ever-present discourse in your field.
And the good news is that you can cultivate social proof without having to make monitoring and updating your content a full-time job. There are, in fact, a host of affordable and user-friendly tools you can use to boost your business's online reputation and build social proof.
Some of these, such as Brand Grader, continuously monitor social media and other online content to evaluate the status of your brand reputation. These tools can even alert you to negative reviews and comments so that you can proactively address them through your social media, website, and other online platforms.
The Takeaway
Social media and web development are enormously powerful tools for every business. But their business-boosting potential is exponentially increased when the two are made to work together. Integrating and aligning your web development and social media content approach can bolster brand identity, attract audiences, drive conversions, and build brand trustworthiness and customer loyalty.
If you want to help turn your social media audience into loyal customers, get in touch with the B2B experts at Lform. We would love to have a conversation about how to improve that crucial link between your media channels and your website presence.