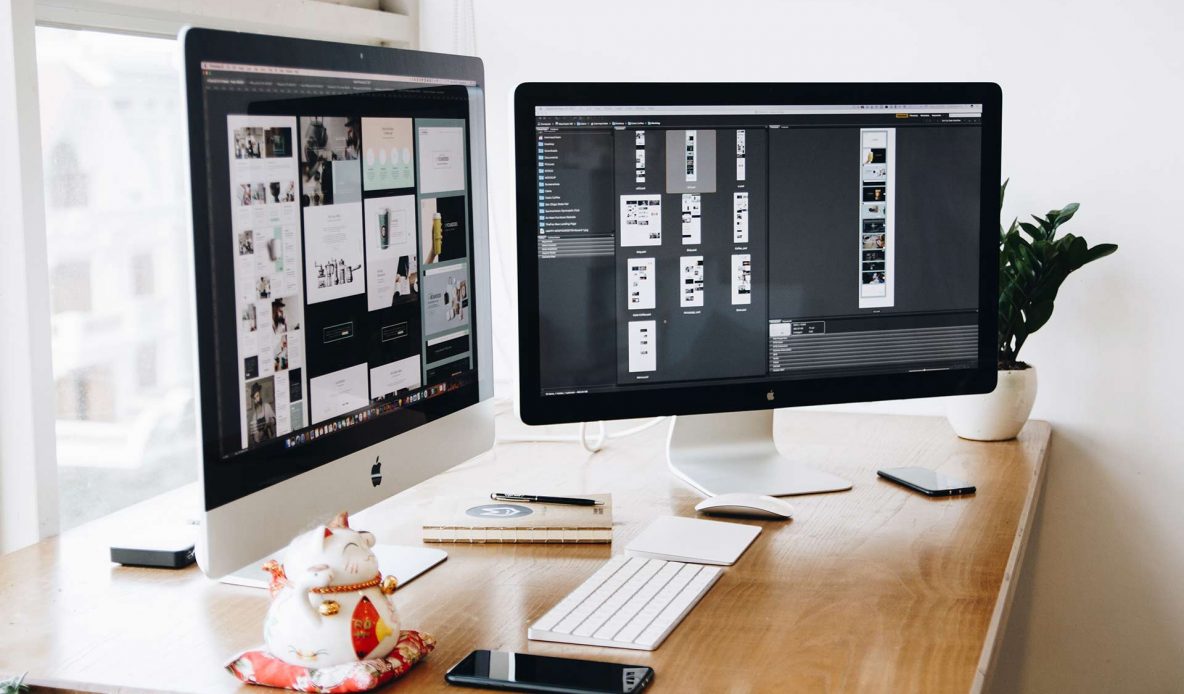 The Critical Role of Web Design & Development in B2B eCommerce Optimization
The eCommerce revolution has powerful implications for custom web design and development. In the U.S. alone, eCommerce grew by 44% in just 2020 due to the pandemic spurring virtual activity. Digital shopping has become the new expectation in almost every company's business model, in one form or another, and B2B businesses are no exception.
Facing a highly competitive online environment that spans the world, eCommerce companies must optimize every aspect of their sites, from User Experience (UX) to Search Engine Optimization (SEO). By honing these tools to their finest, your digital B2B ecommerce websites can receive a substantial boost in traffic and conversion rates.
Web design and development companies play an essential role in this optimization. Here's what you should know about eCommerce optimization and how custom web development and professional web design lay the foundation for your success.
The Importance of Optimized B2B eCommerce
The internet continues to play an ever increasing role in our everyday lives. For some, online purchasing has been the only way B2B companies have managed to safely secure goods and services—especially facing the health risks of the pandemic. The coronavirus pandemic both highlighted and exacerbated the need for digital business. As a result, more and more companies will continue to pivot to an ecommerce model.
With ecommerce so fundamental to our modern experience, your online platform should reflect the best your business has to offer. This means optimization across every element of your website design and development infrastructure.
There are a wide variety of factors that you need to pay attention to in your optimization effort. These include:
An optimized ecommerce website contains effective use of all of these elements. If even a single item is lacking, you stand to lose your edge to your competitors.
Online sales also take place in a global environment. This means that vendors all over the world are competing with you with similar products and services. If their webpage is better optimized for user visibility and accessibility, they will be better positioned to take all the traffic you're hoping to gain for yourself.
An optimized ecommerce platform can create a host of benefits and help you build your revenue. For example, when Virgin America built its new site, it saw a 300% increase in mobile conversions. This example demonstrates that with the right optimization technique, you can tap into traffic you never knew was there. Getting there, however, will undoubtedly require expert help. That's where web development and design come in.
The Role of Web Development in eCommerce
On the tech side of your eCommerce platform, various roles and responsibilities will be necessary in order to ensure proper optimization.
Understanding the functions of technical systems and the professionals who navigate them can often be difficult for all of us less versed in the inner workings of digital platforms. However, it's important to understand the roles that web development and web design fill in improving your eCommerce experience for your customers.
Web development, for instance, builds the back-end, unseen structure of an eCommerce page so that the layout of your site actually does what it is intended to do. Think of web development as both architects and construction workers.
Like software development, web development teams program executable tasks on a computer system. But web developers typically take on different responsibilities than software development. Both, however, are instrumental in achieving the ecommerce experience you want from your site.
Web development teams build and maintain the infrastructure of your site to effectively communicate with all users on a web browser. Software development teams, in contrast, focus more on independent applications on various devices that can execute some of the same functions as a web store.
Both roles require a strong attention to detail, a commitment to clarity, and knowledge of software and programming. Alongside web design, these professionals are instrumental in providing a site's infrastructure that can keep scaling upward with your overall business growth.
However, web development differs from web design in many regards.
How Web Design Can Improve eCommerce Results
A web design team is responsible for crafting the aesthetic and kinetic experience of shopping online. While this may sound frilly, a web designer is just as important to a healthy digital shopping experience as the backend system. A team of web designers ensures the quality of a design from the technical side to the aesthetic aspects of user experience. This can in turn boost your SEO conversion rates through building benchmarks like good copy and responsive web pages directly into your UX.
Amidst all their efforts to improve site functionality, the responsibilities of a web designer include:
The

wireframing

and

UI design

the website

Determining and meeting technical requirements

Creating and writing web content
These essential duties are necessary in every aspect of a properly functioning SEO strategy. A site with an effective layout will reduce bounce rate and increase your conversions. Meanwhile technically optimized architecture that supports easy navigation will increase your search rankings. In fact, Google reports that quality is the top determiner for where content shows up in search engine results pages (SERPs).
Web design teams are essential in maximizing the potential of your virtual storefront through improving content quality. Ensuring that your web design achieves your business goals, however, requires that you keep focused on your performance data.
Metrics to Pay Attention To
In your SEO and web design endeavors, there is undoubtedly a host of analytics that you already track. Digital tools make gathering data for analysis a relatively simple task. With platforms like Google Analytics that you can employ for free, web development and design data are available to virtually any business.
A large part of your ecommerce optimization success will come out of how well you can assess and understand the data you acquire through insights and analytics platforms. But knowing what to track and what's most important can be difficult.
Here are some of the metrics you should be paying attention to that will help inform how well your web design is working for your ecommerce site:
Traffic from many channels

: This includes direct, referral, and search traffic.

Visitor engagement

: Factor in time spent on site and drop-off locations.

Bounce rate

: Ideally keep your bounce rate below 50%.

Visitor conversion rate

: Explore individual page rates with a goal of 2–3% overall.
With a close eye on these data points, you can better see how changes in your web design are impacting the ecommerce experience of your customers. In turn, you can better understand where you are failing to provide the features that shoppers have come to expect from ecommerce websites.
Then, put your data in story form, asking questions from the perspective of your customers. How can site functionality improve? How can shopping online feel safer? Where does the site design make me want to abandon the process? Use your data points as well as customer surveys to construct these narratives.
In short, ecommerce optimization is better with data. Assess your customer information, consult professionals, and construct human narratives around your data points to better optimize your ecommerce strategy for the future.
Optimizing eCommerce for the Future
2020 marked a period of monumental global shifts toward digital commerce with no indicator of slowing down in 2021. With social distancing and shelter-in-place orders, many B2B employees had to rely much more extensively on virtual purchasing than we ever had before. Now, the rapid growth of the digital economy carries a host of implications for business-to-businesses companies going forward.
Some of the impacts this will have on your business include:
More seamless methods of interacting and communicating with customers.

Increased pressure to constantly innovate systems and services.

Enhanced efficiency of time, labor, and resources.
A well-optimized ecommerce experience takes these impacts into account. A highly functional and seamless shopping experience will go a long way in producing a digital storefront that stands the test of time. Additionally, the incentives brought by efficient digital systems will create a constant need to monitor data and trends for any edge ecommerce stores can bring against their competitors.
Fortunately, data can assist web development and design in maximizing your storefront with the latest techniques.
Consistently keep your web design optimized for the future with trending and value-building enhancements like micro animations. Explore what design and development strategies are having the most impact on user satisfaction and put your own spin on them for your ecommerce store.
In turn, you can cultivate a lucrative platform that requires minimal cost overhead.
Bottom Line
eCommerce optimization relies almost entirely on the role of web development and design from the very beginning of the process. From the way your site's code interacts with the larger web to the paths users click through to complete a transaction, it all comes down to the work that design and development pour their time and energy into.
By understanding the power of these positions in ecommerce optimization, you can better support these roles and in turn boost the quality of your ecommerce experience. Follow the tips and strategies presented here to hone your virtual store—but don't forget to employ the help of professional development and design.