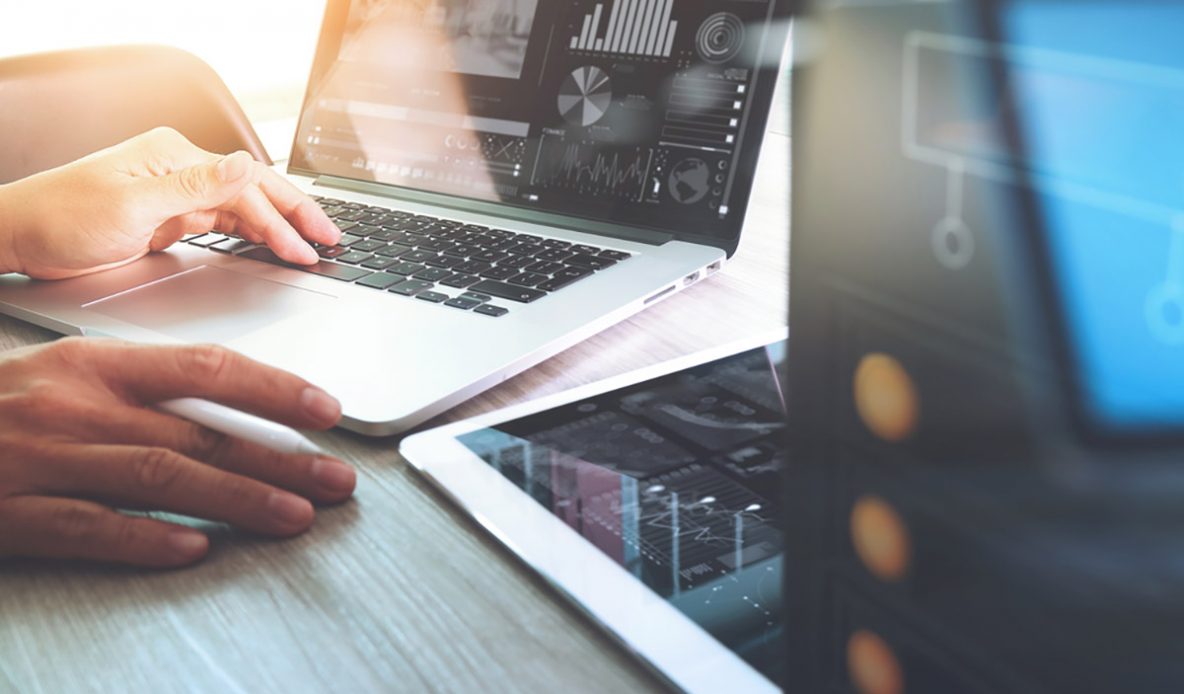 Top 5 Key B2B SEO Trends For 2021
Search Engine Optimization (SEO) is not only one of the best ways to bring new prospects to your website, it's also a strategy that's proven to boost conversion.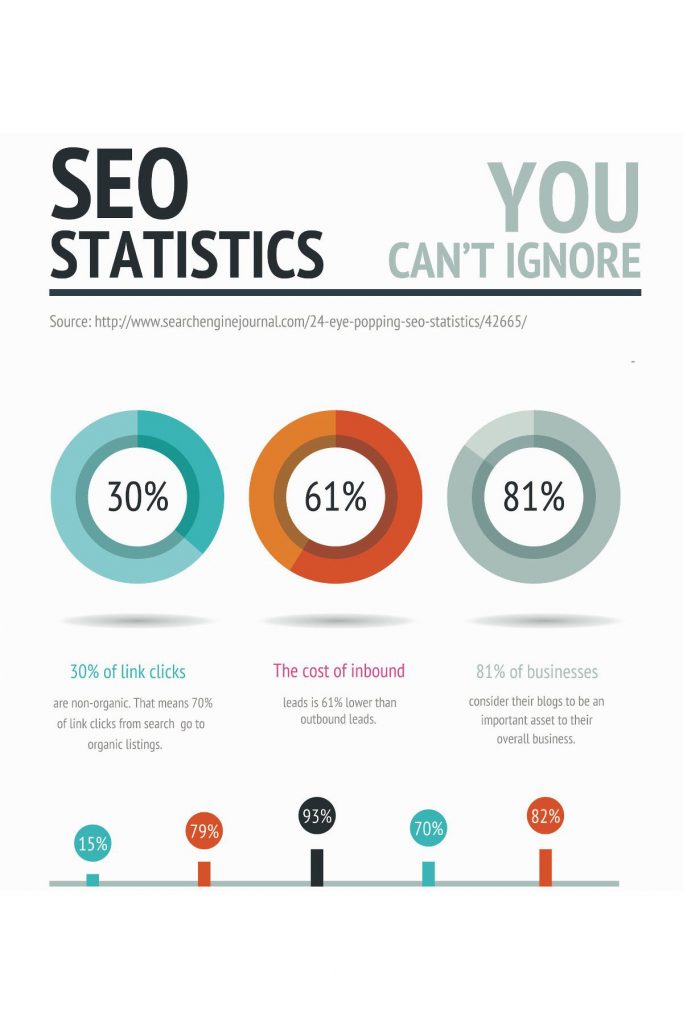 (Source)
According to the statistic above, only 30% of clicks are related to a paid listing. A staggering 70% of users went for organic links—and, by extension, clicks and conversion.
However, SEO is not easy if you focus your efforts on outdated practices alone and ignore the ins and outs of 2021.
But what are those exactly? More importantly, how can you use the most important SEO trends to your advantage and create an SEO strategy that will benefit you?
How Responsive Web Design Affects Your SEO
Up to this point, marketers have focused on creating content that "looks good" on all devices. This is what "being responsive" really means.
To be fair, if you think like a prospect or a customer, you'll see for yourself that you hate it when you encounter broken elements on a website or an email newsletter. That's why marketers have put their faith and trust in tools like newsletter softwares and web developers that will do all the heavy lifting and present content that will perform well on a mobile device or a tablet.
What does this have to do with SEO? Let's take a look: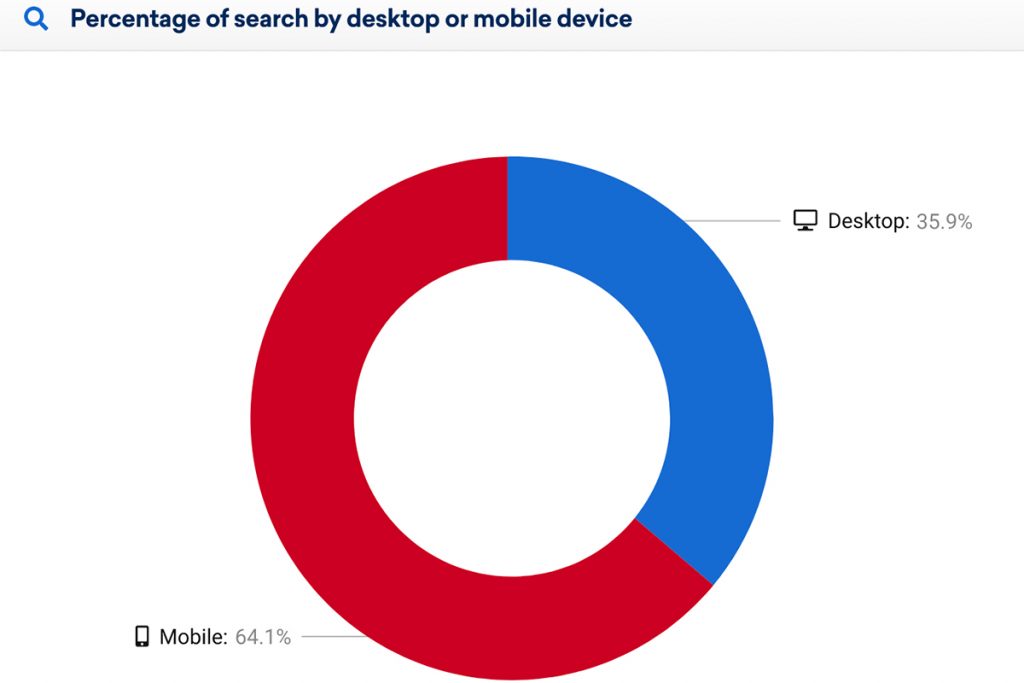 (Source)
64.1 % of all keyword searches happen on mobile. This is not a number to ignore or take lightly, especially if you're going for some stellar lead generation that can lead to high conversion.
However, there's another thing to take into account. Since we're talking about a shift from desktop to mobile, search engines will value the mobile version of your website far more than the desktop one, which means that a poor-performing mobile website will harm your rankings as a whole.
Create a website that will work intuitively with your potential customer, feature single-column content (nobody wants to constantly move their screen back and forth), and give them all of the information they need to convert to making a purchase.
Of course, creating a responsive website that search engines will be able to crawl easily does not mean you can't change the experience a little. After all, users are already prepared for that. However, significant differences or non-responsive elements will be bad for your rankings.
So, invest in a web design and development company like Lform! It will be worth it in the long run and create a mobile-first website with an intuitive UX that your potential customers will love.
The Value of Potential Customer Intent
As marketers, we can talk all we want about our vision and what we'd like our brand's website to look like. We can go on about colors and dynamic content. But the truth of the matter is a little different.
In 2021 and beyond, SEO will be all about the potential customer and their intent.
User intent changes daily, and new trends emerge when old ones just disappear. This is something all marketers and entrepreneurs need to keep in mind, especially when targeting their keywords and designing their websites.
Conducting qualitative research can come in handy in this case, as it can help marketers gather a lot of information about the new patterns in user behavior and understand how to use it to their benefit. When marketers understand why their target audience uses search engines the way they do, they can then understand the type of content their users are.
Pay close attention to what Google thinks of the results that include the keywords you'd like to target. For example: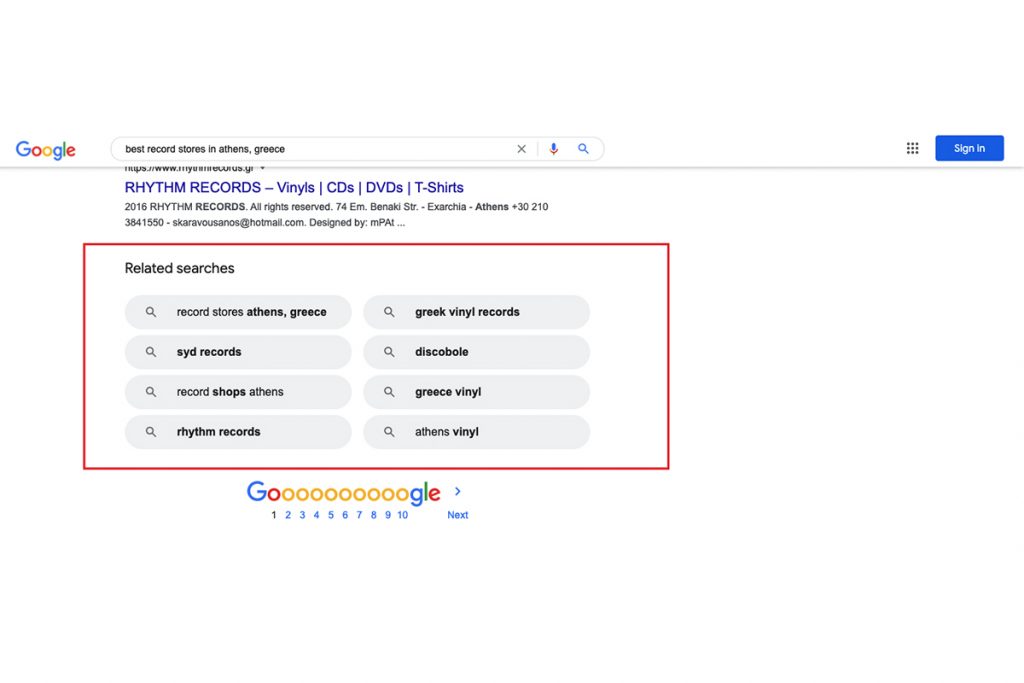 If your preferred keyword is "record stores", here are all the ways you can use it. Essentially, you've got that many more ideas for new content your users will love.
Opt for content that solves a real problem

your prospects may have instead of creating content that's stiff and boring. Invest in

long-tail keywords

, as it's far more likely for a search to be like the one above instead of just the "record store" keyword.

Do your research, analyze your data, and pinpoint if your users are looking for a video answer to their query or a spot on the map.

After all, SEO is not just about keywords—it's about content types as well. Figuring out the types of content your prospects are looking for through each step of their customer journey will help you create something they'll organically be interested in.

Create content to entice your users, not just to promote your business.

However, there is a golden ratio between

content marketing

that makes sense and content marketing that helps the users alone.

Lastly, create content that won't load slowly.

Prospects lose their patience quickly, and hitting the "back" button won't do your rankings any favors.
Put quality over quantity. This means that you need to create content that will showcase your expertise and increase your authority and prospects' trust. The more trustworthy and authoritative you are, the more Google and Search Engine Results Pages (SERPs) will benefit you, as you'll already be giving your potential customers useful content.
Leverage the Power of Influencers
Influencers are here to stay, and they're not just for e-commerce or Instagram anymore.
Since their social media platforms can influence the potential customer's online shopping habits, you need them to be associated with your brand and to be interacting with your product.
Influencer marketing can help you boost your SEO strategy, provided your buyer personas coincide with their audience. Especially when it comes to brand visibility and branded content.
Make sure to collaborate with them to create content that will promote your brand in a way that will engage and entice the demographic you both are targeting at the moment.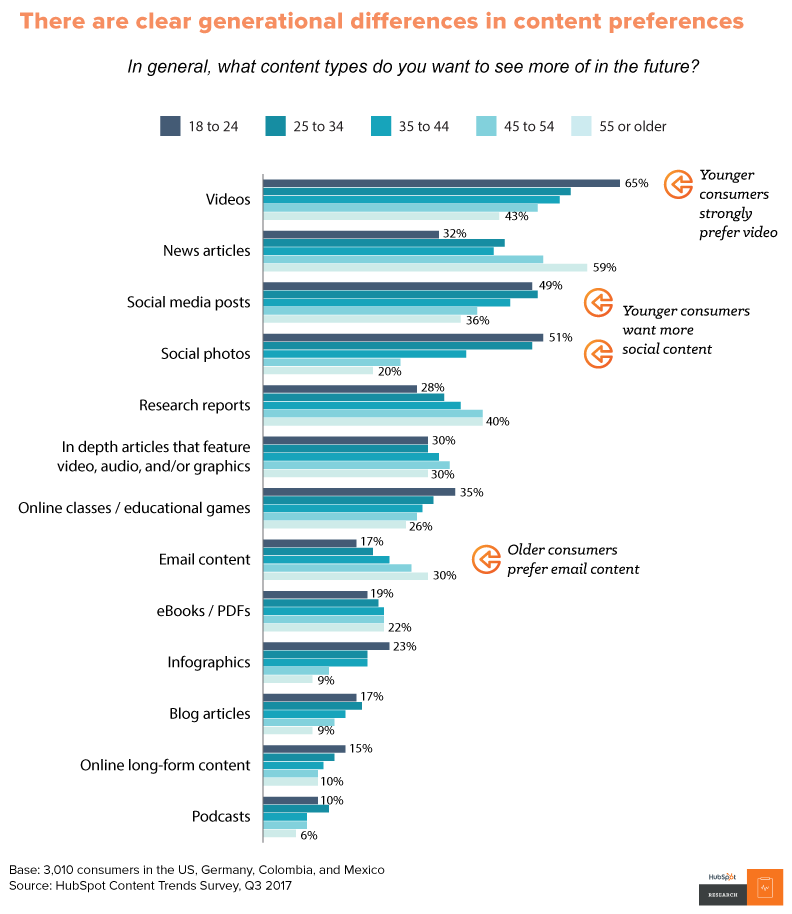 (Source)
Just make sure that it's age-appropriate. As you can see above, younger audiences love video, whereas older audiences prefer to receive email newsletter content. Work with influencers that can help you create what your audience will value and will promote it accordingly through social shares. The more people that land on your page, the better search engines will deem it to be.
The same goes for link building. Influencers in your niche can help you obtain backlinks, among other things. Just make sure you get the right ones, the ones that will have the quality you need, to promote your website.
You can obtain a high-quality backlink by being featured in an influencer's blog post. Long-form posts especially perform better than those with only 1000 words. Being featured on their social media profiles and blog posts of websites your influencers are already collaborating with will also do the trick.
Voice Search and Predictive Text
Voice assistants have started to play a vital role in online searches. Saying "Hey Siri" or "Ok Google" is increasing daily, and such devices are gaining more and more popularity.
Voice search optimization will be crucial in 2021 and beyond, since it's becoming about as common as chatbots and chatbot queries are today.
Of course, voice assistants are programmed to respond not to keywords per-se, but to phrases one would use naturally. If you're planning to invest in voice search optimization for your SEO strategy, make sure that you optimize for phrases such as, "What are the best restaurants near me?" rather than "restaurants near me."
Another essential factor that will shape the SEO landscape is predictive text. This AI-based technique is widely used nowadays, and sometimes, you don't need a user query to activate it.
This might sound like it throws the whole "user intent is crucial" narrative out the window, but in reality, predictive text can analyze patterns of a user's behavior, learn their habits, and come up with the type of content that will perform best.
If, for example, your users are looking for information on what a webinar really is, and they're using Google Discover, just make sure to have content that will be optimized for your users' location and browsing history.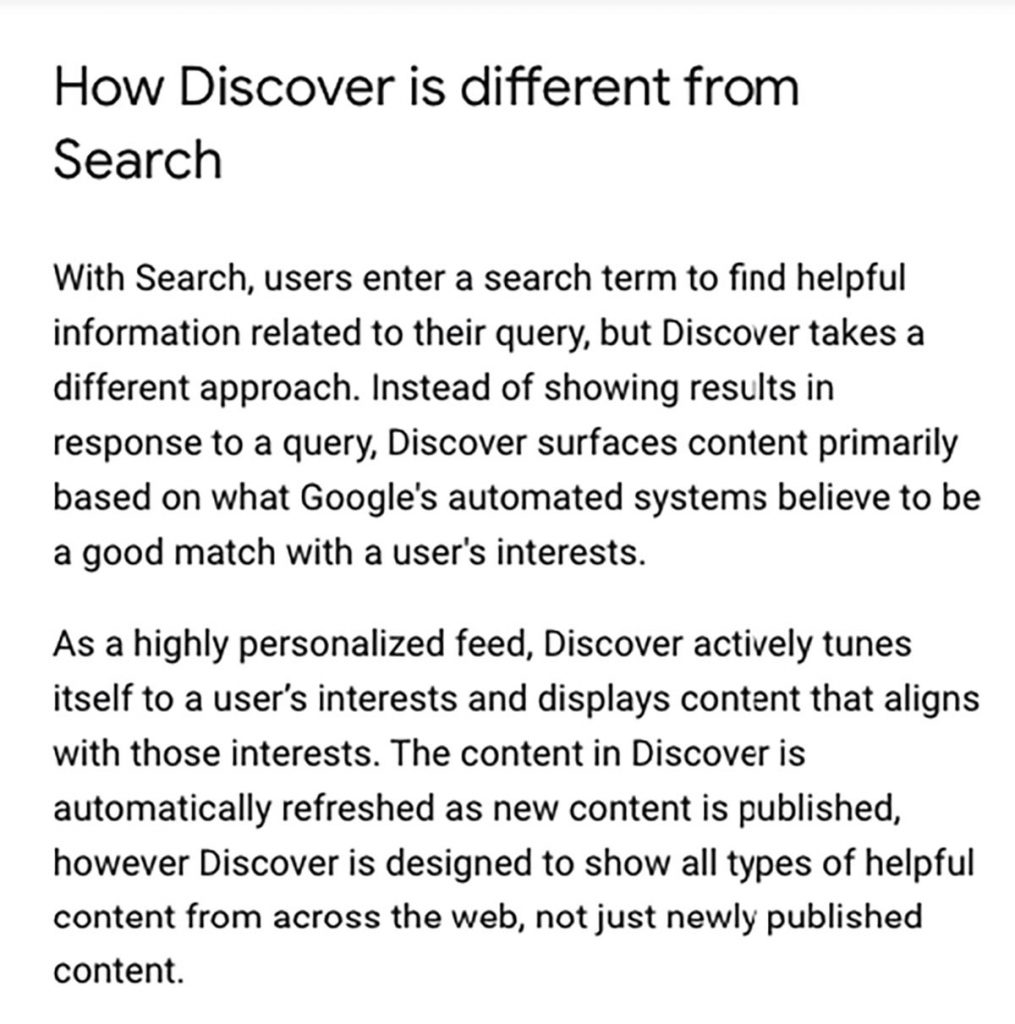 (Source)
That level of personalization can only bring you qualified leads that will be interested in interacting with your business down the line.

(Source)
With 800 million users, you can't afford not to give it a shot.
Last But Not Least: Data and Analytics
You can do none of the above if the basis of your SEO strategy is just "guesstimates." Data and analytics isn't a trend, but a necessity.
Understanding your data is like having the perfect cover letter in front of you. It helps you visualize what you can do with your business the same way it allows employers to imagine their ideal employees.
Make sure to dive deep into your data and your analytics reports and create content that will be targeted and tailor-made. Your analytics will help you determine poor-performing pages, slow loading pages, and any index errors and bounces that could potentially harm your rankings.
Data and analytics will help you take an in-depth look into what your website could be lacking in SEO.
The Takeaway
SEO may no longer just be about the best keyword or the most comprehensive meta titles on a blog post, but it definitely can be a lot simpler than marketers think it is.
Take the above into consideration, incorporate new tools and techniques into your SEO strategy, and always create your vision with your potential customer in mind.