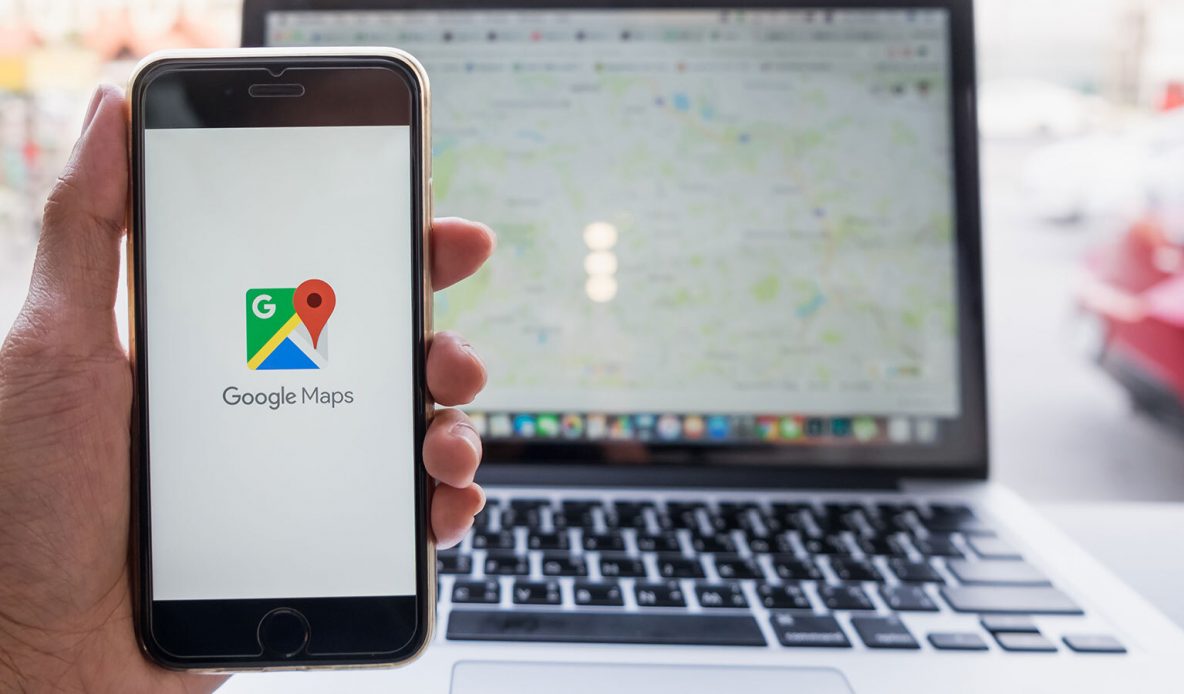 The 3 Benefits of Content Localization in Terms of SEO
Content localization isn't exactly the first thing that many think about when doing SEO optimization.
People commonly start by doing keyword research, which is good, but forgetting about localization is actually a very bad idea.
Localized content, or content created for the needs of users in specific geolocations, is extremely important for SEO success. The strategy of creating localized content is in perfect sync with Google's policies because it has the user is at the very core.
As you may know, Google appreciates user-centered optimization. The company bases its major search algorithm updates on the interests of its users, so it welcomes websites that follow them.
This means that proper content localization can help you with improving your ranking on Google and other search engines, but let's talk about how it actually works.
What is Content Localization?
Content localization is the process of making content relevant to users in a specific geographical location.
It goes beyond speaking the language of the users and includes techniques that make content clear and easy-to-understand for a specific group of users:
Producing content on locally relevant topics
Using locally relevant measurement units, time formats, currencies, etc.
Creating content in a culturally appropriate way
Considering the buying power of the target audience as well as their interests
Tailoring content to local language styles and dialects.
Many people make a mistake by limiting content localization to translation. However, the topic of localization is much more complex, and, when added by SEO considerations, things can get a bit more complicated.
Let's consider a simple example.
English is one of the most popular languages in India. With 125 million speakers, it's the second-largest English-speaking country in the world after the United States.
A business entering India could, therefore, be tempted to go with English as the main language for content. Seems like a logical choice, right?
However, making content in English for the Indian audience would also mean poor localization.
Google has recently conducted a study where they found a rapid increase in hyperlocal consumption, driven by indigenous Indian languages.
After analyzing the local language ecosystem, they discovered something interesting:
Internet users speaking Indian languages will drive the next big phase of Internet adoption in the country and will be more than 2.5 times larger compared to the English-speaking user base by 2021.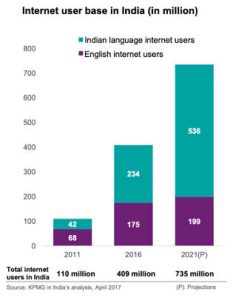 Here's the full data on that.
This means that the demand for apps and content in Indian languages will greatly increase.
What does it mean for content localization?
Businesses that choose English as the language for their content will be losing on tremendous opportunities to connect with huge local audiences.
As you can see, the topic of content localization is a bit more complex than previously expected. This means doing a lot of research and other things. Is it worth it?
Let's find the answer to this question now.
SEO Benefits of Content Localization
1. Attracting Quality Traffic
Let's get one thing straight: people are only interested in content if they perceive it to be relevant and useful. General content that has little to no value is destined to be unpopular and forgotten by both Google and its users.
For example, let's say you're running a coffee shop in Naperville, IL. You're selling tasty coffee, delicious snacks, and coffee beans, and looking to increase the sales of premium coffee beans through your website by getting more website traffic.
To do that, you go ahead and write articles on how to select coffee beans and prepare different kinds of coffee at home. However, even though the traffic from Google to your website has increased, the number of conversions hasn't.
What's the problem?
The content is too general. It attracts some traffic from Google, but most of the people just read your advice and leave because you're not letting them know that you're located in Naperville and you're ready to help if they come by.
So, you change your approach a little bit and write an article "Where to buy premium coffee beans in Naperville." inside, you put various clues and call to actions suggesting that you're a coffee seller operating in the city, ready for business (links to different beans offers on your store, etc.).
After a while, you see that Google has picked up your article and now you're in the top 5 results on "where to buy coffee beans in Naperville. It's more relevant to the local audience, so people spend more time reading it. In turn, this is a great sign for Google that perceives longer dwell times as a sign of quality content.
Obviously, you're not going to create any relevant and useful content if you don't know your local audience. On the other hand, by researching the topics they're interested in and connecting them to your products and services, you'll have a much better chance to get quality traffic (this also means quality leads).
Here are some ideas about where to begin.
Make locally relevant content by connecting topic to local sites, areas, and interests, e.g. "X thing to do in Berlin this summer," "A guide to the best travel insurance deals in the UK in 2020"
Include locally relevant keywords in your content (areas, neighborhood synonyms, landmarks, appropriate slang, etc.). Read this guide to local keyword research for businesses to know how to find the best tools for that
Work with local content producers. If you're an international business looking to expand to China, you should consider hiring local writers to produce content for you to make content more quality. However, as Patricia Addo, a localization expert explains, always make sure to conduct local keyword research on the most popular search engine (in China, it's Baidu, not Google). Simply translating keywords in English won't work the same in this country, so always check out the shares of search engines in a target country.
2. Voice Search Optimization
Voice search is critical for SEO in 2020. It was a dominant SEO force in 2019, with 22 percent of voice search queries looking for location-based content. As more and more people use voice assistants to browse the net and make purchases (in fact, the voice shopping in the U.S. is estimated to reach about $40 billion by 2020), optimizing your website and content for voice is paramountly important.
More local traffic is actually one of the most important business benefits of content localization. For example, people often search for local businesses with voice – the so-called "near me" searches – so if your website is there to accept these queries, it'll be displayed.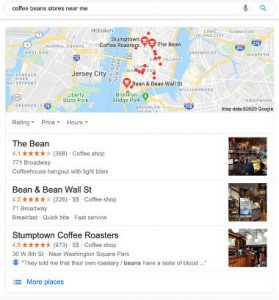 Here's an example of the "near me" search for coffee bean stores in downtown NYC.
The search engine displays these stores because they're registered on Google My Business. It's a free business profile that people create to get the location & other info displayed in local searches, so you should definitely create one, too.
Follow this link to Google My Business to get started and don't forget to embed Google Maps directions on your pages.
Keep in mind that "near me" searches come from people who are interested in immediate, useful information – and many of them are looking for quick purchases, too – so optimizing for them could direct many quality leads to your website.
3. Customer Acquisition and Satisfaction
Without proper content localization, a business won't be successful at acquiring new international customers (just remember the example of languages in India). It's a known fact that more than 72 percent of consumers are likely to make purchases with information in their own language.
Here's an example of how localization increases conversions and customer satisfaction:
Localized Prices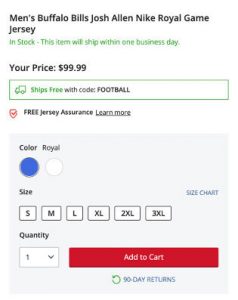 Visit the US version of the NFL store and you'll see prices in dollars (note that the "Add to Cart" CTA, too).
On the other hand, if you're located in Europe, you're redirected to the local version with prices in Euros. Also see the difference in the CTA copy, as this one has "Add to Basket" instead of "Add to Cart," which is considered to be an American version.
By localizing prices and languages, you're easing the friction and encouraging the visitor to click. Clearly, a localized version would perform better, as a person visiting a product page and seeing a different currency or language would be less likely to convert.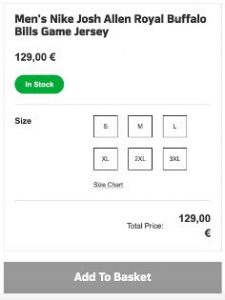 Important: Do your best to localize landing pages on your website. Integrate currency differences, contract information, customer testimonials from the target country, and other things that would make a customer feel good and confident about converting.
Content Localization Matters
Localization of content is one of the biggest SEO trends in 2020. Any international business should try to localize their website and other content they're using to attract local traffic. Even though the web seems to be optimized for the English language, it's not the only one out there, and going with it often means mission out on a massive market. Search engines will love you for going the extra mile for your users, so always check their requirements and try following them.
Erica Sunarjo is a digital marketer and content writer who has been freelancing for the past five years. She writes guides and articles about content marketing, chatbots, SEO, and tech news. Currently, Erica is experimenting with writing for a professional translation company. Find it here: https://thewordpoint.com/services/translation-service