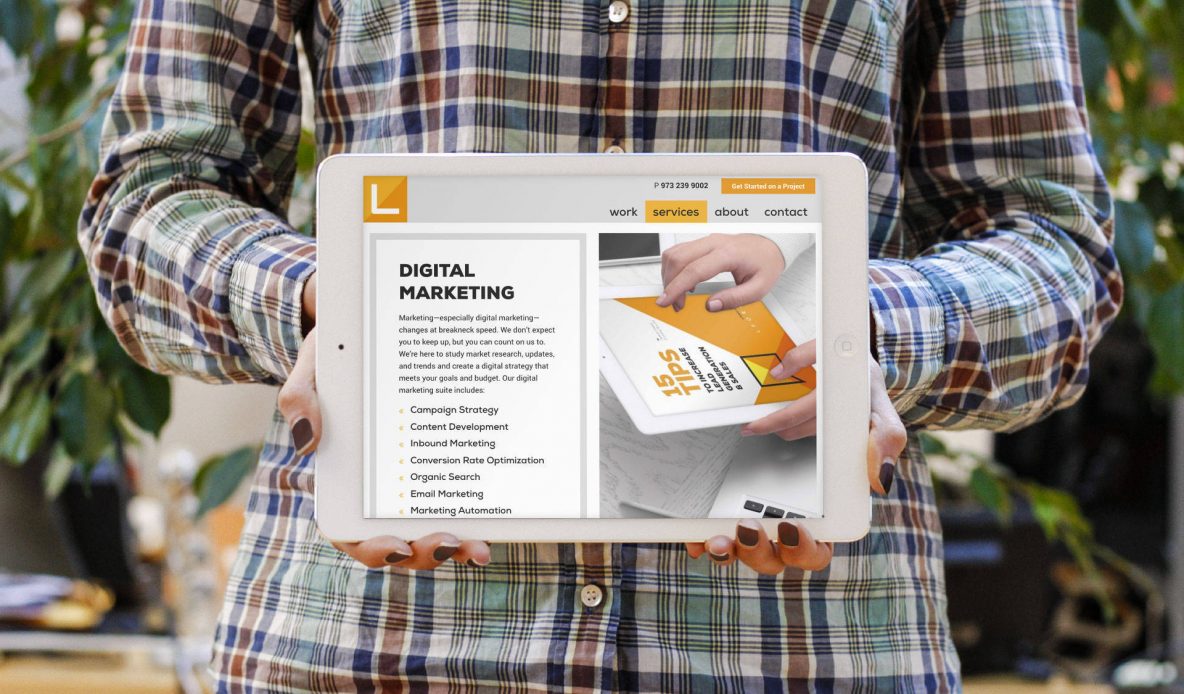 New Year + New Business Goals = New Web Design
We are proud to herald that 2016 was a milestone year for our web design company and, like most B2B companies, we want to leverage that momentum throughout the new year. The big question was: "How?" How could we use 2016's successes as a stepping stone for greater business success in 2017? As you can imagine, this huge ask was not answered overnight.
After many lengthy business brainstorms and strategic conversations, we saw the light. Plain and simple, it was time to revamp our web design just as we had done successfully for our many forward-thinking clients.
Why We Redesigned our Website
When we fleshed out our business goals for 2017, we recognized that our website was our greatest asset. As the face of our web company online, our website would be our brand champion. Unfortunately, it wouldn't be when considering our lofty business goals. So here's why we transformed our website:
Our expertise increased.

In 2016, we welcomed three new full-time digital experts to the team: Lynsday Bouchal, creative content manager; Danielle Massad, account director; and Raj Raval, media manager and quality assurance specialist.

Lyndsay is an award-winning journalist with more than 1,500 bylines and comes to us with nearly 10 years of experience, including public relations and communications strategy. She has been instrumental in helping clients increase their brand awareness, engagement, and leads through the strategic development and distribution of content across their websites and social media channels.

Danielle is a results-driven marketing and advertising professional with more than 11 years of experience. Throughout her career, her business acumen, bright ideas, and proven web strategy have directly increased her clients' yearly revenue and profits. She has been integral in educating our clients about the latest and most effective marketing tactics, trends, and best practices.

Raj is responsible for integrating all content correctly into websites as we develop them. He is renowned for his acute attention to detail and has been pivotal in testing websites to ensure that performance and functionality are flawless.

Our capabilities expanded.

With more experts under one roof, our capabilities have grown and diversified. We spent much of 2016 fine-tuning our proficiency in social media advertising and strategy, integrated marketing strategy, branding, web design and video production. We also invested significantly in the professional development of our staff so that we remain trusted advisors for our clients at the forefront of our ever-evolving industry.

Our target audience shifted.

Through our diligent research and understanding of the manufacturing, consulting, and technology markets, we were able to partner with some of the most innovative B2B companies in 2016. We've unearthed a lot of their audiences' pain points and challenges and will leverage these insights in the new year to focus nearly exclusively on these markets.
What Can You Expect from our Website in 2017?
You can expect to learn more about how strategic digital marketing and web design can increase your revenue. Our team is producing more consistent, quality content through blogging, eBooks, social media, and email newsletters to help you better navigate the world of digital marketing. As such, you will gain marketing insights, best practices, and tips to empower your B2B company.
So How Do You Know When It's Time to Redesign Your B2B Website?
If your business goals have changed this year, review your website and web design to determine if it will be instrumental in achieving your goals as is or if it will hinder your success. If it's the latter, then it is time to transform your website, and we can help you do just that!