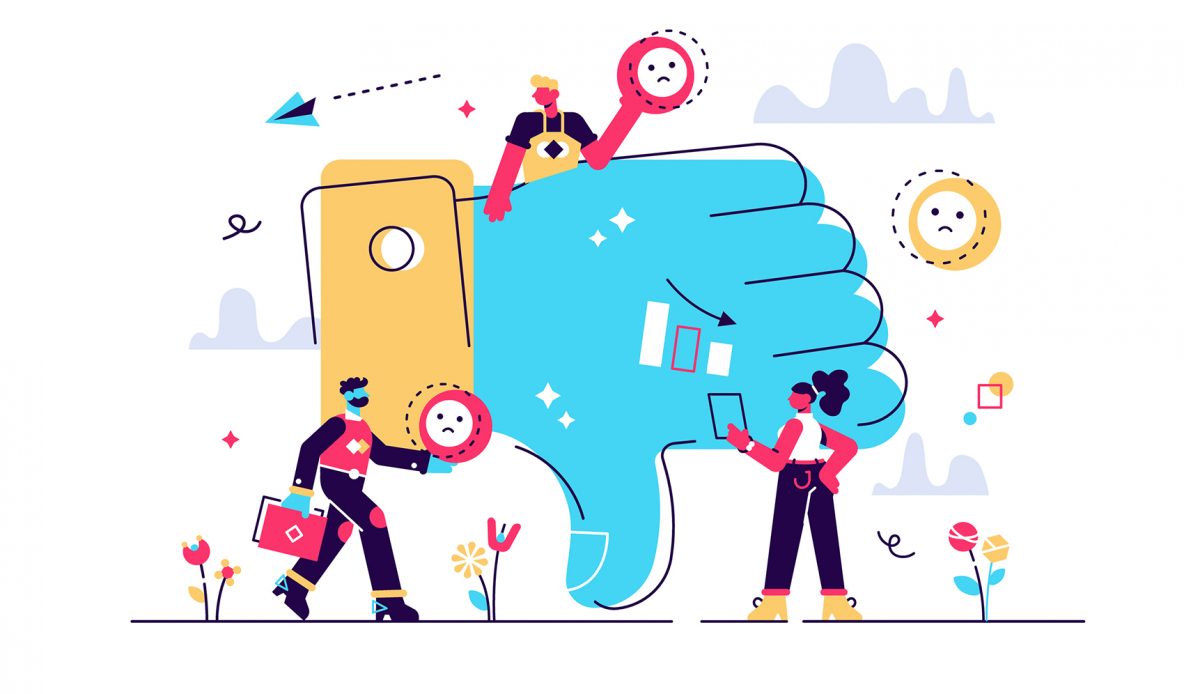 9 Proven Ways to Overcome Negative Reviews and Use Them to Your Advantage
No one likes a negative review of their business on Facebook, Yelp, or Google. For some, the first instinct is to delete any comments that don't flatter their company, service, or product offering. However, this is the absolute worst course of action any business can take.
How, then, do you deal with negative feedback that the world can see online?
These nine tips tell you how to turn a bad review around and make it a learning and marketing experience that helps you improve your business.
Why Are Negative Reviews Important for Your Business?
Negative reviews can have a number of positive side effects. Let's look at a few of these.
Bad Reviews Make Good Reviews Look Far More Authentic
One of the very best side effects of negative reviews is the positive light they shed on good reviews. When a company shows all of its reviews, it proves that it doesn't try to hide any less-than-flattering comments. Consumers have a tendency to trust reviews more when they see a mixture of good and bad feedback.
Most consumers realize that fake reviews are a massive problem in online retail. If a product has nothing but five-star reviews, it tends to raise red flags.
Bad Reviews Help Customers Make the Right Purchase Decisions
As well as boosting customer trust in your brand, bad reviews give purchasers an honest picture of what they can expect from your products and services. One of the chief reasons customers write bad reviews is not that the product was bad, but that it didn't meet their expectations.
Another side effect: knowing how your products and services are performing for actual customers can show you what you need to change. Many times, a bad review reveals how your product or service was used and lets you know how to improve it.
Bad Reviews Give You the Opportunity to Build Trust
When customers see a bad review for a product that they are interested in, they like to see something else, too: how the company responds to that criticism. Conversing with customers who have had a negative experience demonstrates that you're being proactive about addressing problems. This helps build brand trust.
Bad Reviews Assist With SEO
Whether your reviews are positive, negative, or somewhere in the middle, they can have a positive impact on your SEO. In fact, reviews represent more than 15% of Google ranking factors.
Even negative reviews frequently contain keywords that are relevant to your brand. This assists when consumers are looking for products. If you don't publish your negative reviews online, you're missing out on potential search engine traffic to your website or products.
The Top 9 Ways to Deal With Negative Reviews
Now that we have established why negative reviews aren't necessarily a bad thing, how should we deal with them?
1. ) Don't Delete Negative Reviews
Negative reviews reveal an authenticity that today's consumers expect. No brand is perfect, but the way that the manufacturer or seller deals with negative feedback speaks volumes. Not deleting a bad review highlights a brand's transparency and builds trust. This means that retailers should resist the urge to delete customer complaints, even when they are seemingly unfair.
2.) Answer Quickly
If a person is upset enough to leave a negative review, they will usually do it pretty soon after the negative experience happens. And they're going to expect a quick response. It's really the right thing to do and it also assists with limiting the damage done. Other customers will notice the speedy response and the fact that the review isn't ignored.
3.) Tactfully Promote a Positive Image of Your Company
Without sounding as if you're contradicting the reviewer, communicate why their experience is rare using sincere and non-condescending language. If it feels natural, incorporate some of your business's strengths into your reply. Responses may be a great way to flip the script and then frame your business in a positive light—while still making the customer feel heard.
4.) Highlight Key Messages
An answer to a negative review should weave in crucial key messages, such as a company's commitment to customer service. Business owners can then frame the customer experience in question as a one-off experience and demonstrate to potential customers that the negative review they're reading doesn't portray the business accurately.
5.) Be Authentic and Personal
You never want to come off as if you're giving a canned response. You—or any employee who responds to negative online reviews—should utilize your real name (or first name and initial of your last name), explain your role in the business, and then give your direct phone number or email.
When it comes to answering negative reviews, sincerity is the key. The simplest way to be authentic is to reach out to a customer on a personal level.
6.) Take It Offline
To avoid an online exchange that everyone can see, you should always endeavor to leave a sincere, thought-out public comment and then take the discussion of the matter offline. If it feels right, taking the matter offline shows that you're fully willing to handle this situation—and you're not just apologizing for show.
7.) Be Kind and Keep It Appropriate
There's no doubt: some reviews get nasty. Nevertheless, a company should never bend to that level of unprofessionalism.
Keep the same attitude that you'd want an employee to utilize in person. Remain buttoned up, remember to think of the customer and their displeasure, and always give an apology.
Remember, businesses that don't act professionally and don't resolve a negative situation by satisfying an unhappy customer have a lot more to lose.
8.) Send Personalized Responses
As authenticity is important, business owners should send personalized responses to complaining customers and avoid any temptation to automate. While companies frequently employ automation for positive review responses, vague or canned responses to negative reviews may inflame the situation. Recent research indicates that 90% of businesses understand the importance of personalization and respond to reviews manually.
9.) Take the Extra Step
While you certainly don't have to go above and beyond, it'll almost always help. This could vary depending on exactly what the issue was and how big an impact it had on the reviewer.
However, sometimes just apologizing won't be enough. Offering a credit to be used at your business isn't always going to be the appropriate solution either. Take the extra step to demonstrate that you're not only sorry but that you want to make it right and earn the person's trust.
Offering a gift could be the first step in that direction. A gift card or flowers may certainly make an impact. Sending a heartfelt gift of appreciation and/or forgiveness could function in the same way.
However, it doesn't have to be expensive to win over a previously upset negative reviewer. Get creative and think about what would matter to you as a customer.
Even something simple, like a custom video or image, could not only enhance the reviewer's opinion of the business and how it operates, but will probably impact many other people for years to come.
Turn Bad Reviews Into Good Experiences
As you can see, a negative review online can be a positive thing for your business. Deal with it in the correct way and don't fall into the trap of deleting the feedback—you'll only make customers suspicious about your brand.
Instead, use a negative review to improve your offering or service and your customers' perceptions of your brand. Ultimately, a dissatisfied buyer could turn into a loyal customer.
Meta Title: How To Benefit From A Negative Online Review | Lform
Meta Description: Negative online reviews don't have to mean bad publicity and a loss of business. Here are 9 ways you can use negative feedback to your advantage.