7 New Year Resolutions for Business Success in 2017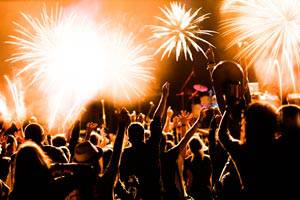 With the New Year fast approaching it's a perfect time for retrospection and reevaluation. As we reflect on 2016's successes and key milestones as well as any failures or shortcomings, we can begin to plan what we will do differently in the year ahead.
Change is hard but it isn't impossible. As an owner or leader in your business, you already illustrate perseverance and ambition. You like a challenge. So while it may not be easy to achieve your business resolutions, it will be easier if you are prepared.
To guide you on the path to positive change, we've compiled seven great resolutions to help your b2b business thrive in 2017 and a few insights to help you achieve your resolutions!
1) Be Viewed as an Expert in Your Industry
Position yourself and your company as a thought leader by delivering compelling content to build relationships with prospective and existing clients alike. Through consistent and quality content you can become an authority within your industry and viewed as a trusted source.
Recommendations to Achieve Your Resolution
Commit to monthly blogging and/or vlogging for industry-related websites, trade organizations, and trade associations
Book one speaking engagement every other month
Chair a business group, organization, association or networking committee
Actively share and engage users on social media platforms like LinkedIn
2) Learn Something New
Invest in yourself. Continue to nurture and develop your personal and professional life by learning management, leadership, and personal prowess.
Recommendations to Achieve Your Resolution
Attend industry-related seminars, workshops, and/or events every month
Read a new book (or listen to an audio book) every month
Follow a business blog, online magazine, curated learning platform (i.e. Mindtools or Guides) or listen to podcasts daily
Hire a business coach/consultant
3) Make it Easier for Customers to Do Business with You
The role of sales has changed: 67 percent of the typical b2b buyer's journey is now done digitally, so customers are inundated with options online. Don't give them a reason to do business with a competitor. Become easily accessible to them on their preferred channels.
Recommendations to Achieve Your Resolution
Include an extranet on your website so customers can view their account (history of invoices, orders and payments), make payments, view special pricing, etc.
Include accurate, up-to-date product information and specifications on your website
Make your website responsive for mobile devices like smartphones and iPads
Respond timely to customer feedback on social media
4) Empower Your Employees
Talent gives you an edge on your competition so foster and cultivate a work environment that empowers your employees. By allowing employees to have input and control over their work, you will develop motivated, loyal team members. After all, your company is only as strong as the people working in it.
Recommendations to Achieve Your Resolution
Allocate dollars and time toward management and personal development training to help employees continuously learn and grow
Stop micromanaging and start trusting your employees by giving them considerable boundaries to exercise decision-making skills and authority
Foster open communication and listen intently to your employees
Share your company vision and goals to help employees feel a part of something bigger than just themselves and their individual job
5) Invest in Your Digital Presence
Marketing Guru Marcus Sheridan says it best: "In today's information age, a company's website is the key to their entire business." It is the face of your company and has the potential to generate 10 times as many leads than traditional marketing, while spending 62 percent less money. So if you aren't investing in your digital presence, you are losing money and customers.
Recommendations to Achieve Your Resolution
Revamp your website because how you are perceived by your customers impacts everything from your reputation to your revenue
Create monthly content, whether it's long-form writing (eBook) or short-form (blog), or videos
Review your site and online campaign analytics to continuously improve and optimize your online presence
Partner with a web design, development and digital marketing agency that specializes in your industry
6) Be More Productive & Efficient
Increasing productivity and efficiency will inadvertently foster greater organization and improved time management skills in addition to lowering expenses to maximize profits and increasing business value.
Recommendations to Achieve Your Resolution
Invest in Six Sigma Training to improve processes
Invest in Lean Manufacturing to reduce waste
Partner with your state's Manufacturing Extension Program like NJMEP
Use technology to automate the mundane and repetitive workflow
7) Create a Better Work-Life Balance
Our professional and personal lives are merging so it's more critical than ever to have a healthy work-life balance to breed more business success. When you plan your week, carve out time with family and friends, and activities that help you recharge.
Recommendations to Achieve Your Resolution
Take time off
Unplug from your phone and laptop daily
Exercise and meditate daily
Give back and donate time to charity
Sadly, research shows that while approximately half of all Americans make New Year's resolutions only 8 percent actually achieve them. Join what we're calling the "Exclusive 8" by staying focused on your goals and use these tools to help you achieve success. Here's to a Happy New Year that is successful and profitable!