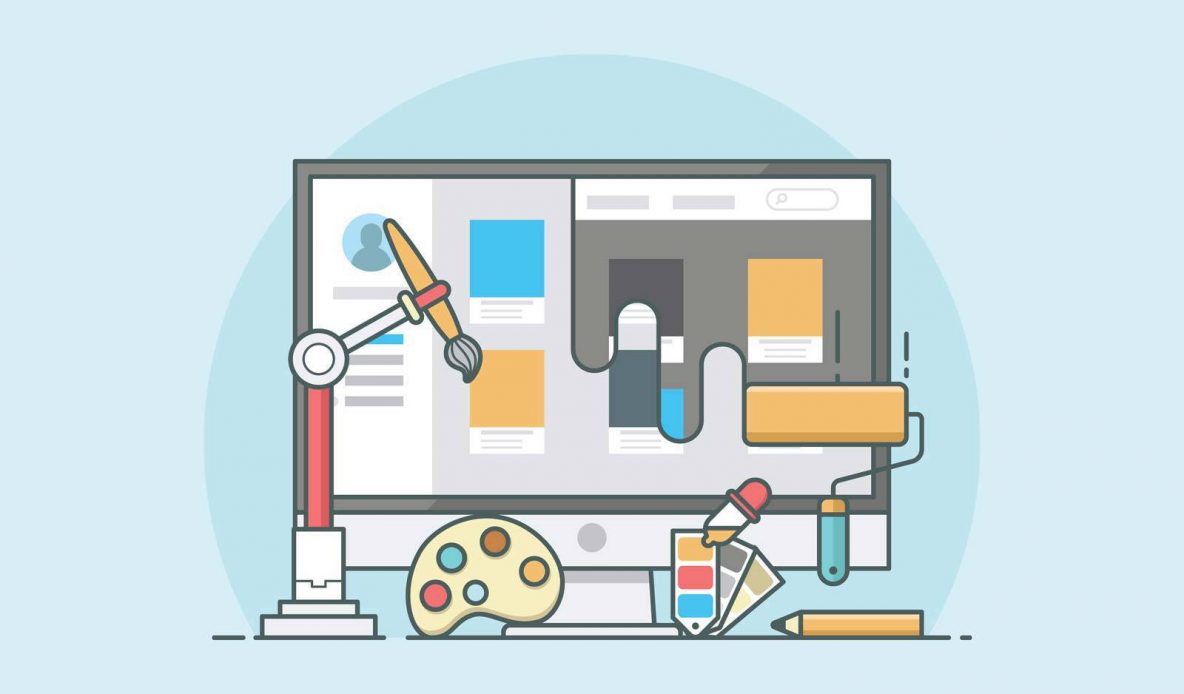 10 Stats You Should Know When Redesigning Your Website
We've always been a fan of this blog post by Hubspot that makes a strong case for good responsive websites in the B2B marketplace. While Hubspot's blog is from 2016, it is still extremely relevant to today's digital marketing and web design . In fact, the numbers have risen in favor of responsive web design and the user experience.
Here are some general web design stats that share how users interact with websites and what causes them to stay or leave.
Forty percent of smartphone and tablet owners search for B2B products on those devices. Thus, it's very important to make sure your website is mobile-friendly.

Given 15 minutes to consume content, two-thirds of people would rather read something beautifully designed than something ordinary. Anyone can use a WordPress template, but are they trained designers that consider color, tone, target audience, and the plethora of other molecular details that professional web designers always strategically take into account? We know how to jazz things up enough to engage a target audience without going overboard. Professional web designers only add features and functions that have purpose and try not to add bells and whistles for the sake of looking snazzy.

Nearly 40 percent of people will stop engaging with a website if the content/layout is unattractive. Again, design is king.

More than 50 percent of people think "thorough contact information" is the most important element missing from many company websites. This is an interesting and important to note. And the stat below explains why.

Forty-four percent of website visitors will leave a company's website if there's no contact information or phone number. And there you have it.
The following stats dive a littler deeper into the user experience, getting into the heads of your audience and what they're looking for—what will their experience on your site a positive one.
Nearly 40 percent of people will stop engaging with a website if images won't load or take too long to load. Not many businesses think about download times when building their websites, but it's clearly an important detail. People these days have very little patience and zero attention span. We live in the age of immediacy and if they don't get results in a snap, they will leave your site. So, it's critical to compress and optimize each of your images using a program like Adobe Photoshop. Yes, it will degrade your image's quality, but it also strips them of unimportant metadata like geotags that just make the image size larger and harder to download. All file sizes should be 500KB or less; 1mb is just way too big. You should also use progressive JPEG images (images that fade in until they're completely downloaded) so people know they're coming. The thought being, they know the site is working and it will buy you more time/users won't lose their patience as quickly.

After reaching a company's website via a referral site, 36 percent of visitors will click on the company's logo to reach the homepage. This has to do with what we call the "language of the web." People navigate websites with certain expectations. One of them being clicking your company logo on the top of any of your webpages with the expectation that they will taken back to the homepage. It's an understood function or action. If it doesn't take them to the homepage, your users might get frustrated or confused.

After reaching a company's website via a referral site, 50 percent of visitors will use the navigation menu to orient themselves. Having an easy-to-understand menu that functions flawlessly is the name of the game. When redesigning your website, make sure its navigation is simple and runs smoothly. Pretty basic concept, but it shouldn't be overlooked.

Once on a company's homepage, 86 percent of visitors want to see information about that company's products/services, and nearly 50 percent of website visitors check out a company's products/services page before looking at any other sections of the site. This is an incredibly helpful statistic to know. With this intel, you now know that you need to make it easy for visitors to find your products and/or services by making this info prominent on your homepage and one of your navigation menu items.

Once on a company's homepage, 64 percent of visitors want to see the company's contact information and 52 percent want to see "about us" info. These are also great tidbits to know. In addition to making sure your products and services are front and center on the homepage and menu, your contact info and "about us" should be, too.
The above are just a few compelling statistics demonstrating the absolute need for thoughtful, strategic, aesthetically-pleasing responsive web design. Our overall goal here is to get you to think like a web designer. But, we also want you to realize that there is an unbelievable amount that goes into good web design. We don't ever expect you to know it all. In fact, we encourage you to simply know the basics and let the pros take care of the rest. We want you to focus on what you do best and entrust web developers like us to do what we do best. It's all about a healthy partnership based on trust, professionalism, and satisfaction. Happy redesigning!