What's the Best Open-Source CMS?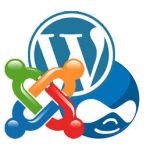 The ultimate goal of any CMS driven website is the ability of an organization to easily update their site with a minimal level of user expertise. Currently there are innumerable CMS products available but the most popular are WordPress, Joomla and Drupal. All three are open source and free to download and install on an independent server.
There many pros and cons to each content management system but it should depend ultimately on your end user's skill set. Is the administrator a techno savvy geek who knows a little HTML (Joomla and Drupal), or are you dealing with someone who is comfortable with Microsoft Word but finds uploading images to Facebook a little bit tricky (WordPress)?
Joomla and Drupal offer the most out of the box but their administrative tools are not intuitive and include a large learning curve for most users. WordPress, being a simpler package, is less intimidating but allows for a great variety of 3rd party addons, called plugins and widgets, to be installed. Keep in mind that plugins are a great help, and can include photo albums, ecommerce and so on, but each one can add to the overall complexity of administering the site.
Overall I advise clients against using Drupal and Joomla since the code includes many features the client will never use, thus leading to slow load times. Furthermore their Admin Tools look like the cockpit of a 747, unwieldy.
For most clients, WordPress is the best open-source solution with a growing community, great when help is needed. WordPress provides out-of-the-box SEO (search engine optimization); page URL's have the correct syntax, title tags may be altered and meta descriptions may be littered with keywords. The learning curve for altering content isn't steep either. Finally, custom development for WordPress is less cumbersome than Drupal or Joomla.
Before making a final decision it is always best to give each system a trial run to see what may work best for your organization. Click below to view the top three open-source CMSs: