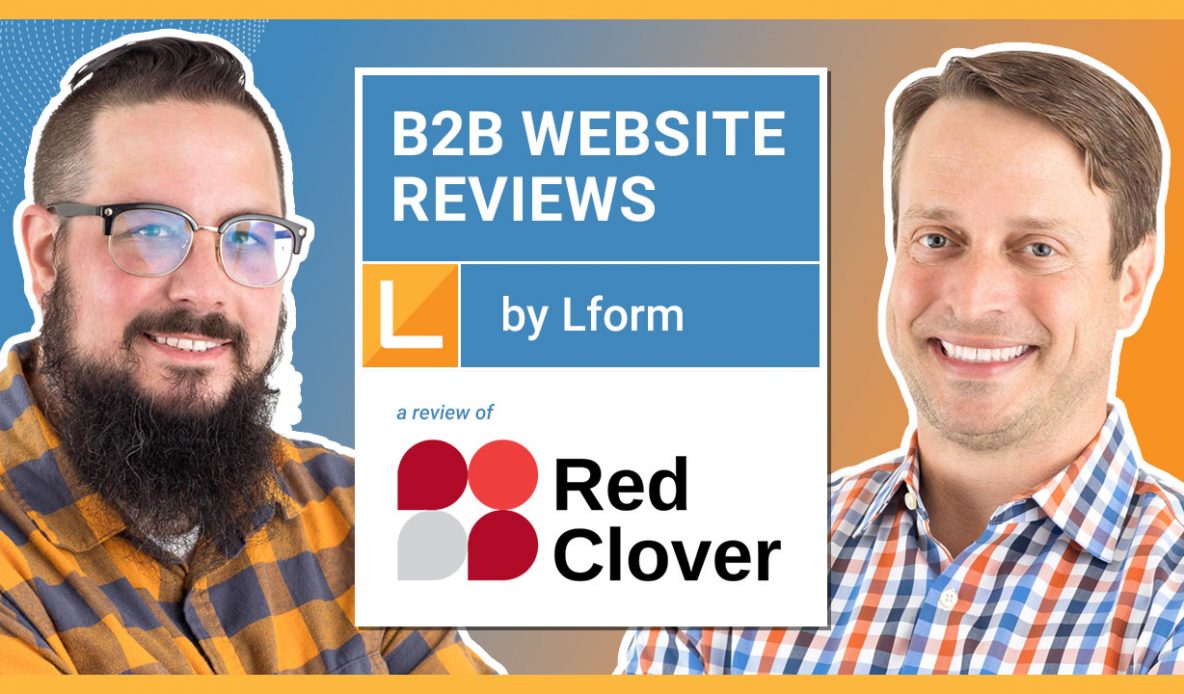 B2B Website Review: Red Clover - Website Heirarchy & Understanding Your Audience
Watch the video review here
Introducing Red Clover
Website: RedCloverHR.com
Red Clover HR provides strategic human resources support to help companies implement organizational change and achieve their business goals. Red Clover works with clients from small start-ups to large and established businesses and was kind enough to allow us to review its website for this week's B2B web design review.
First Impressions
When landing on a website, a user should be able to understand what the company does in three seconds or less. Red Clover HR's "Strategic Human Resources and Change Management Consulting" tagline is somewhat unclear.
The secondary headline—"Innovative HR Consulting – Driving Your Business Forward"—and accompanying text add additional context. We might suggest making this the primary headline; while the wording is strong, altering the hierarchy of text will strengthen the site. Moving the white text box over the background video would also make the site's appearance more cohesive.
Scrolling down Red Clover HR's homepage, the "Our Services" section helps us understand the company's services immediately. This is followed by a "Programs" section outlining available packages and then a "Results" section which provides proof of success via case studies. The page concludes with an "Events" section, articles, and a sign-up form.
Understanding Audience
It is difficult to ascertain exactly who Red Clover's target audience is. The background video and clean design imply a corporate audience, but it is unclear whether the company is targeting, for example, HR managers, middle managers, or other professionals. It is also not entirely clear what type of organization Red Clover's services are designed for.
This could be solved by using imagery featuring the kinds of people and businesses Red Clover is trying to sell to. The lack of photography is detrimental to the homepage. If non-disclosure clauses mean that the company cannot name or picture actual clients, stock imagery is acceptable.
Overall Design & Branding
"Clean" is the first word that springs to mind here, which is a positive in B2B design. Red Clover has a strong logo and uses the red and white color scheme well.
One major design criticism is that headlines do not stand out well from body text. Increasing headline font sizes or using bold text could solve this problem. Clear headlines make the text more scannable, allowing site visitors to quickly find the information they need.
Structurally, the website is too narrow, with all the content focused on the center of the screen. This is particularly problematic on the "Team" page, where we have to scroll down a long way to read about the relevant team members and within blog posts, as it makes them more difficult to read.
Showing blog posts in tandem with the various "Services" pages works well and helps to establish the company's expertise, and the contact forms beside each post make it easy for a prospective client to get in touch. However, "Let's Chat" is not a strong call to action, and its informal tone does not match well with the rest of the site's messaging.
Red Clover's website copy is strong overall, making the company's service offerings clear. However, no great differentiator or "wow factor" separates Red Clover from its competitors. We advise Red Clover to focus more on results and backing up its claims.
Header tags (H1, H2, etc.) are used inconsistently, harming the site's SEO and problematic from an accessibility perspective.
Navigation
Red Clover HR uses roll-over navigation menu buttons. We always advise clients to use on-click buttons, which are far more touch-screen friendly. Roll-overs are also an accessibility issue and can be challenging for people with reduced motor control.
There are also too many navigation options, with seven buttons on the main navigation bar and sub-pages under most headers. We suggest consolidating down to no more than five buttons in the navigation bar. This could be achieved by, for example, moving "Case Studies" under the "Resources" heading and moving the "Blog" button under the "About" section or into the site's footer. We would also advise changing the formatting to make the "Contact Us" button stand out.
Expanding the navigation bar sideways would give each item more room and make the bar look less crowded. The number of words could also be reduced by changing "About Red Clover HR" to simply "About Us." Using a "Hamburger Menu" instead of a navigation bar is another good option.
The sticky header, which remains in place no matter where we scroll on the page, works well and improves the site's navigability.
Conclusion
Ian's Overall Grade: B
Jeff's Overall Grade: B or B+
As a marketing site for a B2B service company, Red Clover HR does well overall. There is a lot of strong content as well as excellent design elements. However, some issues with structure, layout, and content hierarchy impact both useability and SEO. These improvements could be taken from a good website to a great one.
You can see this full website design review and all our reviews on our YouTube channel.
Our highly knowledgeable B2B web design team would love to work with you to build a website that reaches your target clients, grows your customer base, and furthers your business goals. Visit our website to learn more about our services and contact us for a no-obligation discussion on how we can work together.