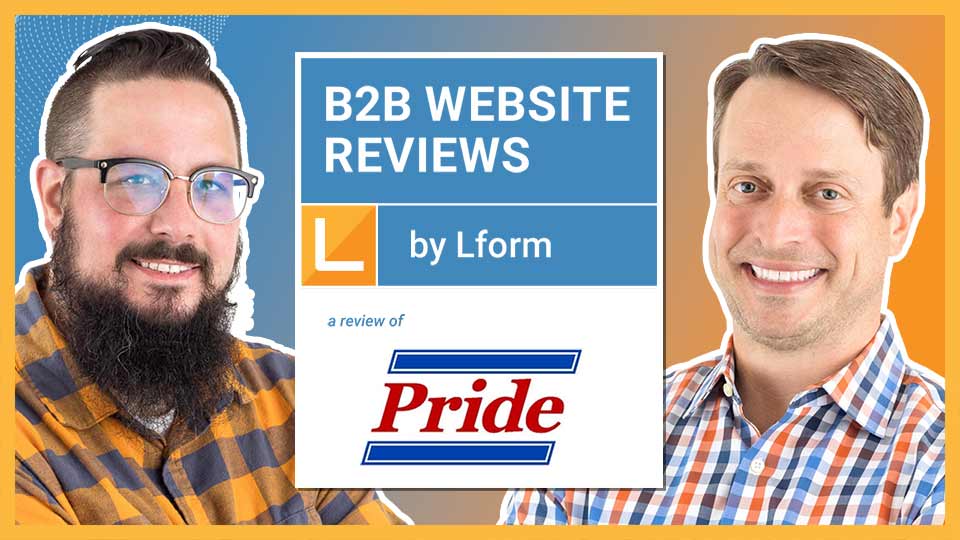 B2B Website Review: Pride Chemical Solutions
Intro
Website: http://www.pridesol.com/
Based in Holtsville, NY and family-owned since its founding in 1970, Pride Chemical Solutions is a distribution company serving many leading chemical and solvent producers. In this week's B2B web design review, we took a detailed look at Pride Chemical Solutions' website.
First Impressions
Pride Chemical Solutions' homepage is headed by a slideshow, below which is a passage of text that immediately spells out what the company does and some of its major clients. However, "chemicals" is an extremely broad category and without more specifics, unfortunately, Pride Chemical Solutions fails the three-second rule.
As some of Pride Chemical Solutions' clients are major and instantly recognizable household name brands, a logo field would work well on this page.
When a prospective client lands on a B2B website, they want to know one thing: how can this company help them? The text section on Pride Chemical Solutions' homepage does not answer this question, instead offering information about the company's history and expertise.
As we begin to scroll down, we see some examples of the industries the company serves. We would suggest moving this higher up the page as it is more directly useful to a prospective client. The "Locations" and "Contact Us" buttons are located directly under the hero area on the homepage, whereas these would traditionally be located in the header or footer.
Overall, there is significant room for improvement in the hierarchy of content on this page.
Branding and Feel
The overall aesthetic of Pride Chemical Solutions' website has an older and dated feel to it. This is something that users, who likely spend multiple hours online each day, will be highly attuned to and it can hurt the company's perceived credibility.
For many long-standing companies like Pride Chemical Solutions, websites have not traditionally been major drivers of new business compared to other methods such as word of mouth and trade shows. However, this is changing due to more decision-making roles being held by millennials and the digital-first push that was accelerated by the COVID pandemic.
We found the slideshow at the top of the page to be more distracting than helpful. We typically recommend against the use of slideshows as they both discourage user interaction and slow down the entire website.
Navigability
The navigation section right at the top of the homepage is extremely valuable real estate that is currently not being utilized to its full potential. The navigation buttons are single links with no drop-down options, which does not help the user to find what they are looking for quickly and easily. This is also quite a shallow website, without as many additional pages as might be expected from a company of this size and scope.
On the "Location" page, clicking on the "Map" button opens the company's location externally within the user's default map tool. This is unexpected and not only potentially annoys the user, but pulls them away from the company's site.
Product and Services Pages
Pride Chemical Solutions makes extensive use of on-site PDFs to provide product lists and information within its product pages and safety data sheet (SDS) section. While this does have benefits, such as making the website's content easier for the company to edit, it can present problems from an SEO perspective.
The PDF product lists do not allow users to search and filter for specific products. They also do not list any prices. All of this makes it unnecessarily difficult for prospective customers to find what they need quickly. In addition, the SDS documents are presented in an alphabetized list without any kind of search function to help users find the one they need.
We would recommend taking all this information out of PDFs, and turning it into separate pages within the website with a functional search tool instead.
SEO and Security Issues
There are several significant SEO problems on Pride Chemical Solutions' website.
The slideshow at the top of the site contains text which is not indexable. Though Google is starting to get better at reading text within images, this still seriously damages the site's SEO.
Pride Chemical Solutions does not consistently use H1, H2, and H3 headings appropriately, opting for styled in-line paragraphs instead. Though Google is getting better at understanding different page structures, building in proper structure from the beginning is still hugely beneficial.
On a positive note, however, appropriate HTML tags for address and phone number are used on the "Locations" page.
Pride Chemical Solutions does not have an SSL, something that Google now requires of all websites. It also does not mask the IP address on the login page, which is dangerous from a security perspective.
Final Verdict
Ian's Overall Grade: F
Jeff's Overall Grade: D-
Pride Chemical Solutions is an impressive company, boasting 175,000 sq ft of warehouse space and its own trucking fleet, amongst other things. However, the website is doing the company a major disservice and failing to show it off in its best light to prospective clients.
Though it has some strong elements, this website has numerous significant problems including content hierarchy, security and SEO issues, and a dated feel. Even its best page, the SDS section, is difficult to navigate and slow to load.
You can see this full website design review and all our reviews on our YouTube channel.
If you have a B2B web design project in mind, we would love to hear from you. Visit our website to learn more about our services, or contact us to speak to our experienced team of B2B design professionals based in New Jersey.