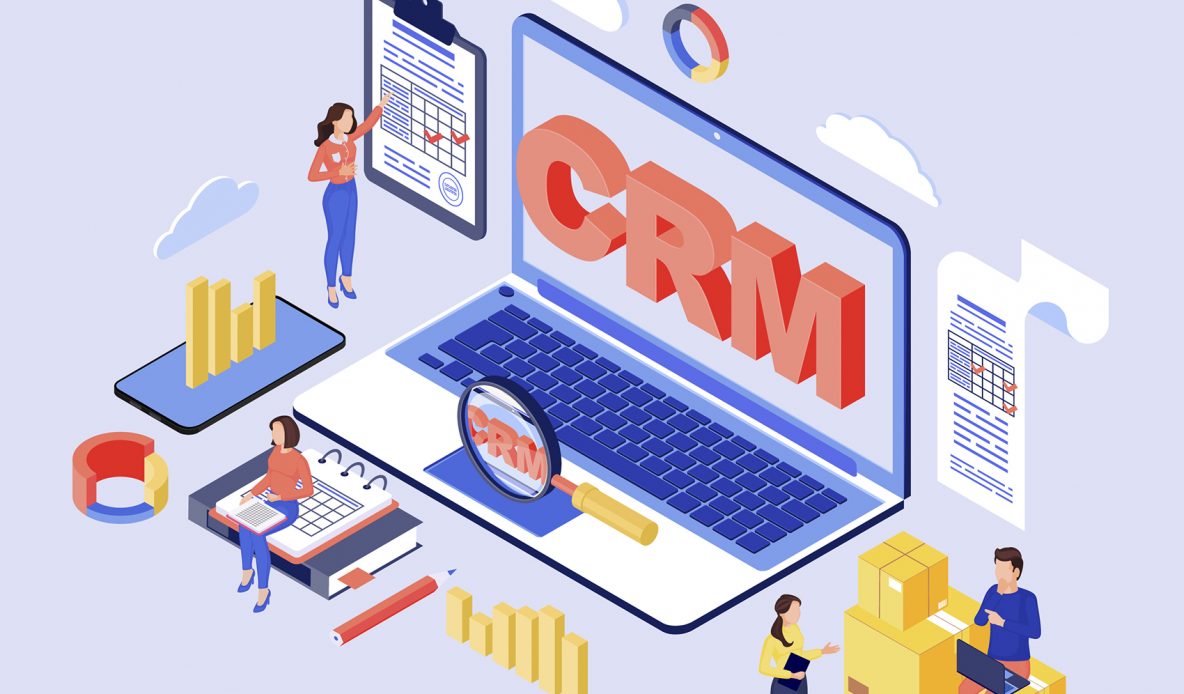 6 Important Benefits of CRM Software for Small Businesses in 2022
In the modern business world, improving your sales growth rate, customer acquisition and retention, and boosting your performance overall is a costly endeavor. Manually trying to generate, nurture, and convert leads is a resource-intensive process, which is why business leaders are becoming increasingly reliant on intuitive software.
While there are many tools that you could use to boost the performance of your sales, marketing, and support teams, CRM (customer relationship management) software is one of the most important tools in your arsenal.
Why? Because CRM allows you to nurture and convert leads efficiently and effectively, and most importantly, to elevate the lifetime value of every customer. According to current CRM statistics, the majority of business leaders say that CRM tools allow them to build personalized experiences for their customers. And that's just the beginning.
Today, we are taking a look at CRM software to uncover the key features and benefits that can help take your business to new heights in 2022 and in the years to come. Here's what you need to know about customer relationship management tools.
What Is a CRM System?
Before we dive into the concrete benefits and features of CRM software, let's talk about what CRM systems do. A CRM system connects your departments and provides them with the tools they need to store, share, and organize customer data and collaborate more efficiently.
That way, CRM systems help businesses save time and money on lead nurturing while ensuring that all teams have the data they need to achieve their goals. In practice, this means your marketing department can use the CRM system to seamlessly collaborate and communicate key information to your sales experts and empower them to close a warm lead.
On the other hand, your sales team can share customer data with your support staff, who can then reach out with upsell and cross-sell opportunities to incentivize new and returning customers to buy. The possibilities here for effective collaboration are endless, and it's important to note that CRM tools also minimize the risk of error.
Your teams have all the customer data they need on a centralized platform, which allows them to identify the stage the customer is at in your sales funnel and which approach is best to keep them moving toward a sale.
For these and other reasons we will talk about today, a CRM system is essential for growth-oriented businesses in a competitive industry. Over the long term, a CRM enables businesses to get to know their customers, personalize their experience, and build lasting relationships to ensure lifelong brand loyalty.
What Is CRM Integration?
One of the easiest ways to implement a CRM system into your processes seamlessly is to integrate it into your website. CRM integration means incorporating a particular CRM software (such as HubSpot, Zoho, Salesforce, etc.) into the website's CMS (content management system).
CRM integration allows the tool to access the site's data, such as the last time a lead visited your website, how much time they spent there, what they searched for, and so on. Needless to say, managing behavioral, browsing, and customer data in general is vital for effective marketing, sales, and support.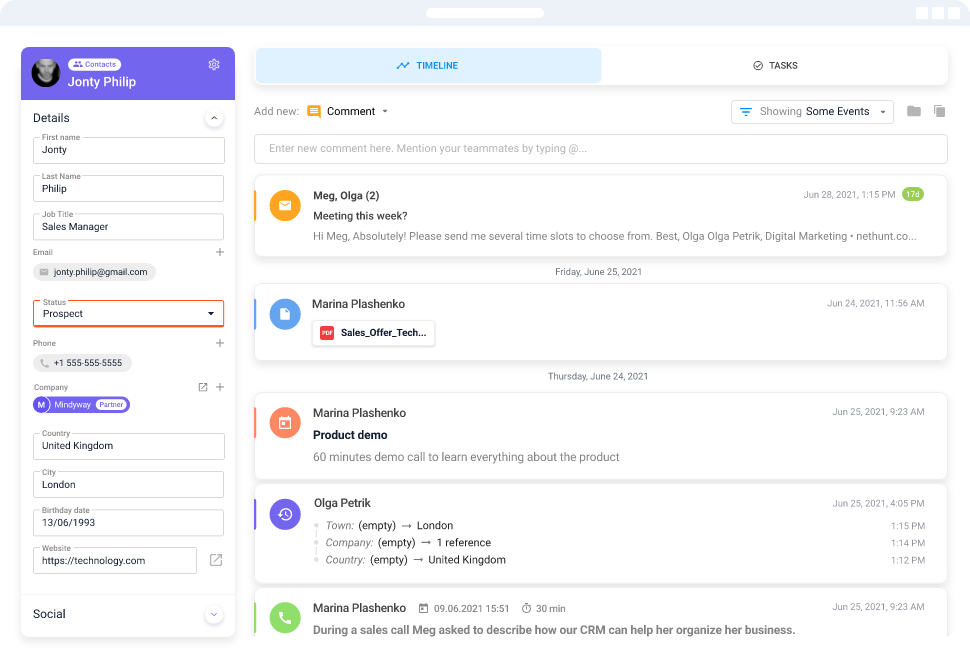 There are two main types of CRM systems:
Cloud-based

. Also known as SaaS CRM, the tool is developed by a third party and sold as subscription-based software. SaaS CRM tools are hosted remotely, on the vendor's servers.

On-site CRM

. This is a custom-built CRM system that aims to address the unique needs of your business. Companies interested in building their own CRM can hire

qualified CRM developers (like Lform!)

or find developers on LinkedIn and other popular developer hubs.
Now that you know what CRM is and how you can integrate it into your processes, let's talk about the key benefits of customer relationship management software for your business.
1. Save Time and Minimize Financial Waste
One of the primary benefits of CRM software is automation, which allows your teams to better manage their resources. Manually managing leads and customer data is a costly process with a high risk of human error, but with a centralized system, your teams can automate menial tasks and focus on strategy.
After all, why waste time manually sharing customer information with others or via email and other tools if you can automatically provide access to that crucial data to all your teams? Your sales, marketing, and support experts can collaborate in a centralized location using up-to-date information, minimizing the risk of error or duplicate data.
Some of the processes you can automate in your CRM system to save time and money include:
Contact management

New lead follow-ups

Appointment scheduling and rescheduling

Pipeline management per contact

Lead scoring

Testimonials and reviews

Newsletter and email campaigns

Payment reminders

Cart abandonment follow-ups

Recommendations for upselling and cross-selling

And much more
2. Elevate Customer Experience
Personalization is one of the best ways to enhance the overall customer experience, but to do that, you need to understand your customers and manage every lead individually. This is almost impossible to do manually, but with CRM software, it can be a straightforward process.
First, you can use CRM software to store and organize all customer data and create detailed buyer personas that you can optimize on a micro level. This means you can optimize your personas per individual leads to achieve what is known as hyper-personalization.
That said, you can also build detailed buyer personas for different tiers and groups of customers, allowing you to personalize your marketing, sales, and support processes on a macro level. Having this kind of control over your data allows you to be as granular in your approach as you want when optimizing these processes.
Another way you can use your CRM to boost customer experience is by automating your communication. Comprehensive CRM systems allow you to use chatbot technology and integrate conversational AI into your website's chat, social media, and other communication touchpoints.
This means that you are available to your customers nonstop and that you're ready to engage with them at a moment's notice. The best part about conversational AI is that it can help the customer find the ideal product or solution quickly and automate repetitive support processes.
With chatbots handling repetitive queries and resolving common issues, your customer support agents can deal with the more complex tasks.
3. Have a Unified Data Source
We mentioned that CRM software allows you to store, share, and organize vast amounts of customer data. But the tool itself is far more than a data storage system. In practice, CRM software allows you to not only store that data, but also use it to create detailed action plans and strategies.
Customers leave huge amounts of personal data online simply by browsing the web and interacting with search engines, websites, and social media platforms. Their data is being collected all over the web, but your CRM can store all that data on a centralized platform automatically. This gives you a comprehensive overview of all your data sources and allows all your teams to work together on putting that data to good use.
Information about page views, bounce rates, traffic, and conversion rates is what fuels web analytics, something every business needs to do to survive in the modern market. With a single database, your data analysts and marketing team will have a much easier time understanding your target audience, establishing and adjusting your digital marketing strategy. Starting with a framework that suits your business, they can design digital marketing campaigns that work well.
Also, your sales experts can use that data to optimize their approach to each customer and tailor their messaging and pitch to address an account's unique needs and pain points. The same goes for your support staff, who can use the data to reach out to individual customers with a personalized message that will incentivize them to take action.
4. Better Segmentation and Personalization
Another key benefit of CRM software is that it facilitates efficient and effective market segmentation. In turn, this allows you to better personalize your campaigns and develop a deeper understanding of your target demographic.
The data you collect and analyze through your CRM system helps you understand the behavior, aspirations, and goals of your customers so that you can align your sales and marketing processes to their needs. You can feed some of the information into the CRM system manually as you're developing and nurturing leads, but the CRM will automatically populate the database with information gathered across many digital touchpoints.
Combining these two methods of collecting and collating customer information will allow your teams to build detailed buyer personas, optimize the customer's journey, and personalize their experience throughout.
5. Minimize Customer Churn
Customer churn is inevitable, but good customer service can help minimize the rate at which you lose customers and help you boost retention and CLV (customer lifetime value). While the AI-driven chatbots take care of the menial and repetitive tasks, your customer service agents can focus on enriching the customers' experience as a whole. They can do this through value-driven messaging, nurturing, and by developing loyalty programs with your sales and marketing experts.
The CRM will also allow them to direct their attention to those customers who are thinking of switching to one of your competitors. Needless to say, the features provided by CRM software can help customer service teams minimize the customer churn rate with proactive messaging and customer care.
Also, CRM automates the onboarding process by sending automatic welcome emails or feedback reminders. This ensures timely communication with your customers and, more importantly, keeps your brand relevant and visible in a competitive market.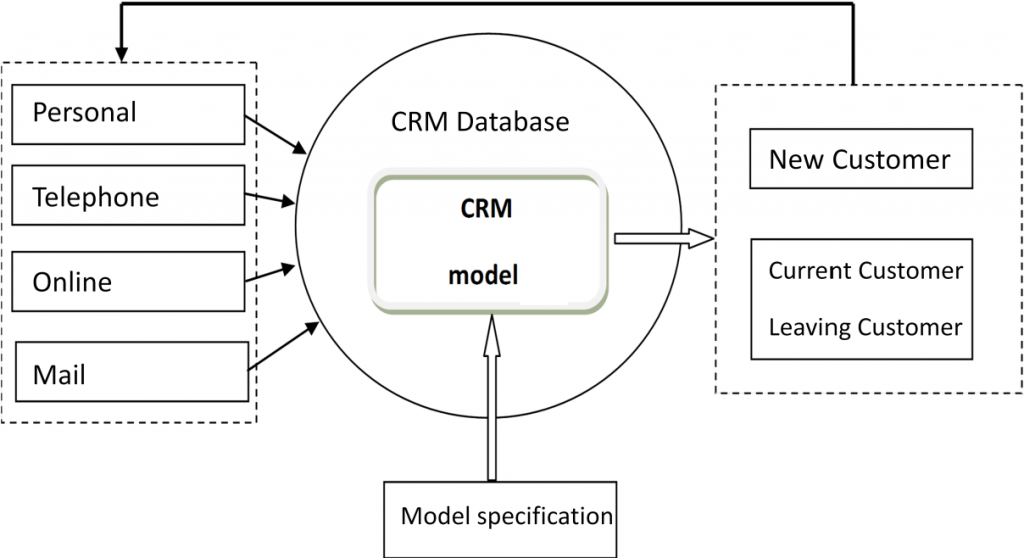 6. Improve Cross-Departmental Communication
If there is no centralized access to customer data, then you can't expect your sales, marketing, and support teams to work together seamlessly. In fact, without a CRM system to centralize and organize all your data, you can expect to encounter department silos in your organization.
Department silos impede communication and collaboration, but they also increase the risk of human error. For example, if your marketing and sales staff are not collaborating using the same data, there's a chance that both marketing and sales will try to get in touch with the same contact. When that happens, they will overwhelm the potential customer and drive them away for good.
This is just one example, and it's important to remember that decentralized data can harm your operation in many other ways. With CRM software, however, there is no such thing as unavailable or decentralized data.
What's more, you can use your CRM software to generate actionable reports quickly and visualize all the different data sources in unified dashboards to enhance collaboration. With relevant reports and forecasts in one place, your teams will be able to optimize their strategies and align their processes to drive conversions, boost retention rates, and enhance customer satisfaction.
Wrapping Up
Nowadays, business leaders need CRM software to minimize financial waste and make better decisions. CRM solutions offer many features that can help you build meaningful relationships with your customers and inspire them to become your lifelong brand advocates.
Consider integrating CRM software into your processes to empower your sales, marketing, and support staff and give them the tools they need to take your business forward in 2022 and beyond.