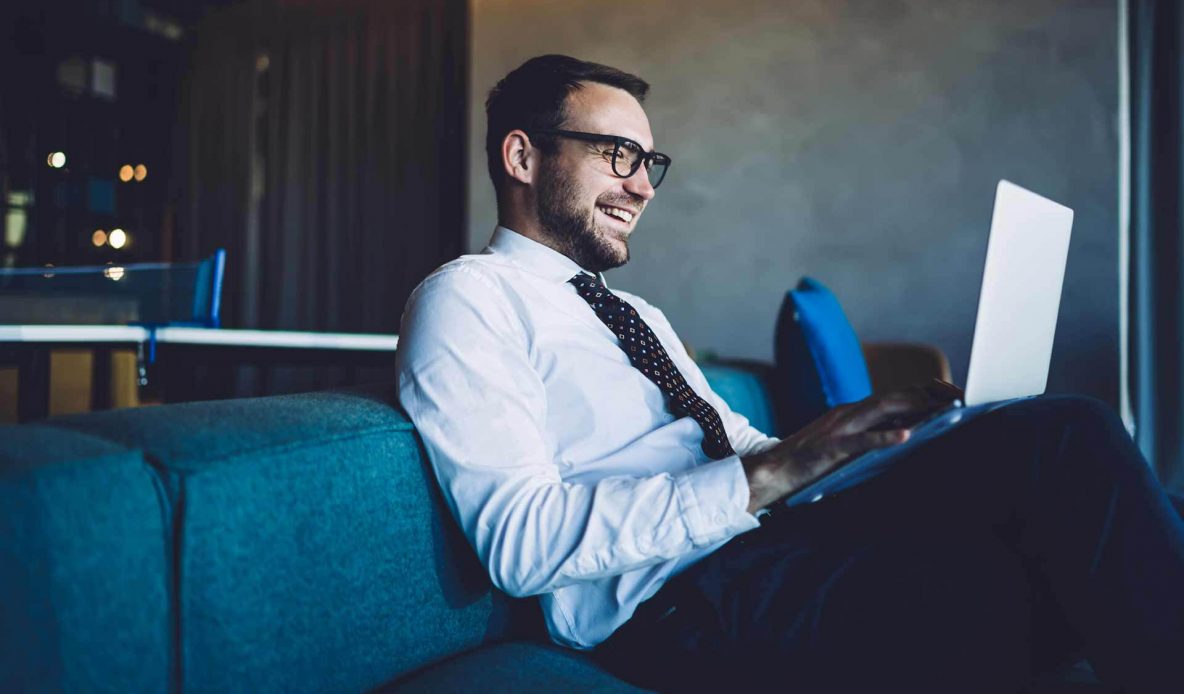 12 Industrial Web Design Trends That Increase Customer Experience
Customer experience is critical for any business that wants to attract and retain clients. Across industries, research shows that good experiences with a brand encourage people to stick around—or even pay more. Bad experiences, on the other hand, send them to competitors.
Improving customer experience isn't always straightforward—especially for businesses working in heavy industry. They are sometimes left out of the conversation. Fortunately, industrial companies can improve their customer experience with the right approach.
These 12 industrial web design trends show how you can use design to improve customer experience.
1. Break Down Content
Many websites use their front page to highlight content, services and valuable resources. This is a great strategy, but only if you organize the content on your front page so it doesn't overwhelm visitors and helps them navigate more effectively.
Plez, the developer of a smart manufacturing platform, does this well. It takes what could be a large piece of content on the solutions it offers and breaks it down based on consumer needs. Smart web design like this can effectively link up consumers with resources, boosting customer experience.
2. Show That You're Active
When a site isn't updated frequently enough, it may give the impression that your brand is no longer in business or not keeping up with the latest industry developments.
You can use your site's homepage to highlight new announcements, products and blog posts, showing your company is still active.
3. Prioritize Easy Navigation
One of the most important factors in design for customer experience is ease of navigation. Whenever possible, take advantage of elements—like contrasting background and text and legible fonts—that promote readability and clean design.
You can also use design elements that help direct visitors to the resources they need, such as highly visible links to service pages, product information, or your About Us page.
4. Offer Live Support Chat
Live chat has quickly become a popular customer support tool. People don't like to wait–and even just a few minutes of doing so can send them away. Live chat provides an alternative to phone lines and email and reduces wait times associated with customer support.
Many customers also prefer providing information over chat to filling out a form or email. Live chat can help make them feel more comfortable.
However, live chat can be fairly labor-intensive, especially because customers expect fast responses to their questions. If you don't have a large customer service team, you should consider outsourcing your chat support or using automated solutions to cut back on the labor needed.
5. Consider Chatbots
Your customer support team isn't always going to be available the second a customer needs help. Chatbots can help fill in the gaps by automatically collecting information and identifying the problem someone is having. These bots can pass this data on to the customer support team once a rep becomes available.
Some advanced chatbots—like Twyla, Nanopep and Botsify—can even handle basic requests, freeing your customer support team up for more important work.
6. Prioritize Low Load Times
When you consider implementing new features or design elements, remember to keep it lean. The longer customers wait, the less likely they'll be to stick around. This is especially true for B2B companies, because your customers are likely to be working on tight deadlines.
If your site relies heavily on complex CSS, excessive JavaScript or large files, it can quickly become slow to load. Be sure to check load times and cut back on any elements that may be unnecessarily bogging down your site's speed. For example, you can minify code and compress image files to decrease loading times.
Changing to a hosting provider that offers better speeds may also be an option.
7. Offer Extra Clarity
Clarity is vital for customer experience. This is especially true in heavy industry, where a brand may be offering a series with products that have subtle-but-crucial differences.
This simple product comparison tool on the Universal Robots site allows you to dynamically select one to four robot arms from its lineup. When you click on one, the website dynamically inserts or removes key product specifications—including payload, reach and weight—allowing potential clients to quickly compare options. Each listing also includes a link to a fuller description of the product.
This tool isn't complicated, but it's a great example of how web design can offer customers extra clarity. Product comparison tools allow customers to understand differences between major offerings in a way that's intuitive and clean—simplifying the research process.
8. Make Key Pages Easy to Access
Essential site pages—like contact information, your "About Us" page and information services and pricing—should be easy to access, no matter where a user is on the site.
The homepage of H.O. Penn Machinery, a supplier of heavy industrial equipment, uses large, clean design elements. In addition, a header provides access to important site pages. This allows customers to quickly access current specials, resources and financing information, as well as learn about servicing and products offered.
The combination of a navigation header and visible design on the front page ensures customers can access these pages from anywhere on the site.
9. Follow Best Practices for Forms
Clients will probably need to reach out or provide some extra information before committing to a sale. This means giving you some information via email or contact form.
When adding a form to your website, make sure you follow best practices. Adjusting length based on conversion rate, ensuring it hits key areas of info and using autofill can help you collect valuable leads. Optimizing your forms for mobile can also go a long way toward making them a little more user-friendly.
10. Design for Mobile
This is key design advice for just about any brand, but needs to be tempered somewhat when applied to B2B websites. While around half of all web traffic comes from mobile devices, around 80-90% of B2B traffic comes from desktop.
You can use site analytics data to know which pages your mobile users are visiting. Unlike a B2C website, you may only need to optimize a few pages for mobile.
Remember that just because a page is clean and fast on desktop, it isn't guaranteed to look the same on a mobile device.
11. Use Faces
For many, a crucial part of creating a good consumer experience will be building an emotional connection between brand and customer.
Even cutting-edge companies still use human faces in their design and branding. H.O. Penn Machinery, Universal Robots and Plex all use them in one way or another to emphasize the people behind the brand. This can help build trust and connection between an industrial company and its audience.
12. Offer Content and Resources
Even simple things—like a regularly updated blog or collection of industry-relevant articles—can provide serious value for a customer. Adding these elements to a site's design can go a long way in building trust and demonstrating what a brand can offer. Valuable and relevant content can also boost your site's SEO.
Using Strong Web Design to Improve Customer Experience
The best possible customer experience is key for industrial companies. Mobile design, easy navigation and quick loading times can all go a long way in improving the relationship a customer has with a company.
Lexie is a web designer and digital nomad. She loves hanging out at flea markets and taking her goldendoodle on hikes. Follow her on Twitter @lexieludesigner and check out her design blog, Design Roast.