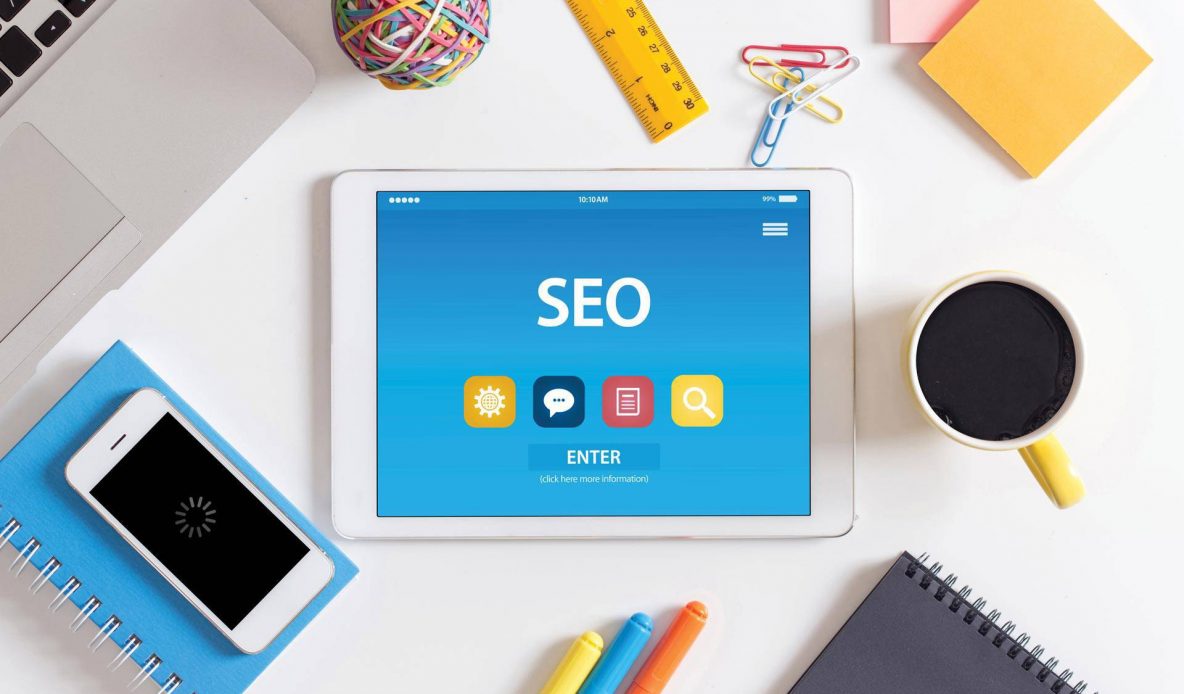 Ten Tactics to Improve Your SEO
In one of our recent blogs, we covered how to perform effective keyword research to find the most relevant terms and phrases for your business. You've got your list of keywords. Now what?
Writing what's known as comprehensive holistic content—relevant, high-quality content tailored to user searches—your words become not only something that users will want to read and share, but also something that will rank well with search engines for a variety of keywords. Google loves good, fresh, relevant content.
Below, we review the top ten best practices and tips for site-wide SEO and on-page SEO—including what keyword-rich content to write— to drastically improve your search engine rankings. Our list is primarily based on Searchmetrics reports and findings.
On-Page SEO
Fresh, holistic content: Regularly and expansively cover relevant topics sprinkling in keywords in a natural way. Don't keyword stuff!

Word count: Today, Google favors longer content. According to Searchmetrics, the average word count for top-ranking desktop content is between 1,590 and 1,633. This is up from 902 words in 2014 and 1,285 words in 2015. The thought is, more in-depth coverage of a relevant topic can better answer users' questions.

Tags, tags, tags: 99 percent of "top 10" pages have a meta-description and 80 percent used an H1 tag.

Meta-keywords are dead, but meta-descriptions are alive and well. Make sure they are 160 characters inclusive of spaces and odd characters. Meta-descriptions should be descriptive, yet to the point; they should use natural language and can include keywords as long as they are not littering the description or sound forced. Google knows if you're keyword stuffing! If you're writing a meta-description for the About page, for instance, the description could say something like "Learn more about our team and our mission statement."

Title tags must be no more than 70 characters inclusive of spacing and odd characters. On a homepage, title tags should always offer the name of the company first (or its acronym) followed by keywords that truly describe the company. On interior pages, title tags should always be title of the page, the name of the company, followed by related keywords. For example: About Us, Lform Design, web design experts.

Use H1 through H6 tags appropriately to help Google index your website properly. For example, H1 tags should be the page name, H2 tags should be subtitles, and so on. For example, an About page's H1 should be "About" and some H2 tags may include "Our Team," "Company History," and "Our Mission."

Alt tags also play a role in SEO. Alt tags apply only to images or icons such as .jpg, .png, and .svg files. Alt tags were originally developed for the visually impaired to describe the image they could not see. Attribute characteristics and keywords to the image or icon being described when created alt tags.

Rename your image or icon files. If your website has an image of China hat light fixture, don't use DC1056.jpg, rename it, "china-hat-light-fixture.jpg."

Internal links: The number of internal links on high-ranking pages has increased since 2014. According to Searchmetrics, the number of links you include in your content isn't as important as optimizing your overall link structure: "What counts is not the total number of internal links, but rather the optimization of the internal structure and page information so that the user (and also the search engine) is optimally guided through the provider's content and to ensure that the user stays on the page and is satisfied."

Sitemap: Your sitemap should cite every page on your website even if it is not in the main navigation. Your website should also produce an XML sitemap and include a sitemap link on every page.

Security Sockets Layer (SSL): Google may be leaning toward using SSLs as a factor in search rankings, therefore, it might be a good idea to have an SSL installed on your website. A SSL is a verification tool that shows your website is secure and that you produce all of your own content.
Site-Wide SEO
Ensuring proper keyword research is conducted and then incorporating those keywords in conjunction with the strategies outlined are integral in optimizing your content, but without implementing the proper site-wide elements, your on-page SEO will have limited reach. Let's review some best practices for site-wide SEO in an effort to rank highly in organic search results.
Responsive design: In 2016, Google updated its algorithm to give an additional ranking boost for responsive, mobile-friendly websites. Thus, it has become vital for websites to maintain a responsive design or offer a dedicated mobile site or app.

Mobile load times: Sites need to load quickly on all devices. According to Smart Insights, 48 percent of consumers start mobile research with a search engine. And that number will only increase from this point on, so it's even more critical your site loads quickly on mobile devices. Searchmetrics found that the top-ranking pages loaded in an average of 1.16 seconds for desktop results and 1.10 seconds for mobile. Use Google's PageSpeed Insights tool to find out how quickly your site is loading. Note: this tool works on a

Content structure: Better your rankings and user experience by structuring your content in a logical way with menus, buttons, and internal links, and offerings bulleted or numbered lists that make content easily digestible.
File size and site speed: These are two important factors for ranking in mobile search. Google recently announced that it will be including mobile page speed in the upcoming mobile first indexing change. Thus, Mobile pages need to load quicker, and should be smaller in size than their desktop counterparts.