HubSpot vs. SharpSpring vs. ONTRAPORT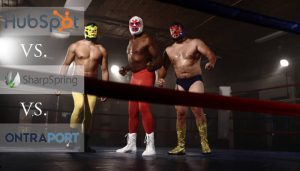 Choosing the right marketing automation software is a bit like taking a drive to visit Grandma for the holidays with your parents. It's a long drive and everyone in the car is headed to the same destination but all of you have different routes to get there. Mom likes the scenery of the back roads, Dad wants to take the highway, and the kids just want to drive by the houses with the shiniest Christmas lights. So which path is best? You see where I'm going with this.
Ok, let's talk about three of the most popular cloud-based options out there right now. HubSpot, ONTRAPORT, and SharpSpring. First of all, let me be upfront about this: I'm partial to SharpSpring. Why? Because they sent our office a box full of root beer. Daddy likey. Apparently, they send actual booze to potential clients in other countries but due to laws in the U.S., we must do without. I blame Obama. But I digress.
HubSpot is the Grand Poobah of marketing automation software. It's the most expensive and well known; packed with features, it integrates with almost everything, plus the huge party/conference known as INBOUND highlighted by celebrity keynotes (this year was Marc Maron, Aziz Ansari, Amy Schumer, and Chelsea Clinton).
As I can attest after going through the lengthy onboarding process, HubSpot isn't just a task-oriented program, it's wrapped up in a marketing philosophy (The Inbound Methodology) that one must not only master but truly buy into in order to maximize the value of all that they offer. In addition to their marketing software, HubSpot also includes a CRM and Sales tool.
As a current user of HubSpot, I can testify to the fact that their support is excellent. They assign a liaison to you from the beginning that keeps in contact regularly and responds quickly to inquiries (Hi, Kaitlin!). HubSpot's support extends to content creation as well with a large library of eBooks and guides on inbound marketing and SEO, as well as plenty of webinars to continue educating users.
HubSpot makes simple automation tasks easier by providing recipes that you can implement immediately (subscriber nurturing, lead nurturing, sales notification, customer nurturing, evangelist nurturing, data cleanup). And creating a workflow from scratch is fairly easy as well with options to trigger automation by events such as a contact joining a list or filling out a form, fixed calendar dates, or changes in contact properties like expiration or renewal dates.
Not only is HubSpot a marketing automation tool, it functions as a CMS as well from which you can actually built landing pages or an entire website. For us, this is where HubSpot fell a bit short. Working with their interfaces left little flexibility for anything requiring relationship-based data. They also recently reworked their backend, which my team found a bit clunky.
HubSpot shines in its ability to segment users by list and provide specialized content to them. Their social media component is good but nothing you couldn't do on Hootsuite or a variety of other free SM posting engines. Reporting is good as well with a variety of options to customize and deliver reports however, options are limited based on which level of service you pay for, which can be a drag.
For instance, a client recently asked if I could generate a report of all pages a registered contact had visited and when but when I spoke to a HubSpot rep, I was told that that kind of reporting was only available at the "Enterprise†level ($2,400 per month). That's not chump change. Another thing only available at the highest level of service: A/B testing for emails.
SharpSpring has many similar features to HubSpot including a buit-in CRM but on the whole, it's a more streamlined interface. Lead segmentation, reporting tools, and workflow automation are all in place. SharpSpring does not push a proprietary CMS, instead offering universal CMS compatibility as well as full integration with hundreds of applications. Their form building tools are on point (and I dare say, more aesthetically pleasing than HubSpot's) and VisitorID uses behavioral-based tracking to "truly understand what motivates every click" and identify anonymous web visitors by employing reverse IP lookup.
Automation functionality includes:
Drip Campaigns
Lead Scoring (Based on level of engagement.)
Dynamic List Creation (For example: you could create a list that automatically captures all leads who are interested in a certain product from a specific location with a lead score above 25 who has visited a pricing page but not yet purchased.)
Email and Text Alerts (Triggered by workflows to communicate with internal stakeholders who will receive actionable data even when not logged into the app.)
Multiple Device tracking
Dynamic Email Content (Gives you the ability to add automated personalized components to emails with no manual customization required.)
With functionality so closely mirroring HubSpot (but perhaps slightly less robust), one of the biggest selling points for SharpSpring is the comparatively low cost of entry. While exact prices are not openly advertised online, after going through the full demo with a representative, cost savings over HubSpot looked to be hundreds of dollars per month, making SharpSpring and excellent alternative. This is particularly true for agencies that can take advantage of the reseller model, which allows them create a new source of monthly recurring revenue, set the price for their customers, and add their own branding to dashboards.
As far as support goes, businesses get a dedicated account manager, free training and support, a multitude of training videos, and even a guarantee that the founder of the company himself will be available upon request for a call should the necessity arise.
That takes us to ONTRAPORT (which offers neither Amy Schumer nor Root Beer). Advertised as an all-in-one solution for entrepreneurs, ONTRAPORT's stated mission is to bring value by "removing the burden of technology and automating their businesses.†It combines CRM, business automation, and web page creation.
The page builder interface is easy enough to use and creates responsive pages out of the box. Web forms and light boxes are customizable and simple to put together with the added bonus of allowing for pop ups to appear depending on customer triggers such as button clicks, scrolling, exits, or set amounts of time on a page. "Smart forms" allow administrators to identify and track visitors with a page-by-page history of interaction.
ONTRAPORT boasts easy, one-click integration with WordPress including customizable, members-only websites. CRM, sales and marketing data also integrates seamlessly with Facebook Ad programs. A/B testing is also available for emails and landing pages.
Marketing automation tools are the greatest strength of the ONTRAPORT solution:
ONTRAmail email marketing creates responsive emails quickly and pairs with automated list management to ensure a clean, engaged list. For high volume senders, ONTRAPORT offers private IPs.
2-Way SMS messaging is one of ONTRAPORT's unique features, allowing you to communicate with customers who opt in via web form or text. These are great when used for appointment reminders, weekly tips, or general announcements.
ONTRAPORT can generate physical postcards that bypass those pesky email spam filters.
Personalized URLs (PURLs) are another feature unique to ONTRAPORT. These allow you to customize your marketing efforts with links that include prospects names. PURLs not only increase clicks and engagement, they allow you to identify visitors.
The system works well when integrated into eCommerce sites as it enables you to sell products and services with secure payment processing. You can create order forms, offer trials, subscriptions and payment plans, and create a branded customer portal so users can update their information. They've even got abandoned cart follow up functionality so that when a user leaves the shopping cart before completing a purchase, you can automate a follow up.
ONTRAPORT is priced competitively, with a basic package starting at $79 a month and allowing up to 1,000 contacts.
The Results
All three systems have their advantages. HubSpot's robust functionality makes it a strong contender for the W.A.M.C. (World Automated Marketing Championship) belt (yes, I made that up) however; its price can be prohibitive.
ONTRAPORT delivers as well, especially for businesses that sell products online or membership sites but it's really meant for smaller firms.
That means the winner and new W.A.M.C. champion is…SharpSpring!
The most flexible, affordable solution that delivers results on par with blue ribbon, industry standard bearers, SharpSpring is my recommendation for the best automated marketing solution, but don't just take my word for it. Contact them and let one of their reps take you through a full demo of the software.