Mozilla Firefox VS Internet Explorer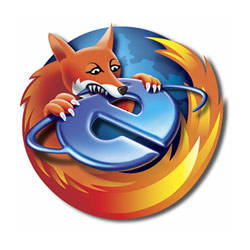 Making the Switch
It's no secret that change is hard, but sometimes change is for the better! Here at Lform we strongly recommend that you make the switch from using outdated and inferior web browsers like Internet Explorer and start using an extremely efficient web browser like Mozilla Firefox. It wasn't long ago that Internet Explorer held the majority of the market share for web browsers; however, this is no longer the case. Internet Explorer is so susceptible to viruses and has such an inferior application performance, that over 100 MILLION users have already made the switch to different web browsers.
Advantages to Using Firefox
SPEED Firefox is reported to be one of the fastest browsers when it comes to download speed. Not only do programs and files download faster, but you get a record of all your downloads in the form of a table, so you can erase or move them at your convenience.
SECURITY Firefox has some advanced security measures that protect your computer from spyware and even certain viruses. Firefox also comes with a state-of-the-art popup blocker that stops almost 100 percent of pop-ups.
TABBED INTERFACE Tabbed browsing allows you to open an unlimited number of pages in a single window; thus, helping you organize your browsing. Firefox also has an embedded memory, which means that if your computer is turned off by mistake, Firefox will remember which websites you had open and offer to retrieve them for you.
Still Not Convinced?
According to W3Schools (a leading web development resource) Firefox now holds 42% of the web browser market share, followed by Google Chrome with 28%, Internet Explorer with 23%, Safari with 4%, and Opera with 3%. That means that Internet Explorer not only dropped from the number 1 spot, but all the way down to third. This is certainly no coincidence.
Think you might be able to add insight to this post? Don't be shy, let us know what you think!