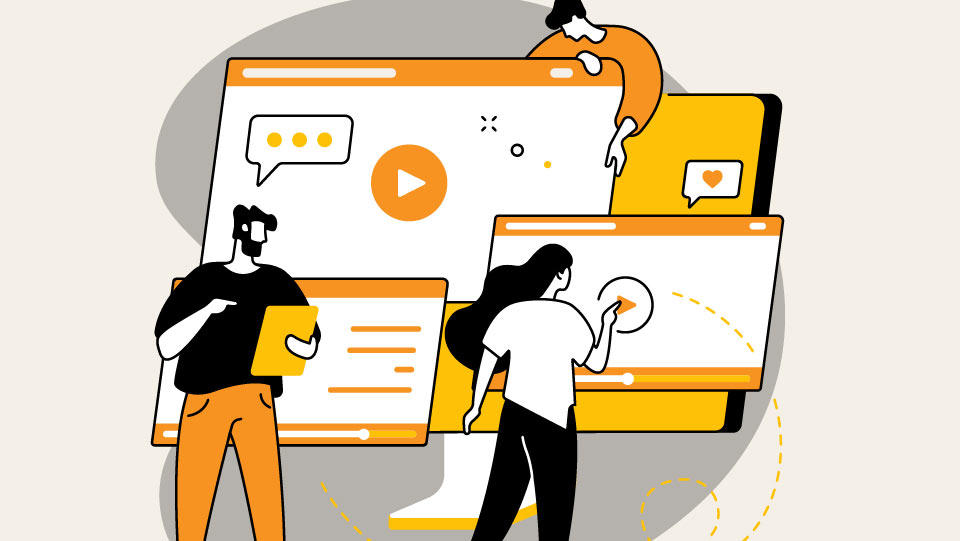 13 YouTube SEO Tips to Rank Your Channel Higher
SEO (search engine optimization) is essential in establishing a successful YouTube channel. Combining your search engine optimization with a video strategy is a simple approach to boost your advertisements. If you do this, you'll increase your video views, grab your audience's attention, and lay the groundwork for future success with tactics like YouTube remarketing.
Video marketing is an essential tool for modern businesses, and YouTube is the world's largest video-sharing platform. That's why it's important to optimize your YouTube channel and videos to rank higher in the platform's search results.
In this article, we will provide 13 tips to help you boost your YouTube SEO and get more views, subscribers, and ultimately, more success for your business.
1. Smart Keyword Selection and Usage
Conduct extensive keyword research, and unless you're able to rely on highly competitive phrases, choose keywords that are less competitive but will still generate traffic.
First, figure out your target audience's search objectives. Your video's searchability depends on how well its content matches the customers' search. Second, know your reason for making a YouTube video and who you expect to see it. The title and description should include the product's name if the video reviews a product.
Addressing user interest in your video's content is the greatest approach to keep them watching. To pick your keywords, you may want to examine what sort of material your users want—which phrases and questions they are searching for—as well as what your rivals are doing.
2. Embed the Keyword Into the Video's File Name
This might seem like a simple tactic, but YouTube gives it strong consideration when ranking your video. Uploading a video with the target keyword in the file name increases the likelihood that it will be indexed and seen by those doing relevant searches.
The video's file name is shown while it is being uploaded. Be careful to give your video a name that accurately describes it before uploading it to YouTube.
3. Make Your YouTube Video Description More Effective
An informative video description that includes search engine optimization is a major factor in YouTube rankings. Even if you edit your video with any online video editor, including the subtitles, closed captions, description, or thumbnail, YouTube will reevaluate your video.
YouTube recommends that your description be no more than 200 words long and include keywords in the first few sentences. Be sure your information is beneficial. If it's not helping users, get rid of it.
You can always find fresh materials in the YouTube Creator Studio. It has a checklist explaining how to write descriptive text for a video.
4. YouTube Hashtags Influence Search Results
Hashtags (#) are now widely used on social media to help people discover information that addresses their inquiries. If you want your YouTube videos to show up in the results for a particular hashtag, you can increase your views by using the hashtag in the titles and descriptions of your videos.
Tags, in particular, improve search results by drawing greater attention to the important features. Hashtags used in a video's description will be highlighted and hyperlinked when they appear above the title.
Keep in mind that the description is the proper place for your video hashtags. Including a hashtag in the title of a video will prevent other hashtags from being shown in the title's description, which won't help your visibility.
5. Select a Video Type
Users may refine their video search by selecting particular categories for results. To increase the likelihood of your video being found by a user, providing context for your submissions using categories is essential.
You can pick from various categorization options on YouTube when you upload your videos, so that they can be easily categorized.
6. Edit Video to Maximize User Engagement
To maximize user engagement on YouTube, consider editing your videos with an online YouTube video editor. This can help make your videos more visually appealing and easier to follow, which can keep viewers interested and encourage them to watch more of your content.
By investing time and effort into video editing, you can improve the overall quality of your videos and make them more attractive to your audience. Using YouTube templates can also help you save time and effort, because you can use pre-designed layouts and graphics that are optimized for the platform.
7. Use Eye-Catching Thumbnails
Thumbnails can either help or hurt your YouTube videos. People see them first while searching YouTube. The increased view time fueled by an engaging thumbnail may significantly impact a video's position in YouTube's algorithm. You need to make your video stand out from the others to ensure it is seen.
One way to determine a good thumbnail format is looking at channels with similar content and studying their thumbnails. Study how they're formatted, what types of colors and fonts they're using, and what imagery they're using.
8. Insert Subtitles and Closed Captions
Closed captions are intended for those who can't hear the audio, while video subtitles are created for people who don't speak the language used in the video.
Subtitles and closed-caption files, similar to transcripts, include the text spoken in a video. The file will also include timing information for when the various pieces of text should appear in the video to sync up with dialogue or other visual cues.
Having a transcript for your video also allows it to be crawled by search engines, similar to the content of a blog.
9. Include YouTube Cards and End Screens
During your video, you can prompt viewers to take the appropriate action using YouTube cards, which are pre-formatted alerts—once created, cards display in the upper right corner of your videos for people to click and view. Since YouTube wants its users to stick around, cards are a fantastic tool for rising in the ranks.
Up to five cards may be added to a video at once. Cards may incorporate a variety of CTAs, such as moving viewers to another channel, contributing to a cause, or crowdsourcing.
After a video has finished playing, an "end screen" will display to let the user know what to do next. End screens and cards can improve the viewer experience and encourage them to watch another video.
10. Enhance Your YouTube Watch Time
As you would expect, watch time is critical. Watch time is the amount of time a viewer spends watching a video (not the percentage watched).
It's more impressive to have completed 50% of a 10-minute video than 100% of a 3-minute video. The initial 15 seconds of a teaser are crucial for capturing the audience's attention. If your video shows how to undertake a DIY project, display the result at the start.
A user's time actively watching a session is another useful metric. YouTube considers a video's impact on the viewer's session as a whole. After the video, did the viewer quit or watch three more? YouTube gives additional views to videos that encourage users to stay on the site for longer.
11. Make Playlists
Playlists enhance view time by playing automatically. A viewer may view multiple of your videos rather than just one.
Subcategorized relevant and brief playlists (four to six videos) may significantly improve user experience and engagement. Sharing a link to a playlist, rather than a single video, simplifies broadcasting several videos simultaneously.
Again, watch time is critical for YouTube SEO.
12. It's Time to Upload Your Video!
There are only so many best times to post on YouTube. Reviewing your real-time reports for trends is highly recommended. If there is no optimal time, try your videos at various times and see how they do. If you find that a particular time outperforms other times, stick to the most valuable upload times.
13. Keep an Eye on Your Metrics
You can only tell whether your YouTube optimization plan is producing results by monitoring your metrics. You may use metrics to see which parts of your videos work and which require improvement. YouTube provides several analytical reports that may be used to monitor progress.
Conclusion
Finally, do research in the same manner that you would for any other piece of content. Make it a priority to produce videos that will be relevant for years to come. The more useful information you give, the more people will search for your business and YouTube channel.