Which E-Newsletter System to Use & Why (Constant Contact vs. iContact vs. MailChimp)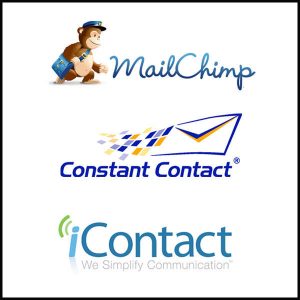 One of the most important things your business can do is to stay in contact with its potential and current clients. An e-Newletter can help build relationships with a minimal amount of effort. Whether you are sharing the latest company news, offering tips and tricks, or providing information about your latest promotions, it's imperative that a potential client see your message at least seven times before they might take action. The easiest way to accomplish this is by using one of the many e-Newsletter systems available. We will focus on three of the most popular: Constant Contact, iContact, and MailChimp. Out of the three services MailChimp is our favorite but read below to learn why.
The cost of this service ranges from $15.00 (0-500 subscribers) to $150.00 (10,001-25,000). Constant Contact offers one of the largest selections of email templates with over 400 to date. Changes may be made utilizing a WYSIWIG (what you see is what you get) editor, or for an additional charge they can design a custom template. With nearly two decades of experience, Constant Contact is one of the most reliable services around. Their interface is intuitive and the customer service department is even available on weekends.
Extra services include online surveys, social media marketing, and archiving newsletters. Though they have a vast array of templates, their flexibility is limited. Furthermore should you design your own html template the WYSIWIG will not in tandem. With limited space offered (1/2 mb or 5 images + 5 documents), additional storage is offered at $5.00 for 50mb.
iContact offers a free plan for up to 100 subscribers and paid options that can cover anywhere from 250-5 million+ subscribers. They offer surveys and email newsletter archiving at no additional charge. Managing your contacts is easy with options for subscription management, bounceback handling and contact history reports. In addition to offering customer support by phone, they offer video tutorials and webinars.
You can use iContacts' "Message Coder" to build templates in HTML, which allows the flexibility to match your websites' look and feel. Though social media marketing is included, it is limited to Facebook and Twitter. However, their support staff is less experienced than others and there have also been reports of extended wait times for service. Though Google Analytics can be integrated, it is only available to premium subscribers.
MailChimp is our favorite system, A+! An uncomplicated and whimsically designed interface, MailChimp is competitively priced at $10.00 per month for up to 500 users with unlimited sending capability. They also offer a free plan for up to 2,000 subscribers. Contacts are easily imported from CSV files and image hosting is unlimited. Emails are automatically archived at no additional charge. Both MailChimp templates or custom emails may be edited with their WYSIWIG editor. MailChimp also provides a code snippet that allows you to easily publish archived copies of your newsletter directly on your website. Reporting capabilities are limited compared to its competitors. Also, when importing contacts, columns must match perfectly aligned to avoid errors.
Whichever service you choose, an enewsletter is a must do. Putting together a targeted email list and delivering great content is a good way to build your business. Always remain respectful of your subscribers, don't inundate them with junk, because the unsubscribe button is only a click away.