The Call for Responsive Design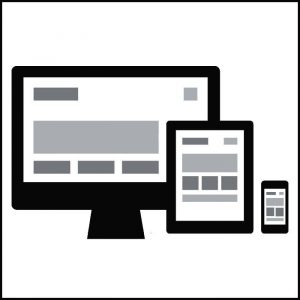 Why are some of the brightest minds in web development singing the praises of responsive design? The way we access information on the internet has shifted to mobile-centric, viewing.
"91% of US citizens have their mobile device within reach 24/7. And they are checking their phones an average of 150x a day!"1
And
"Smartphones have become so important to consumers that 33% would rather give up their TV than their smartphone."2
What Makes a Design Responsive?
A responsive site is one in which the design allows for adaptation to any device, embracing variations in screen size, platform and orientation. It's not just for smart phones, either! That big screen television in your living room will soon become an information hub through which you will not only receive television programming but Internet access, apps and more. In addition, you may soon find in-car online access becoming a standard feature. Sites must be able to adapt for all these different devices.
The Benefits
Advantages of responsive design include:
Improved SEO – Google ranks responsive sites higher in mobile searches than non-optimized sites.
Future Savvy – Responsive design assures you that your site will stand the test of time.
Cost Efficiency – Optimization for any device saves you time and money; no need to develop an App if your site sizes appropriately.
Optimized User Experience – No matter what device, the viewer's experience is consistent.
Leading the Way Check out some examples of sites that set the standard in responsive design: http://www.ge.com/
http://www.bostonglobe.com
http://www.mashable.com
http://www.barackobama.com
http://www.smashingmagazine.com
1 http://www.agentevolution.com/featured-posts/11-reasons-responsive-web-design-is-not-a-fad/
2 http://www.thinkwithgoogle.com/mobileplanet/en/downloads/