Atlantic Equipment Engineers
Creating a Sleek, Clean Website for a Highly Specialized Business
Atlantic Equipment Engineers is a leading provider of high-purity metals, metal compounds, and compounds for numerous industries and applications, including military and industrial. The company needed an ultra-clean, streamlined website that would allow clients to browse its extensive product catalog with ease.
As a family-owned company that has spent six decades growing and maintaining its reputation, Atlantic's guiding lights are its values of quality, reliability, excellent customer service, and building a personal relationship with each client.
Technologies Used
Sage

WooCommerce

Wordpress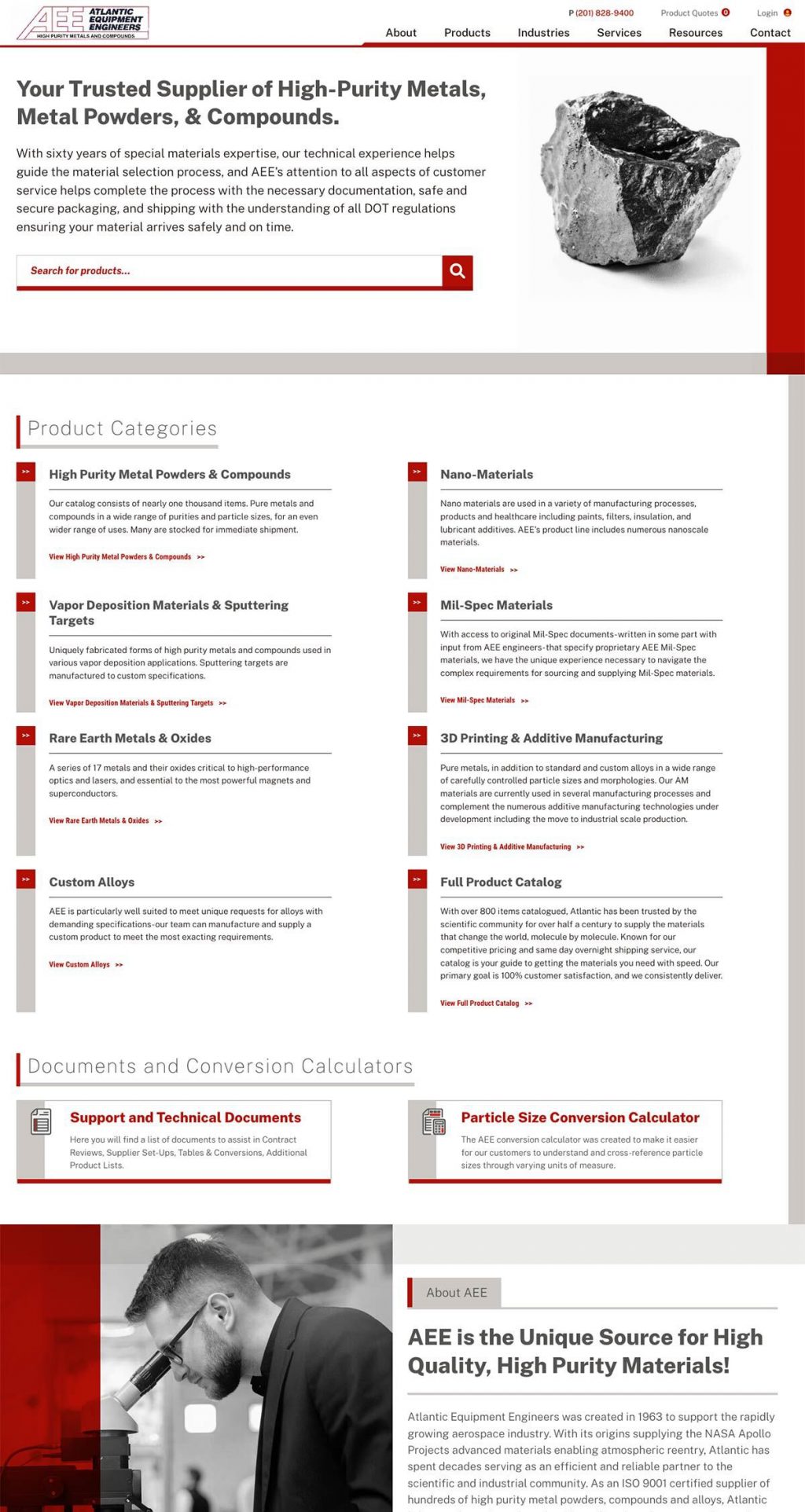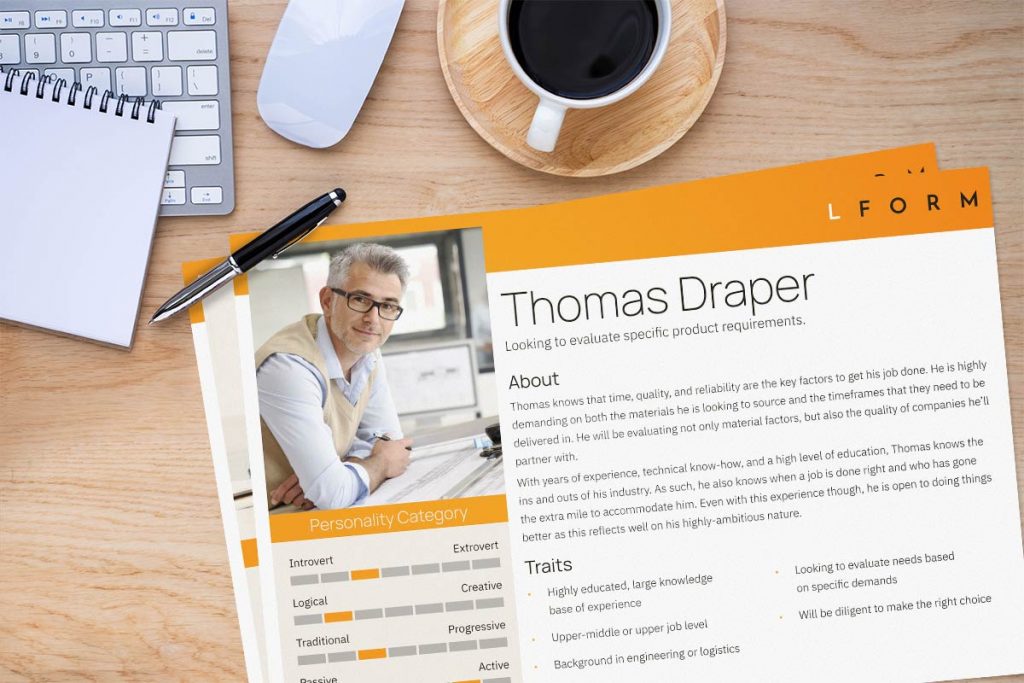 Research Phase
Our project with Atlantic Equipment Engineers began with an extensive research phase. We performed a Google Analytics review, a content audit of the client's existing website in order to advise on what should be changed and updated, and a heatmap analysis using HotJar.
We built user personas in order to hone in on Atlantic's key client base at different stages of the customer journey. The first persona focused on a junior or entry-level employee tasked with conducting research for their company, and the second focused on a senior engineer looking to evaluate specific product requirements and make final purchasing decisions.
Finally, we produced stylescapes to identify the desired look and feel for the finished website.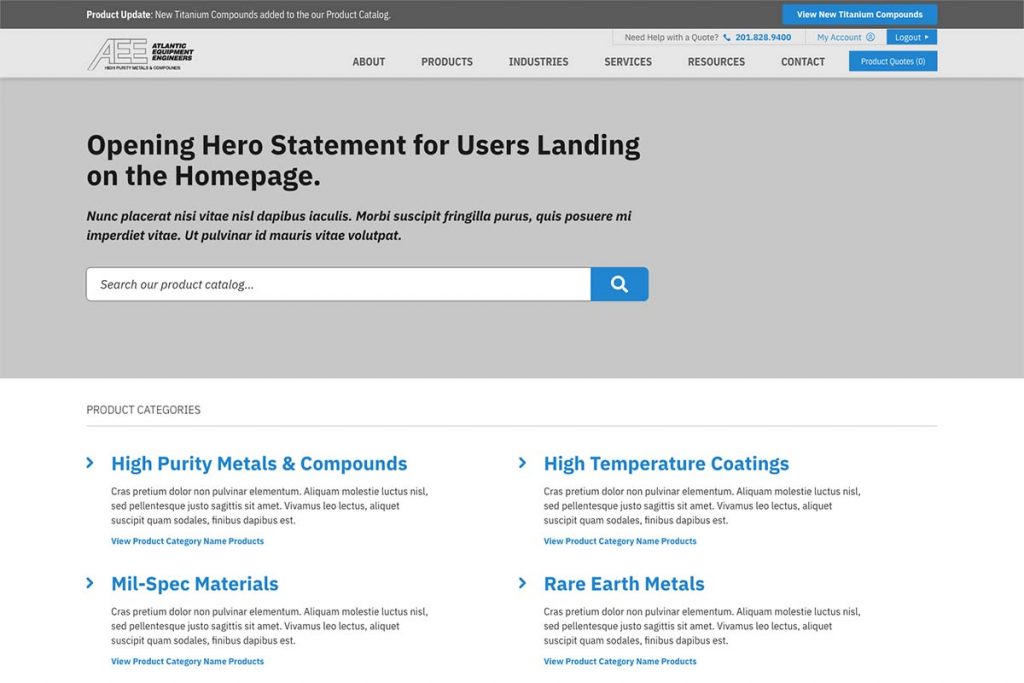 Atlantic's Goals: The User Journey and SEO
Following our research phase, we moved on to the wireframing and design portion of the project. Due to the thoroughness of our discovery and research work, the wireframing and design stages proceeded smoothly and many details were agreed before we even began coding.
Ultimately, the website's style direction was driven by the volume and information density of its content. In conjunction with Atlantic, we chose a sleek and minimalistic design for this website. This allows users to move through the site as easily and smoothly as possible. Providing a seamless user journey was one of Atlantic's key goals, as its customers are busy professionals who are often juggling many tasks at once.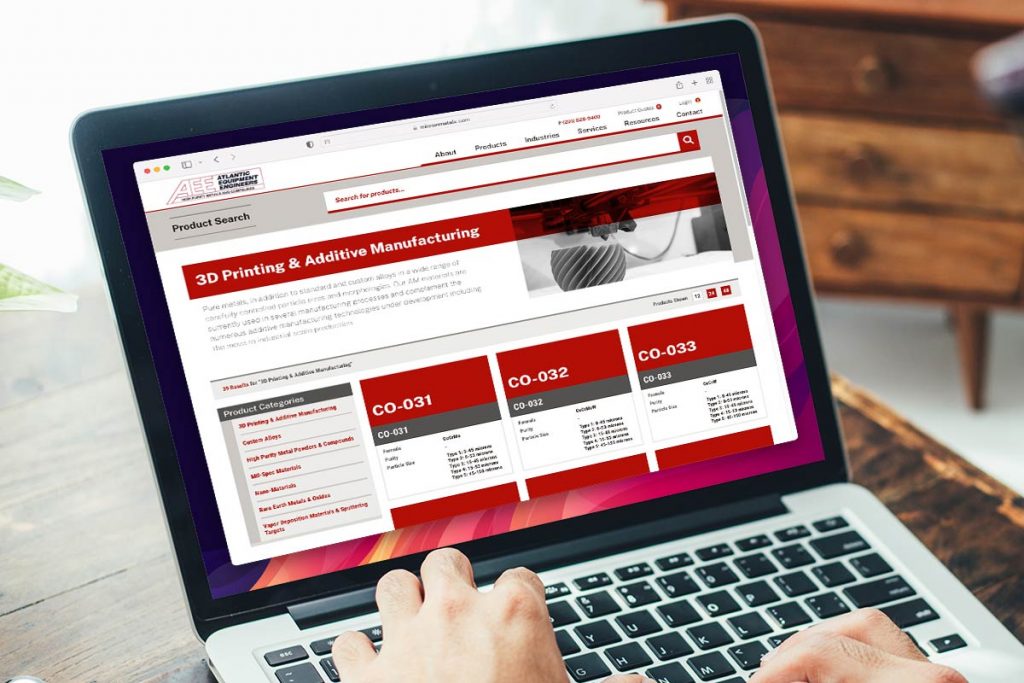 We also chose to use very few images on the site, since many of Atlantic's products look broadly similar to the naked eye. Instead of focusing on imagery, we focused on a detailed cataloging system with product numbers and properties to help prospective clients find the items they need.
During our initial research phase we confirmed that a user-friendly and prominent search bar was a critical element of Atlantic's site, as this is one of the main ways site visitors find products. Due to the sheer size of the product range, it was vital that we offered customers a way to narrow down their search easily.
Atlantic Equipment Engineers' other main goal for the new website centered on search engine optimization (SEO), bringing in more customers through organic searches. As a result, the finished website is content-heavy and optimized for various important product-related and industry-related search terms. We also updated and expanded the About page, added a Services page, and added pages for each of the more than twenty industries that Atlantic targets. Ultimately, we were able to create a 25–30% increase in traffic from Google searches.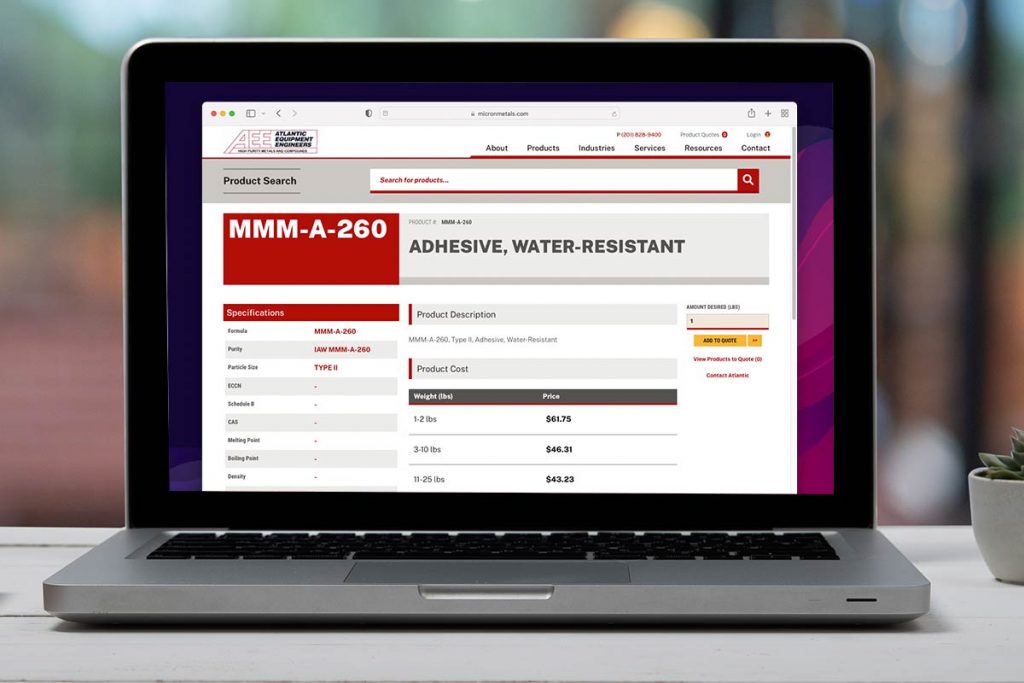 Integrations and Customizations: WooCommerce and Sage
Atlantic Equipment Engineers is not a typical ecommerce company, and clients do not place orders directly on the site. The products sold by Atlantic can be highly regulated, and their market prices also change frequently and with little notice. Various factors, including national and global supply chain issues, can have an impact. Therefore, instead of making a purchase, customers add products to a quote and then submit the quote, requesting an estimate of costs for their chosen items and shipping.
We integrated WooCommerce, one of the largest and most popular ecommerce platforms, into Atlantic's website. However, since Atlantic does not sell directly to customers from the website, we repurposed the WooCommerce "checkout" page to facilitate a "request a quote" user flow in its place. Atlantic's old website did not feature any kind of order-taking mechanism, so absolute clarity around this quote request process was essential so as not to mislead new or existing customers.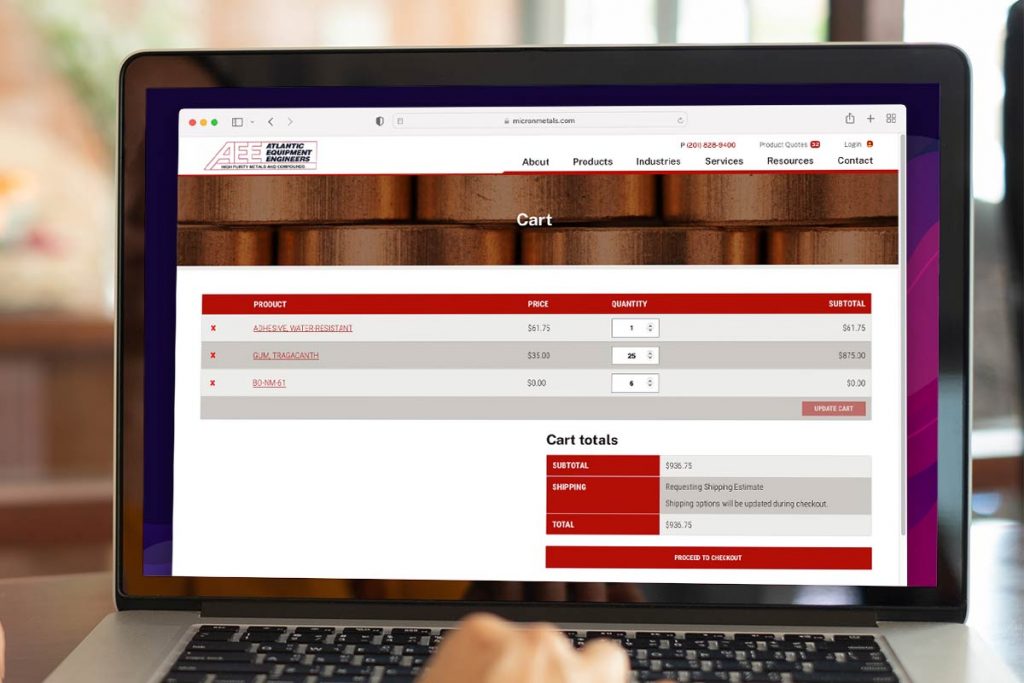 Since product pricing is determined by weight, with the price per lb decreasing as the quantity ordered increases, we also built a customization to apply different price levels based on the total amount ordered. We also customized the pricing system, allowing Atlantic to enable or disable on-site prices (via Sage) for products where the pricing is subject to rapid market fluctuation. In order to provide customers with additional vital product information, we created a functionality to add PDF documents with additional information to product pages where relevant.
Prior to beginning this project with Lform, Atlantic was already using the ERP system Sage to manage its product inventory and customer quotes. We worked closely not only with the client, but also with Atlantic's Sage consulting firm, SWK Technologies, to build and fully integrate Sage's products and quotation system with the new website.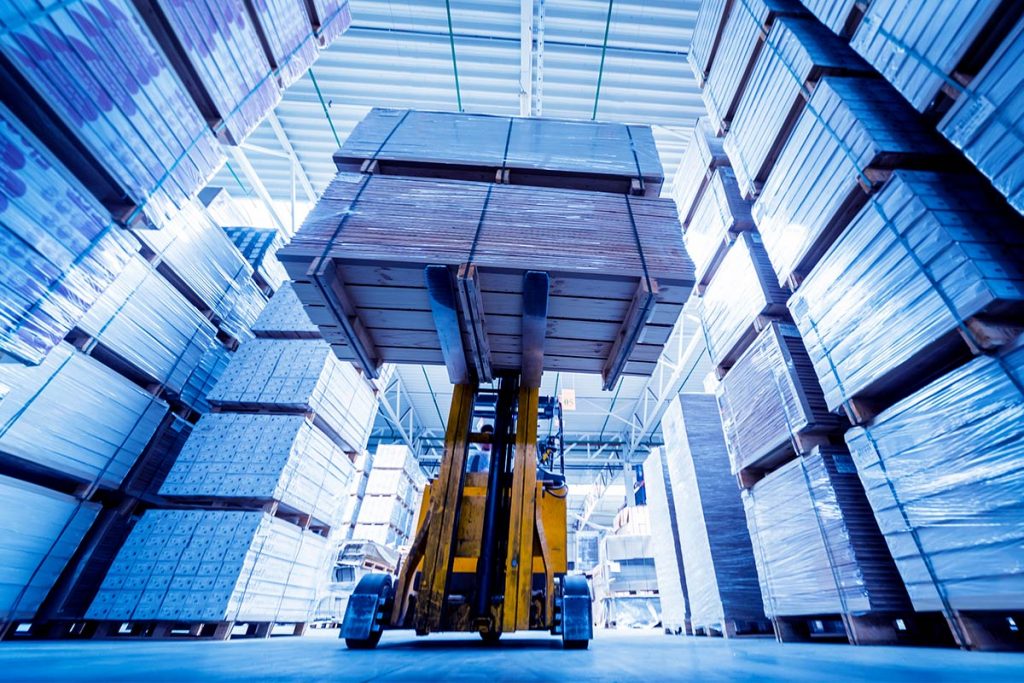 As all products in Atlantic's extensive catalog were already listed in Sage, we needed to find a way to bring that information across to the new site automatically, avoiding double data entry or unnecessary additional work on the client side. All product information on the site originates from Sage, with the exception of the short category descriptions (which are added through WordPress). When a client places an order, the integration pushes this information back to Sage automatically, storing it within the company's ERP records. Since a part of this project involved customizing Sage to work with the new Atlantic website, we also provided training to the Atlantic team around inputting product data through their version of Sage.
In moving data between Atlantic's website and Sage, one of the most important considerations was security. With large amounts of sensitive client data stored on Atlantic's systems, it was essential to ensure that nobody could gain unauthorized access to that information. To enhance security, we worked with SKW to create a secure solution that enabled data to move between the Atlantic website and Sage, without the security risks posed by opening up a system to the wider internet. In the unlikely event that an attacker were to gain access to the website, automated backups and a locked down Sage connection means that there is little damage they could do.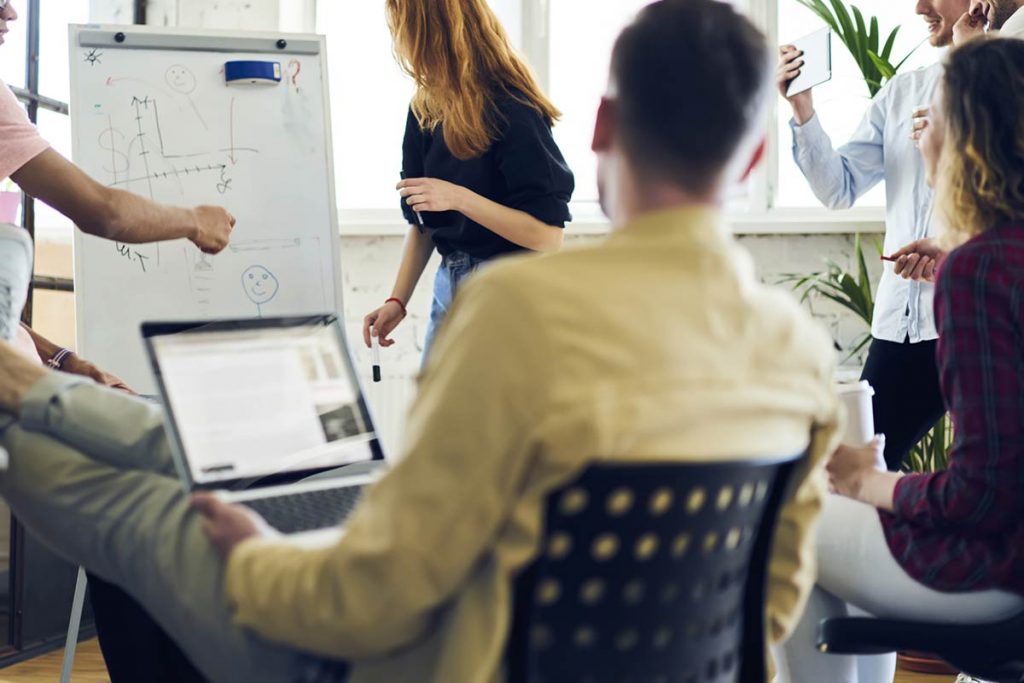 Working in Partnership
We prefer to see ourselves not merely as a vendor, but as a partner in our clients' success. In this case, we had to work in partnership not just with Atlantic Equipment Engineers but also with SWK Technologies, Atlantic's Sage consulting firm.
Our goals were to reduce the work needed on the client side, ensure the security of their website and ERP system, and implement everything in as efficient a manner as possible from both a technological and time perspective. Working with SKW allowed us to better understand the capabilities and limitations of Sage and ultimately provide a better outcome for our client as a result. A coordinated approach was required, and Lform took the lead on ensuring that all three teams were on the same page.
Like Atlantic, we believe in building a personal relationship with our clients. Every stage of an Lform Design project is carried out by our team of Montclair, NJ web designers, and we do not outsource any part of the process.
We help clients like Atlantic to reach the right customers, provide the best possible service, and grow their reputations to become the best in their niche. Our clients' success is our success. If you would like to learn more about working with us to create a custom B2B website for your company, please contact us for an initial no-obligation discussion.